A great board is like a great band—you need the right mix of talent, skills, experience and personalities. If your board needs boosting in the rhythm section, consider recruiting an independent director.
More and more corporations are inviting independent (non-member) specialist directors onto their boards. This is especially true for larger corporations that manage multiple services and have frequent dealings with funding bodies. If your board has a skill gap, or is missing some specialist knowledge, or just needs some extra support, you might try connecting to candidates via ORIC's LinkedIn group, Independent directors of Aboriginal and Torres Strait Islander corporations. You can also advertise a board vacancy through our Corporation jobs page.
Benefits
Independent directors and the organisations and communities they work with all stand to gain from the right match of skills and need.
For independent directors, it's a chance to develop skills, knowledge, and gain exposure to new experiences. It can also be a rich development opportunity professionally and personally in that they can:
contribute to Aboriginal and Torres Strait Islander community wellbeing
gain corporate and Indigenous governance experience
build cultural competency
expand networks
contribute to the success of a corporation
strengthen communication and leadership skills
For workplaces supporting staff to fill independent director positions:
demonstrate commitment to community values and involvement
strengthen relationships with Aboriginal and Torres Strait Islander people/communities
staff satisfaction, attraction and retention
increased leadership and communication skills for participating staff
expanded networks
enhanced skills at working with cross-cultural teams and stakeholders
For Aboriginal and Torres Strait Islander corporations, having a skilled professional on their governing body can bolster their governance capacity and provide access to important advice and expertise that might be otherwise difficult to obtain. An independent director can:
strengthen governance structures and processes
provide access to skills and expertise
bring a different perspective
provide specialist advice
Meet an independent director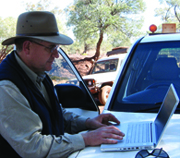 A Potaruwutj man from the south-eastern part of South Australia, Rick Callaghan has worked with traditional and non-traditional people across Australia, mainly to help establish businesses.
'A strong focus is cultural and heritage matters, particularly obtaining resources,' says Rick. 'For the past four years I've worked with MIB Aboriginal Corporation in the East Pilbara, helping to develop assets through commercial opportunities resulting from its native title determination.'
In 2010 Rick joined the board of the Regional Anangu Services Aboriginal Corporation (RASAC) as an independent director. This large, diverse and successful corporation primarily supplies municipal services, such as community road maintenance, sporting facilities maintenance and rubbish tip maintenance to 12 communities in the APY lands in north-west South Australia. It has also started to provide community patrols to six communities.
'My skills are chiefly in governance and investment matters,' says Rick. 'My background is in business management and human resources, so I enjoy sharing business ideas with the other directors. I lend support, bearing in mind that English for many is a third or fourth language. Most of our meetings require interpreters.'
Maintaining language and cultural identity is vital to RASAC but equally important is that the directors understand the financial and governance issues. 'It's a very good board but that's not to say it hasn't experienced some moments of instability in the past,' says Rick.
For just on six years Rick has attended board meetings.
'What impresses me most is how well the member directors run these meetings. There's no humbug, discussions are serious and professional. '
It's a team effort. As you would expect, the challenges involved in governing a large corporation are constant, but the load is made lighter because directors work together and share with each other their knowledge and skills.
'I'm proud that, along with the other directors, I've helped to steer the corporation in the right direction, and we've stayed on top of financial and governance issues. I've found the experience thoroughly rewarding. '
RASAC has three independent directors that work closely with 10 Anangu member directors. For the year ending 2020 it had revenue of $18.1 million and employed 96 people, mostly Anangu.
Hear what other corporations say about independent directors
'No one should underestimate the complexity of governing a corporation. For us, having 3 independent directors serving on our board provides us with technical advice and expertise, and helps to share the workload.'
Regional Anangu Services Aboriginal Corporation
'We had nothing to lose and a lot to gain. It just made sense to look beyond the community for people who had the skills we wanted and who could work with us in an equal and cooperative way to set things right.'
Bawinanga Aboriginal Corporation
'One of the best things we did in 2013 was to recruit 3 independent directors with specialist skills in primary healthcare, finance, and governance. The board has benefitted from expert advice as have our members and the community we serve.'
Central Australian Aboriginal Congress Aboriginal Corporation
'Our board consists of representatives from 9 separate communities and 2 independent directors committed to our shared vision. I'd say the independent directors complement the skills and experience of the board by strengthening overall capacity, particularly government processes.'
Miwatj Health Aboriginal Corporation
Thinking about appointing an independent director to your corporation?
Corporations considering appointing an independent board member need to be clear on why, so they know what to look for in the person. Is your corporation:
trying to fill skill gaps in the current board? particular talents, abilities, qualifications?
looking for someone to help with short-term projects or long-term strategy?
looking for a different perspective or a fresh voice?
Expectations for directors
What does your corporation expect from its directors—performance, communication, behaviour, professionalism and rights?
Generally most corporations will have basic expectations like:
follow the corporation's rule book, policies and procedures
be punctual and reliable
be accountable
come to meetings prepared by reviewing relevant papers or reports beforehand
respect confidentiality
respect culture
give appropriate notice if your availability or personal circumstances change
fulfil the duties and responsibilities of an independent director
support other directors.
What does your corporation's rule book say about independent directors?
Does your corporation have criteria for performance assessment during and at the end of the appointment term?
Selecting an independent director
What process will your corporation use to review candidates and make a selection? For example, will there be a nomination committee, selection panel or external advisers?
It is important to look for someone with the right knowledge, skills, qualifications and experience to complement your board. It is equally important that both parties are comfortable and confident with each other for the relationship to be effective and productive. It is best to meet in person.
Consider bringing one or two shortlisted candidates into your community to informally meet key people to ensure there is chemistry and a fit between both parties. The trip could include activities such as:
an in-depth discussion about the organisational culture
a visit to the corporation's premises and community.
Below is a set of various other factors you will want to consider.
Independence:
Are they independent of the current directors, staff, legal advisor, members; corporation's affairs?
Are there any conflicts of interest?
Experience:
Do they have relevant industry experience or life experience?
Have they sat on other boards? Any with similar vision or services?
Can they introduce you to new networks or business contacts?
Qualifications or skills:
What skills do you require? legal, accounting, compliance, investment, IT, marketing, strategic planning…
Where does their specific expertise lie and how will they add value?
Personality:
Are they a leader, a strategist or a nurturing person?
Can they work effectively with a diverse group of people?
Can they disagree without being disagreeable?
Capacity:
Can they devote enough time to fulfil their duties?
How many boards does the director currently sit on?
Directors oversee the business of the corporation. Each director must be personally aware of the corporation's business and financial position. Do they have time to do this?
How far are they willing to travel?
Availability:
Are they currently employed? If so, will they need to be released from regular work duties to carry out their board duties?
What happens if they change employment circumstances during the appointment?
Do they have other personal commitments that may restrict their participation in corporation activities?
Performance:
If they have been on previous boards how has that corporation performed?
Disqualification/convictions/investigations:
Have they ever been charged or convicted of an offence?
Are they banned from managing an Aboriginal and Torres Strait Islander corporation? Check the Register of Disqualified Officers.
Are they an undischarged bankrupt?
Insurance:
Does your corporation have directors' and officers' liability insurance?
Remuneration:
Be clear on remuneration and expenses for directors.
Corporations come in all shapes and sizes, most directors perform their duties on a voluntary or unpaid basis. In some circumstances the members may have approved payment of a fixed annual fee or a fee for each meeting attended.
Corporations may reimburse out-of-pocket expenses incurred attending meetings or carrying out corporation business.
Cultural competence:
Do they have any previous experience with Aboriginal and Torres Strait Islander corporations, people or projects?
References:
After a candidate has been interviewed follow up with references. A referee could be someone they have previously served on a board with, an employer or supervisor, or a client who has used their services.
Induction program
It's important that you get your new director up to speed quickly so they can understand the corporation's values and priorities, and contribute meaningfully from the start. Some vital background they need to know is organisational culture, values and working processes.
To be effective in their roles, directors need a good understanding of:
corporate overview
community and cultural context.
You may be able to impart some of this information in an overview document or brief but it is likely most of this will be learnt or reinforced in person or on the job.
Ideally you would have already invited your new director to your community and introduced them to key people during the recruitment process. If you haven't done this or there is additional information to be covered you should organise an induction program. Some ways corporations have helped new independent directors are:
creating a short video about themselves and their community
providing access to a cultural mentor to answer any questions or guide a newcomer on cultural protocols and tips
meetings with the rest of the board, key stakeholders such as traditional owners, corporation members and community
meetings with key staff such as the CEO or managers, plus sessions with small groups of staff
informal morning tea or lunch for staff and directors to share information about backgrounds, how the corporation is working, ideas for improvement etc
an opportunity for the director to work at the front line of the corporation's business.
Prepare an overview of your corporation
As mentioned above, you can help new directors hit the ground running by helping them understand your corporation's history, vision and goals well before they start.
Before advertising an independent director vacancy a corporation should prepare a brief. You may decide some of this information will go in the advertisement and some may be better placed in your induction program. Suggestions for the brief include:
Your corporation's story:
a brief history of the corporation
vision and goals
business activities, key projects or services
number of corporation members
enterprise structure—structure of the corporation and any relationships with other entities, trusts or advisory groups etc
current board and proposed board composition
organisation/staffing structure and overview of key people
the corporation's rule book
policy documents
names of key stakeholders, funding bodies or creditors
financial performance
funding landscape
Your corporation's context:
who owns country
community overview
key people
market overview