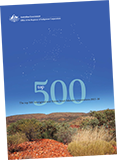 This is ORIC's ninth report on the top 500 Aboriginal and Torres Strait Islander corporations. It collates and compares a range of data provided by corporations as part of their annual reporting.
The link below right takes you to the next section, or you can use the list of contents on the left to jump to a particular section of the report.
See also the media release about this report.