See ORIC yearbook 2014–15 table of contents
Support services
Call centre
In 2014–15 ORIC received 9463 telephone calls seeking information and advice.
Many corporations use ORIC's freecall telephone service when making initial contact with the Registrar's office.
Figure 8: Number of calls to ORIC's freecall number from 2006–07 to 2014–15

Dispute management
In 2014–15 ORIC helped to resolve 28 disputes compared to 38 in the previous year, which represents a decrease of 26.3 per cent.
If a dispute is managed in the right way it can prevent corporate governance failure. ORIC works with all parties involved and tailors its responses to suit a corporation's needs as well as builds its capacity to manage future disputes. Well-managed disputes can improve a corporation's resilience.
ORIC has a fact sheet, Dispute resolution, and a policy statement, PS-22: Disputes involving corporations, available on its website.
The Registrar can support corporations by providing:
an advisory opinion—a formal letter from the Registrar giving an opinion about how the CATSI Act and the corporation's rule book applies to a situation in dispute
dispute management workshops
advice—by telephone, face-to-face or email
conferencing and small group problem-solving facilitation
representatives to call, attend and chair general meetings
recommendations for rule book amendments to ensure that a good dispute resolution process is in place.
Complaints assistance
In 2014–15 ORIC finalised 834 complaints compared to 750 last year, which represents a 11 per cent increase.
One of the functions of the Registrar under the CATSI Act is to assist with complaints involving Aboriginal and Torres Strait Islander corporations.
On average, 'straightforward complaints' were answered within three working days, 'detailed complaints' were finalised in an average of 10 days, while the most 'complex complaints', which often required considerable background research and follow up with third parties, were resolved in an average of 53 days.
| Year | Number of complaints received | Percentage increase/decrease in complaints received over previous year | Number of complaints finalised* |
| --- | --- | --- | --- |
| 2014–15 | 833 | 12% | 834 |
| 2013–14 | 741 | 13% | 750 |
| 2012–13 | 657 | 21% | 652 |
| 2011–12 | 541 | –13% | 544 |
*Note: Includes complaints received and carried over from the previous year.
For complaints received during 2014–15, the top categories were:
complaints about the conduct of directors or breaches of directors, officers or employees' duties
complaints covering multiple complaint categories that don't readily fall into a single category.
Reasons identified by the Registrar to explain the increases in complaints are:
an increase in the number of corporations, particularly prescribed bodies corporate (PBCs), where members have high expectations of their corporations
an increased awareness:

of the Registrar's role, regulatory services and the complaints assistance
of the Registrar's activities, particularly prosecution action against wrongdoers
by members of their rights

an increased understanding of how corporate governance should operate.
As part of its complaints-handling process, ORIC also assists those who are complained about (that is, the subjects of complaints) by providing:
information about good corporate governance
information on what constitutes a breach of the CATSI Act or a corporation's rule book, and how to rectify the breach
options that may help to resolve concerns raised in a complaint
information to corporation members and directors on rights and responsibilities under a corporation's rule book.
ORIC has a fact sheet, Complaints involving corporations, and a policy statement, PS-02: Complaints involving corporations, which are available on its website.
Some complainants allege fraud or misappropriation of funds at a corporation. In these situations, ORIC asks for evidence to support the allegations. ORIC can only take action if there is sufficient evidence.
Complaints can serve a useful purpose. They can be a barometer of issues affecting corporations.
The Registrar publishes a statistical overview of complaints involving corporations every six months. The reports are available on the ORIC website.
Common complaints in 2014–15
The most common complaints the Registrar received over the year were about corporation directors and officers failing to call meetings, not providing sufficient information to members, or conducting activities against members' wishes.
When members make a complaint they often expect the Registrar to intervene to correct what they believe is the wrongdoing. In the first instance, the Registrar's office will assist by advising members of their rights under their corporation's rule book.
It must be understood that the corporation's rule book is a form of contract between the members (as set out in section 60 of the CATSI Act). The Registrar is not a party to that contract. The Registrar can only intervene if there is evidence of a serious failure of governance. In most cases the Registrar's role is limited to providing information and advice.
Part of ORIC's advice to complainants is to encourage them to use the corporation's dispute resolution rule. All corporations are required to have a
dispute resolution process included in their rules—CATSI Act section 66-1(3A)
—so that problems can be resolved before they become too big.
ORIC also informs complainants about their right to ask the directors to call a meeting to pass a resolution addressing their concerns. Although complainants often see removing the current directors as the best way to resolve their issues, the directors can only be removed by the members at a general meeting.
Section 201-5 of the CATSI Act sets out the requirements for a valid meeting request. Templates for making these requests are available on ORIC's website.
At a meeting called under this rule, members are able to hear the complainants' concerns and the directors' explanations. They vote on the issues and decide whether they agree with the complaints. The Registrar sees this as the most important principle of a corporation: the members own the corporation and should be the ones entitled to judge the performance of its directors.
Case study: Successful dispute management process
Gunangarah Aboriginal Corporation for Housing provides secure and affordable accommodation for Aboriginal and Torres Strait Islander people in southern New South Wales.
In June 2014 the directors approached the Registrar for help because they had concerns that internal governance issues were putting at risk the delivery of the corporation's services. External parties important to the corporation's success were beginning to disengage.
In July 2014 the Registrar agreed to convene a two-day dispute management workshop in Queanbeyan to address several problem areas, including the management of the properties, conflicts of interest, governance, confidentiality, and the rule book.
The results of the workshop were overwhelmingly positive. Policies and procedures were developed to address governance issues, a code of conduct was established, and key dates for meetings (including the AGM) were set.
Locally based support
Coffs Harbour regional office, New South Wales
Over the past year the office has interacted with a large number of corporations across New South Wales and as far north as Gin Gin, Queensland. Some typical activities include providing governance training, helping with meeting attendance, reporting obligations and assisting organisations wanting to transfer to the CATSI Act.
In February 2015, Blanche Saunders (a Kamilaroi woman) joined ORIC's Coffs Harbour office. Blanche has provided a much needed extra pair of hands which corporations in the regions have appreciated.
Blanche and I were able to break down some of the special administrator's messages to the members and the advisory committee which made the process so much easier. We could build a very quick rapport because of our experience with working with Aboriginal and Torres Strait Islander corporations and because we are Aboriginal.
Christian Lugnan on providing special administration support to Minimbah Pre-school, Primary School Aboriginal Corporation
Cairns regional office, Queensland
The Cairns regional office has been operating since 2012 and covers a diverse area extending as far north as the Torres Strait and as far south as Sarina. In 2015 the geographical scope of the office was extended to the west to include Mount Isa, Normanton, Doomadgee and Mornington Island. The demand for ORIC's support services has continued to increase over the year with local corporations requesting corporation-specific training and requiring help with rule book changes. There has also been a high number of inquiries from organisations wishing to transfer to the CATSI Act.
My main focus is on simplifying government jargon and helping participants of our training to better understand new concepts. I find that using real-life examples helps people implement what they've learnt at their corporations.
Jennifer Reuben on delivering corporation-specific training
Alice Springs regional office, Northern Territory
The Alice Springs regional office was established in 2011 and is an integral part of ORIC's growing regional network. It serves the lower half of the Northern Territory, taking in the Barkly region, Central Australia and the whole of South Australia.
The office in Alice Springs delivers a wide range of services including training to individual corporations, assistance with rule book changes, complaints handling, transfer of registration to the CATSI Act, and the registering of new corporations.
It's great helping people who want to help others—like setting up a corporation to provide a healthy sporting outlet for the young people of Yuendumu. I talked with community about an appropriate name for the new corporation; how to go about drafting a rule book and some of the pre-registration process.
George Donaldson on the registration of Wanta Aboriginal Corporation
Darwin regional office, Northern Territory
Open since October 2013 the Darwin regional office is now a familiar presence in the Top End and provides hands-on support to many local corporations. Services range from helping with governance difficulties to assisting with reporting obligations. Supporting organisations wanting to transfer to the CATSI Act has been a particularly active area. Another busy area has been working with the ORIC recruitment assistance (ORA) service which helps corporations recruit senior managers.
In February 2015, Margetta Avlonitis joined the office.
We were able to help the Ironbark Aboriginal Corporation with the recruitment of a new CEO. It's very important to get the right person for the job. The corporation's directors and selection panel also really wanted to be sure that they were following the recruitment process properly. An applicant was successfully appointed and the corporation has asked for further ORIC recruitment assistance with another senior management position.
Hannah Roe on ORIC recruitment assistance (ORA) for the Ironbark Aboriginal Corporation
Broome regional office, Western Australia
The Broome regional office, which opened its doors for the first time in October 2013, provides services to the Kimberley. The word has spread and people are now well aware of ORIC's presence in north-western Australia. As a result the demand for ORIC services in this region has steadily grown.
The Broome regional officer has delivered governance training to local corporations and has assisted many more with their reporting obligations.
All the group members were keen to learn about governance right from the start. We went through all the steps involved in a registration process.
Sid Michels on providing ongoing assistance to the Halls Creek Stolen Generation Group
Perth regional office, Western Australia
The Perth regional office has been operating since April 2012 and is a familiar and welcome presence in the region. It's used not only by local corporations but also by stakeholders, such as government agencies, non-government organisations and the business community. In 2014–15 the Perth regional office expanded its scope to the Pilbara and now supports local Aboriginal corporations in that area.
In January 2015 Clinton Dann joined the office for a few months to provide administrative support and to help with the delivery of services.
It is not always plain sailing when an organisation transfers from state legislation to the CATSI Act. In May 2015 I helped the Noongar Institute of Western Australia Aboriginal Corporation. The transfer involved assisting to draft the new rule book and obtaining approval from the elders, as well as working with lawyers on the legal aspects. The corporation has been offered post-registration training which the directors plan to undertake in the new year.
Arthur Hyde about transferring an existing organisation to the CATSI Act
Case study: Building relationships
The Sister Kates Home Kids Aboriginal Corporation in Armadale, Western Australia, was set up to provide healing, empowerment and leadership to lost generation peoples.
Its related trust, Sister Kate's Home Kids Foundation, was established to benefit Aboriginal people who were residents of Sister Kates Home, in particular those from 1954 onwards, their families and descendants. The trust holds land that was transferred from the Uniting Church for the purpose of building a healing centre for the 'home kids'.
In the early stages of its life the corporation was unable to attract funding but eventually formed an arrangement with the charity Communicare to auspice its funding and to provide office space. Most importantly the relationship allowed Sister Kates to provide a range of support services to its 'home kid' clients.
The corporation's success in establishing a strong working relationship with Communicare and its efficiency in delivering services demonstrates hard work and resourcefulness. By forging this relationship has also made Sister Kates a more attractive proposition for funding bodies.
'It's a credit to the dedicated staff of the corporation what they have achieved and the support they provide to their clients,' said ORIC's Perth regional manager, Arthur Hyde.
Neither success nor relationships are built overnight.
Arthur has also made it his business to work closely and steadily with the Sister Kates Home Kids Aboriginal Corporation. Over the years he has assisted it with general governance matters, meeting its reporting obligations, and applying for free legal assistance through ORIC's LawHelp service.
Thanks to this investment and the corporation's own hard work Sister Kates is well on its way to becoming self-reliant and ready to expand its support services to its members and clients. All this can be put down to building strong relationships.
Case study: Searching for owners of unclaimed money
For a number of years Ngoonjuwah Council Aboriginal Corporation was funded by the Australian Government to deliver the Community Development Employment Projects (CDEP) program to Aboriginal people in the Halls Creek region of Western Australia. In 2007 the corporation was placed into liquidation. Between 2007 and 2013 its liquidators (Meertens) tried to locate 232 former CDEP participants who were owed money by the corporation. They were successful in finding only five as many had incomplete addresses or had moved.
In May and July 2013 the liquidators transferred $189,093.23 to the Registrar under the CATSI Act as unclaimed money. Funds owed to individuals ranged from $11 to $3682.
Over the next 18 months the Registrar initiated a project to locate the former CDEP participants and to assist in claiming the amounts owed to them.
The remote location of many of the former CDEP participants as well as provisions in the Privacy Act 1988 presented several challenges—the Privacy Act prevents the publication of the names of the former CDEP participants.
Trying a direct approach, the Registrar on two separate occasions placed a dedicated ORIC officer in Halls Creek to search for rightful claimants. The Registrar also placed general notices in the local newspaper, was interviewed on radio programs and posted notices throughout the local community to encourage people to come forward. However, even with these efforts, only about half of the 227 former CDEP participants were successfully located:
93 people (41 per cent) made a successful claim and have been paid. The total value of these payments is $129,269.50.
five people (2.2 per cent) have lodged a claim but require further documentation for their claim to be processed. The total value of these claims is $1910.65.
Unfortunately, 129 people (56.8 per cent) to date have not been located (a total of $57,913.07 is owed to them).
Although every effort continues to be made to contact the remaining 129 people the chances of finding them are diminishing.
This is the first time that unclaimed money has been transferred to the Registrar's office by a liquidator.
ORA: ORIC recruitment assistance—helping corporations to recruit staff
In 2014–15 a total of 11 job assistance requests for senior management positions were received through ORA and nine senior staff positions were filled.
The Registrar started the ORIC recruitment assistance (ORA) service in 2010 to help corporations fill senior positions. The service encourages best practice and builds capacity by supporting corporations to recruit, appoint and retain suitable senior staff.
ORA supports corporations through each step in the recruitment process, including:
developing a job description package
advertising the position
evaluating applicants
setting up an interview process
preparing the selection report.
ORA is free of charge to eligible corporations, although corporations meet their own advertising costs. Corporations remain responsible for all decisions in the recruitment process, including the final selection of the successful candidate and negotiating a salary package.
Figure 9: Number of job assistance requests received through ORA and senior positions filled from 2010–11 to 2014–15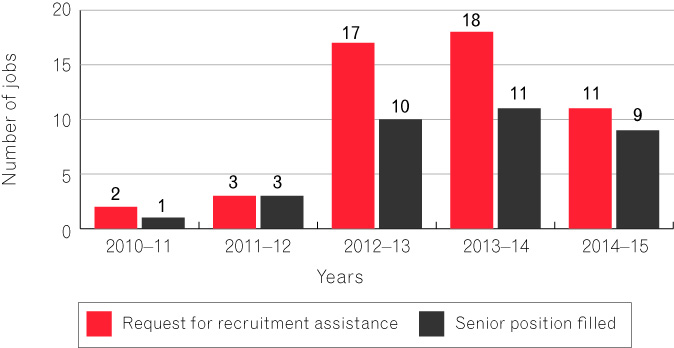 Note: Not all recruitment activities end with filling of the position.
Corporation jobs
In 2014–15 there were 47 jobs advertised on the ORIC website.
Since 2009 ORIC has provided corporations with the ability to advertise their employment opportunities free of charge on the ORIC website. This is an important service, particularly for those corporations that can't afford to advertise online or don't have their own website.
Over the past six years 331 jobs have been advertised including 47 that were advertised during 2014–15.
Figure 10: Corporation jobs advertised on the ORIC website by state/territory 2014–15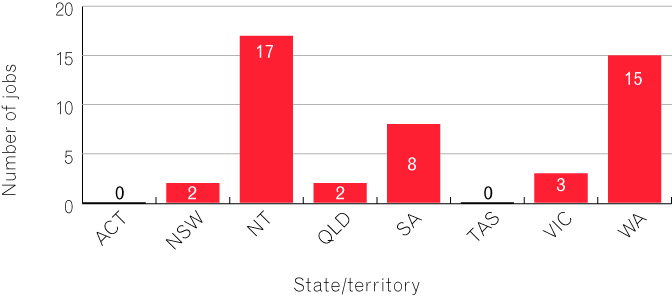 Handy recruitment guides
ORIC has produced a series of short, handy guides about recruitment. Topics include:
recruitment process
how to draft a successful job ad
how to draft selection criteria
checklist for selecting suitable applicants
sample interview questions.
There are also a number of employment guides:
managing performance
grievance and dispute resolution
termination of employment—small business employers
termination of employment—larger employers.
Template employment contracts grouped by state and territory as well as summaries of employment conditions and information on relevant industry awards are also available. These documents were developed in 2010 in partnership with the Australian Government Solicitor and can be found on the ORIC website under 'Corporation jobs'.
LawHelp
In 2014–15 ORIC received 41 LawHelp applications, a significant increase from the 19 received last year. Twenty-four of these were approved by the LawHelp assessment panel and successfully referred to some of Australia's top law firms (compared to 13 last year).
LawHelp was started by the Registrar and a handful of volunteer lawyers in 2010 to give not-for-profit Aboriginal and Torres Strait Islander corporations registered under the CATSI Act access to pro bono legal assistance.
The scheme provides assistance on a range of legal matters, from basic tax issues to drafting employment contracts to interpreting the law. It cannot, however, help with matters already funded by government, such as native title, legal action in any court or tribunal or with matters that could conflict with the interests of the Australian Government.
LawHelp can only help corporations not individuals.
During the year, the pro bono legal scheme was extended to entities seeking assistance to transfer their registration to the CATSI Act. The Registrar decided to make the change in response to requests for this type of assistance as a result of new funding conditions under the Indigenous Advancement Strategy. Previously, only Aboriginal and Torres Strait Islander corporations registered under the CATSI Act were eligible to apply for LawHelp. The changes enable Aboriginal and Torres Strait Islander organisations not registered under the CATSI Act to obtain advice about transferring registration.
As at 30 June 2015 there were 12 participating law firms on the LawHelp panel:
Allens
Ashurst
Australian Government Solicitor (AGS)
Bradley Allen Love Lawyers
Castledine Gregory Law & Mediation
Clayton Utz
DLA Piper Australia
HWL Ebsworth Lawyers
Jackson McDonald Lawyers
Lipman Karas
Minter Ellison
Tress Cox Lawyers.
Eligible corporations or transferring organisations send their applications for legal assistance to ORIC's LawHelp secretariat which provides administrative support for the scheme. Applications are then forwarded to the independent LawHelp assessment panel for action.
Three independent lawyers sit on the LawHelp assessment panel—the manager of pro bono services from the Australian Government Solicitor, Ms Geetha Nair; a Victorian lawyer from the community services sector, Mr David Tennant; and an Aboriginal lawyer with the Department of Health, Mr Benjamin Murray.
The Registrar is grateful for the ongoing support provided by the panel members. Without their involvement this important service could not be provided by the Registrar.
Figure 11: Number of LawHelp applications by state/territory 2014–15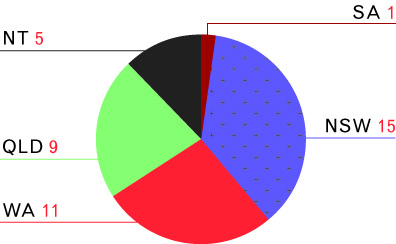 Note: There were no applications from Tasmania or the Australian Capital Territory.
Figure 12: Number of LawHelp applications by subject 2014–15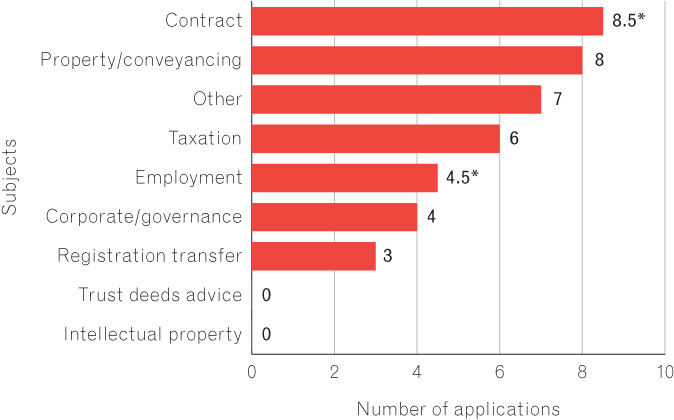 Note: *One application was half employment law and half contract law.