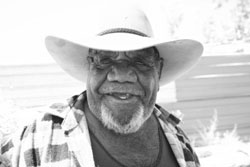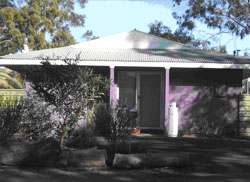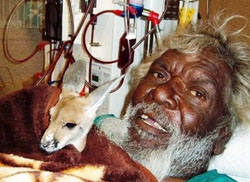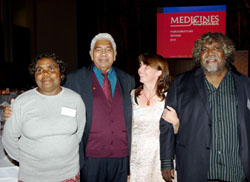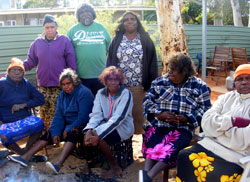 The Western Desert Nganampa Walytja Palyantjaku Tjutaku Aboriginal Corporation (WDNWPT) represents Yanangu families on dialysis and helps them to develop renal services in their home communities so they no longer have to move permanently to Alice Springs for treatment. It makes sense then that in Pintupi 'nganampa walytja palyantjaku tjutaku' literally means 'making all our families well'.
Set up in 2000 and previously known as the Western Desert Dialysis Appeal, initial funding of $1million for the organisation came from an auction of Indigenous artworks donated by Australian and international collectors. By the time of its incorporation in 2004, WDNWPT had established dialysis training and treatment in Alice Springs at Dialysis House, known as the Purple House, and at Kintore (Walungurru).
In April 2010 the Australian Government announced funding to the corporation of $1million to expand these services and an additional $340 000 has been donated from Medicines Australia, through the Jimmy Little Foundation, for a new mobile renal vehicle.
WDNWPT Chairperson Marlene Nampitjinpa Spencer is a senior health worker at the Pintupi Homelands Health Service. She said the corporation is happy and proud to receive the new funding as they have been 'trying hard with the heart' to help people in the bush, 'in Alice Springs, in Warburton, Docker River, all over—Kintore, Yuendumu.'
Manager Sarah Brown said it was recognition of the hard work put in by people from across the Western Desert for nearly 10 years.
'People were facing the splintering of their families with the forced dislocation of those with end stage renal failure to Alice Springs,' Ms Brown said.
'They worked hard to raise their own money, to establish a good governance structure and to try a new model of consumer driven dialysis care. We have continued to raise money, expand services and help other communities to get their heads around the issues of remote renal care.
'We hope to have an impact not just on those receiving dialysis, but on reducing the incidence of renal disease in the Western Desert.'
The Western Desert Nganampa Walytja Palyantjaku Tjutaku Aboriginal Corporation, based in Alice Springs, is a registered charity and all donations are tax deductible.
For more information call Sarah Brown on (08) 8953 0002 or email wdnwpt@bigpond.net.au. To find out more about the corporation go to their website at www.wdnwpt.org.au.
Photos: (from black and white photo) WDNWPT member Hilary Tjapaltjarri Gideon Baru; WDNWPT head quarters in Alice Springs, known as the 'purple house'; Maurice Gibson is happy to be receiving his dialysis at his home community of Kintore while he minds a baby marlu (kangaroo); WDNWPT Chair Marlene Nampitjinpa Spencer, Jimmy Little, Manager Sarah Brown and Deputy Chair Bobby West Tjupurrula; WDNWPT members (l-r) Marilyn Nungala, Lorna Graham, Audrey Turner, Bobby West Tjupurrula, Lorraine Scobie, Marlene Nampitjinpa Spencer, Pilita Napaprula and Irene Nungala.