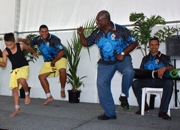 Spotlight on, December 2014
Townsville Aboriginal and Torres Strait Islander Corporation for Health Services (ICN 7681)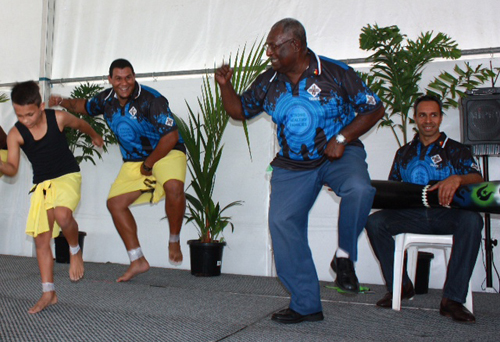 Entertaining the crowd at the official opening. From left to right: Aiden Ross-Edwards (front), Jamahl Ross (back), Uncle Elemo Tapim and Donald Whaleboat (on drums)
Townsville, Queensland: It's as if it has always been there. The Townsville Aboriginal and Torres Strait Islander Corporation for Health Services, known as TAIHS, has been part of the local community for forty years. Established in 1974 it was one of the first Aboriginal and Torres Strait Islander organisations to take back control of its own health care. Members decided early on that they would determine health care services and how they would be delivered to their own people.
In 1979 TAIHS incorporated under the Companies Act 1961, later the Corporations Act 2001 and then, in 2011, after members voted overwhelmingly in favour, transferred to the CATSI Act.
'The reason we transferred to the CATSI Act was so we could improve our corporate governance standards,' says Donald Whaleboat, TAIHS's chairman. 'We also liked the idea that ORIC would stand by us and give us advice when and if we needed it.'
Situated in the Townsville suburb of Garbutt the corporation has built a formidable reputation for providing quality health care. That reputation continues to grow alongside TAIHS's expanding premises. In recent months it has opened new buildings which make it possible to provide more services to more people.
For the corporation it is another great step forward.
'The expansion means that we can offer more services and new facilities to our clients,' says Mr Whaleboat. 'Over the past three years TAIHS has doubled in staff numbers to over 180 so it's timely that we expand our base.'
A new mother and child health clinic has opened, the Townsville Indigenous Parenting Service (TIPS) has been co-located in a new building, new consulting rooms have been built, and a  separate social and emotional wellbeing facility has also been established—plus there are additional car-parks
TAIHS used its Medicare income to pay for the construction of the new buildings—a decision that has worked out well. Access to health care is now not only easier for clients but also a more comfortable experience. The investment represents a long-standing commitment to local Aboriginal and Torres Strait Islander people that they would stay 'in control of their individual, family and community health'. This is an important factor.
'It's about empowerment and good quality services,' says Mr Whaleboat. 'We take pride in providing culturally-appropriate antenatal, postnatal and child health services. TAIHS has achieved good child immunisation rates and the vast majority of our expectant mothers are giving birth to healthy-weight babies.'
The parenting service—otherwise known as TIPS—supports families both in the home and outside. Over the past year it has assisted well over 200 clients in all number of ways, from providing transport to and from appointments, to finding suitable and stable accommodation,  to working with mums and dads to develop stronger parenting skills.
The new facilities are clearly a great success and are helping TAIHS to deliver a wide a range of quality health services to more people—the future just keeps getting bigger and better.
Background

Our Health—Our Culture—Our Future—Our Way expresses TAIHS's commitment to achieving health and wellbeing outcomes for Aboriginal and Torres Strait Islander people across Townsville and the region that are equal to those of non-Indigenous Australians. For more information http://www.taihs.net.au
All photos courtesy of Townsville Aboriginal and Torres Strait Islander Corporation for Health Services (TAIHS)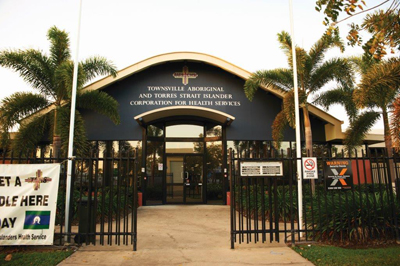 The main entrance at TAIHS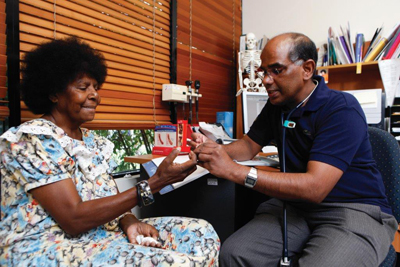 Dr Yogakanthi (right) attends to a patient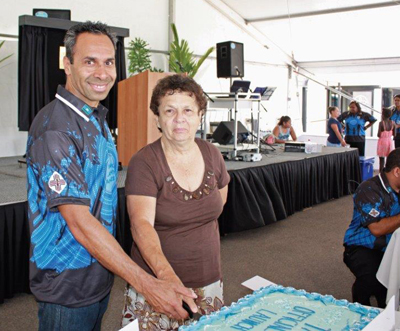 Chairman Donald Whaleboat with corporation member Eva Kennedy cutting the cake at the official launch of the new facilities. Many in the local community turned out to celebrate the opening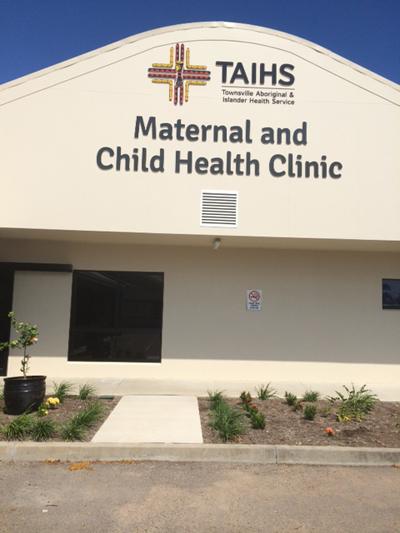 The new clinic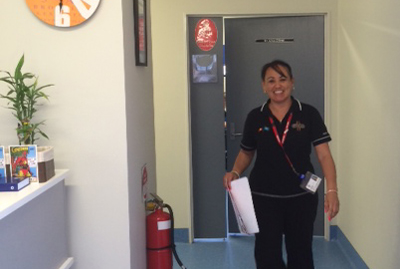 Kaye Thompson inside the new Maternal and Child Health Clinic