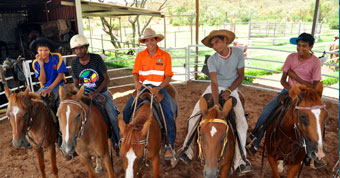 Bina-waji Nyurra-nga Aboriginal Corporation
Halls Creek, Western Australia Roy and Helen Wilson have long held a shared vision of creating a place where young people can come to learn, be comfortable with their surroundings and develop the drive, motivation and confidence to become truly 'work ready'.  It's been an ambition which they are now turning into reality.
In November 2007 they registered the Bina-waji Nyurra-nga Aboriginal Corporation under the Corporations (Aboriginal and Torres Strait Islander) Act 2006 with a membership of 27 people from their extended family. The corporation's name, which comes from the Jaru language and means 'teaching place for you mob', perfectly reflects what Roy and Helen do best.  Helen teaches in school and Roy has always been involved in teaching young fellas on stations. 'That's been our life—stations and education.'
What exactly does Bina-waji do?
In a nutshell it provides training to young Aboriginal people, throughout the Kimberley, in pastoral skills and also shows them how they may lead a happy and productive life. Trainees gradually develop self-discipline and a certain toughness and determination. 'Days are long and conditions are far from cushy', says Roy but he expects his students to meet a basic standard. 'When we are out in stock camp, everyone has to be up by five and be washed, shaved and ready for breakfast pronto.'
From their home-base at Burks Park Station, two kilometres south of Halls Creek, Roy and Helen have also adapted their training modules to help juvenile offenders. With patience and firmness Roy shows these youngsters a new direction and offers them hope. To date the program has been a great success.
By following Roy's lead young people settle down and start learning how to look after the land and manage livestock. 'Once kids are calm and comfortable within themselves, when they like what they see themselves achieving and start believing in themselves, that's when they can look outwards. They're ready to seek real employment,' says Roy.
Jobs are now open to young trainees not only in pastoral or mining sectors but also in mainstream workplaces.
Helen runs a town-based two-week 'working life' course in which she creates a caring supportive environment for trainees to explore their personal issues. 'It's not all classroom work, we get out and about too,' says Helen. 'We visit various potential places of employment so the students can see it's not so frightening. Everyone is very welcoming—shops, government agencies, the lot.'
By helping her trainees break down barriers and build up self-worth Helen is able to show them the real possibilities of holding down a job and leading a secure life.  And after the course is completed Bani-waji makes mentors available so gains made can be maintained.
What Bina-waji achieves is quite remarkable and is largely down to the dedication of its founders, Roy and Helen Wilson. Yet they are the first to say they couldn't manage without well-targeted government support.
In partnership
Bina-waji works closely with the Indigenous Landholder Service which is a joint venture between the Department of Agriculture and Food WA and the Indigenous Land Corporation, as well as with Kimberley Indigenous Management Support Service and Farm Training.
Since 2007—the year Bina-waji registered with ORIC—things have really fallen into place. Agreements have been reached with Wunan Job Futures and the Department of Housing WA which made available Burks Park Station and the surrounding land.
The future looks firm.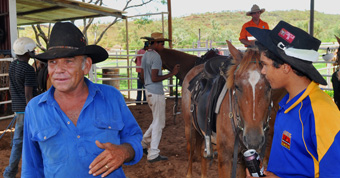 Photos:
(top) The latest group of trainees to gain pastoral and life skills through the training program run by Bina-waji Nyurra-nga Aboriginal Corporation. Photo: DAFWA's ILS
(above) Roy Wilson (left) with trainees. 'When we are out in stock camp, everyone has to be up by five and be washed, shaved and ready for breakfast pronto,' says Roy. Photo: DAFWA's ILS