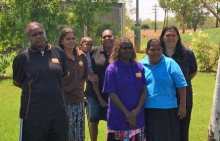 Arnhem Land, Northern Territory: It comes as no surprise that the 'Sun Come-Up Mob' behind the Sunrise Health Service Aboriginal Corporation radiate optimism and energy. Their positive outlook and 'can do' attitude make everything they set out to achieve seem possible.
'We're a community-based organisation dedicated to improving the lives of our people,' says Anne Marie Lee, the chairperson of Sunrise Health's 16-member board of directors. 'Our job is to help people stay healthy but also, should they fall sick, to make sure they get access to quality healthcare.  And to do that, we know we must make sure our governance stays "healthy" too.'
Based in Katherine, the corporation has been operating since 2003 and looks after the health needs of 14 different communities within a 400-kilometre radius of the Katherine East Region of the Northern Territory.  Almost one thousand people are registered with the corporation and, with its current membership drive, more are expected to join.
'We administer comprehensive primary healthcare and other health-related services to 14 remote communities and their associated outstations through health centres based in nine of those communities,' says Sunrise Health's CEO, Dale Campbell. 'The nearest member community is Barunga, which is about 100 kilometres from Katherine while Ngukurr is the furthest away at over 320 kilometres, although there are some outstations even further out.'
Few corporations working in healthcare fit the 'remote' and 'very remote' classifications of service delivery as keenly as Sunrise Health.
'The isolation of communities sometimes presents us with some difficult problems but somehow we manage,' says Anne Marie Lee. 'We rely heavily on our network of clinics, our dedicated staff and finding the best services we can from across the region.'  
Meeting challenges is normal for Sunrise Health which does a fantastic job in a difficult environment under difficult circumstances.
'Our main aim is to give our people access to high quality and culturally appropriate healthcare services,' says Dale Campbell. 'But we also want to build capacity in each of our communities so that healthcare services for Aboriginal people are provided by Aboriginal people. Whenever we can we recruit locally.'
Sunrise Health is well on its way to achieving both goals. Last year it was again recognised as a wholly Aboriginal owned and fully accredited Aboriginal medical service with an AGPAL general practice certification. It was also awarded an international standard in quality management (AS/NZS ISO 9001:2008).
With its commitment to raising healthcare standards and rolling out modern new programs Sunrise Health is out in front. It provides a comprehensive range of clinical services, from child, maternal and men's health, to paediatrics, right through to managing chronic diseases. A lot of effort has gone into preventative health education, and combining traditional Aboriginal culture with the best of mainstream western medicine.
Sunrise Health also has a well-earned reputation for understanding and solving local problems by turning to the local people (its client base!) for realistic, long-term answers. For example, the importance of 'you' in taking responsibility for 'your' own health has been a central part in the recent community health campaign—and it has made a big difference.
The message became a feature, not only in the day-to-day work of staff but as a key element in our public relations campaigns at the several community festivals held during the year at Barunga, Bulman, Minyerri and Ngukurr.
More and more people are taking an interest in their own health—for example, they know about good nutrition and the hazards of smoking. And, most importantly, they're taking action when they notice changes in their physical well-being. More people are attending the clinics and taking the doctor's advice!
With a successful awareness campaign on one hand, and directors and staff committed to a preventative health philosophy on the other, Sunrise Health is forging a new path. 'We know there is still a lot more to do to "close the gap",' says Dale Campbell.
But Sunrise Health, doing it the Sunrise way, will surely get there.   
End matter
Sunrise Health Service Aboriginal Corporation follows a proportional representation model with directors nominated from communities located in the Katherine East Region of the Northern Territory. The corporation has 950 members and currently employs 125 staff.
For more information http://www.sunrise.org.au/sunrise/home.htm
---
Photos courtesy of Sunrise Health Service Aboriginal Corporation and ORIC