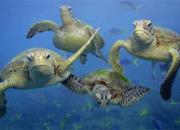 Gudjuda Reference Group Aboriginal Corporation (ICN 3475)
North Queensland: The Gudjuda Reference Group Aboriginal Corporation represents the Bindal, Juru and Ngaro traditional owner groups. Their country, spanning north Queensland from the Whitsunday Islands up to Townsville, is a biodiversity treasure trove. It also takes in one of the largest and richest river catchments in Australia—the Burdekin River.
This picturesque country lies alongside clear blue waters and golden beaches, home to marine turtles, dugongs and schools of playful coastal dolphins.
Not surprisingly the WWF (World Wildlife Fund) takes a great deal of interest in the area and not long ago joined forces with Gudjuda Reference Group Aboriginal Corporation to develop better ways of protecting it.
'We've signed a memorandum of understanding with WWF-Australia,' says Gudjuda chairperson, Eddie Smallwood. 'We want to create greater awareness within our traditional communities and the general public about looking after the land, sea and the animals.'
The corporation is working with WWF-Australia in practical ways, such as in its turtle tagging and research program across Gudjuda sea country, and monitoring the habits and health of other sea animals, including dugongs and dolphins.
The time is right as concern is growing for the marine turtles which are showing signs of stress. Many are also presenting with a worrying mystery disease.
'The fact is there are more people on the land and using the sea in different ways,' says Eddie. 'Human activity may be having a negative effect on the health and condition of these sea creatures, and even on their population size. It's up to us to protect their habitat.'
Gudjuda Reference Group is doing its best. Its members are reporting on what they see and carefully comparing their observations. A large store of knowledge and data has already been compiled.
The corporation has also played a vital role (along with other partners, such as Girringun Aboriginal Corporation in Cardwell) in WWF-Australia's award-winning documentary, Sending the gungu home. About the plight of the Barrier Reef's marine turtles, the film won $1,000 in the 'best community organisation' category of the Aurora Short Film Festival Awards in September 2013.
It's a remarkable achievement and the money is handy. No surprise it has been ploughed straight back into further research. 'The $1,000 has gone towards the purchase of satellite trackers to monitor turtle movement,' says Darren Grover, a WWF-Australia national manager in charge of Indigenous partnerships.
There will be no rest until WWF-Australia and Gudjuda Reference Group find out what's causing the turtles to get sick and what can be done to help them.
'Everyone is doing amazing work to save the turtles,' says Eddie Smallwood, 'and with our team's dedication you'll see that we will succeed.'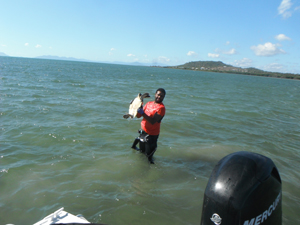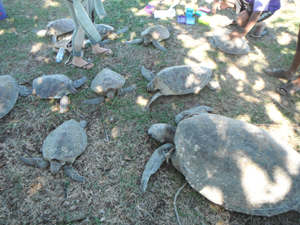 Captions