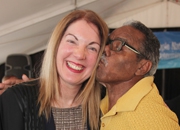 Spotlight on, April 2015
Butchulla Aboriginal Corporation RNTBC (ICN 8107)
We've finally done it! Justice Berna Collier receives a kiss from Butchulla elder and corporation director Malcolm Burns after handing out copies of the determination at the 'on country' sitting. Photo: Jocelyn Watts/APN
Fraser Island, Queensland: It's been a long battle but finally it has been won. In late 2014 the Federal Court of Australia handed down a determination that recognises the Butchulla people's non-exclusive native title rights and interests over Fraser Island, also known as K'gari, which means paradise.
With its 'sandy dunes, age-old sub-tropical rainforests and pristine lakes', it is well named.
In his message of congratulations, the Federal Minister for Indigenous Affairs, Nigel Scullion, said, 'The Butchulla people have struggled since the early 1970s to have their land rights recognised in order to protect their country and sacred sites from sand mining and other environmental threats.' Their steadfast resolve was rewarded first in 1977 when they saw mining operations cease and again in 1992 when K'gari was added to the World Heritage List.

Fraser Island is the world's largest sand island—123 kilometres long and, at its widest point, 25 kilometres wide.
In September 2014, the Butchulla Aboriginal Corporation was established as a prescribed body corporate (PBC) to manage the native title rights of the Butchulla people. In November 2014, following the historic determination, it formally became a registered native title body corporate (RNTBC).
'Everything has fallen into place,' says Kyleigh Currie, a director of the corporation. 'For many decades we fought a tough legal campaign which has now come out right. The Butchulla Aboriginal Corporation will progress our rights and develop a vision for the future of the island—K'gari.'
The determination handed down by the Federal Court acknowledges that the Butchulla people have lived here for 5,000 years. 'Their enduring spiritual affiliation to K'gari is evident in the island's creation story. K'gari was a white spirit from the sky who was changed into an island so that she could stay forever in the beautiful place she had helped to create.'
Recognition of their land rights has given back to the Butchulla people not only the freedom to enjoy and protect their traditional lands and waters but also the freedom to explore opportunities for economic development.
'We feel strongly about our responsibility to take care of our spiritual places and uphold our traditional customs and laws,' says Kyleigh Currie. 'We want to secure our future by creating jobs and attracting suitable employment opportunities.'
Over the past few months the Butchulla people have been talking to both the Queensland State Government and local government about eco-tourism enterprises. With several promising leads it's clear that through its corporation, the Butchulla people will harness business opportunities that are compatible with their special relationship with their country.
The Butchulla people's vision statement

We have owned this land since creation.
We have never given up country.
We have never sold this land.
The tides of history have not changed our laws.
We have never surrendered our rights to this land.

We want to see our country healthy.
We want to see our children strong and healthy on country.
We want to see our people strong, respected and with a sustainable future on this land.

We want to see our lakes, sands, waterholes, creeks, trees, fish and animals healthy.
We want to see our country looking beautiful like it was when K'gari laid down to rest.

We welcome visitors to our country.
We want them to acknowledge this land and our old people who care for this country and keep an eye over the place.
We want them to respect and care for this land like we do.
We don't want it to be run down, over used and broken or 'buggered up'.
All we want to see is only your footprints, nothing else!
We want to make sure we leave our children with their legacy and the right keys to this place.
We want them to understand who they are and where they belong.

 

These are three Butchulla (Badtjala) lores:

What is good for the land comes first.
Do not touch or take anything that does not belong to you.
If you have plenty you must share.

K'gari is our home! This is our place!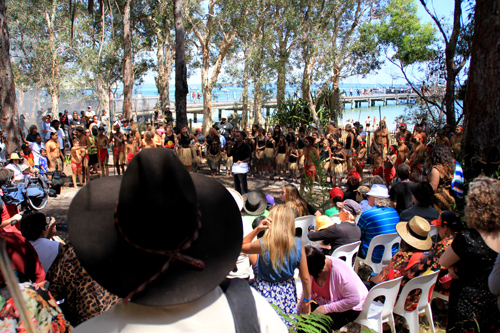 A welcome to country ceremony was held before the 'on country' sitting of the Federal Court. About 400 Butchulla people attended. Photo: Ross Kay/ABC Wide Bay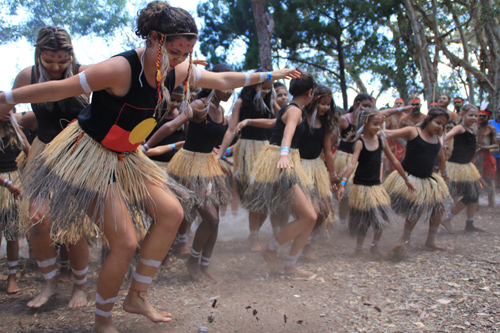 Butchulla women and girls dance to celebrate the historic event. Photo: Ross Kay/ABC Wide Bay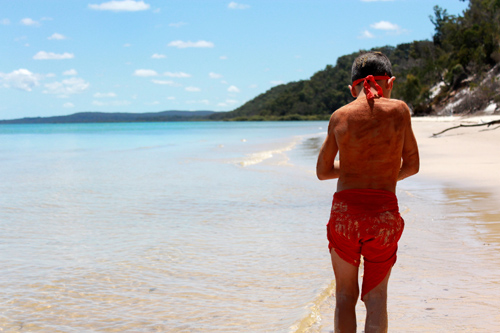 Stand strong, stand proud, stand together. The determination is empowering. It says 'we recognise you, Butchulla people, as the traditional owners of K'gari'. For the people whose grandparents were removed from their home two generations ago the recognition is particularly important. Photo: Ross Kay/ABC Wide Bay