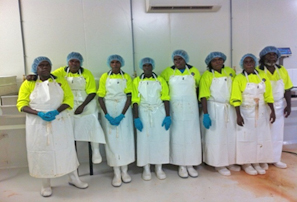 Aminjarrinja Enterprises Aboriginal Corporation (ICN 4688)
Groote Eylandt, Northern Territory: Aminjarrinja Enterprises Aboriginal Corporation—otherwise known as AEAC—couldn't believe its luck when Tasmanian Seafoods, a large commercial company, expressed interest in a business partnership. 'A thriving commercial fishing industry is exactly what we need up here,' says AEAC director Donald Mamarika. 'It was very exciting to be approached by Tasmanian Seafoods and we have totally embraced being in business together.'
In practical terms the partnership means a large, modern, well-equipped fishing centre has opened up on the island—clearly a great boost to the local Umbakumba community.
'We're harvesting fish including trepang (sea cucumber) from the pristine waters off Groote,' says Will Bowman, one of Tasmanian Seafoods' representatives. 'AEAC is running this side of the project.'
Tasmanian Seafoods leases space at the Darwin Aquaculture Centre to breed trepang but as soon as they reach a certain size, they are transported to the lush seabed grasses around Groote for nurturing and growth.
Trepang are a highly sort after delicacy, particularly in China and Indonesia. 'They also have some medicinal properties plus many folk believe they are an aphrodisiac,' says AEAC's chief executive officer, Keith Hansen. 'This is a product people want which makes us confident we have the makings of a very good business on our hands.'
Certainly 2014 is shaping up to be a bumper year. 'If our projections are correct we will harvest 10 tonnes of trepang over the year, which will be a great result,' says Will Bowman, 'especially as we have a strong market ready and waiting in China.'
In terms of providing jobs for the local community the partnership has come at just the right time. For a while AEAC had been looking around for employment opportunities outside the manganese mining industry run by GEMCO (a BHP Billiton subsidiary). It too had thought an aquaculture venture would be ideal—a perfect fit for the community.
'Already 10 local people have been engaged full time and of course the number will increase at harvest time,' says AEAC director Nesman Bara. 'This joint partnership will bring about long-term employment.'
Groote Eylandt is known for its diverse and clean environment—its spectacular beaches, spring water swimming holes, rainforest, rock art going back thousands of years, and the aqua crystal clear waters of the Gulf of Carpentaria. In many ways it's a paradise.
'The people who live here are saltwater people, they live with the sea and have an affinity with its bounty,' says Elvis Bara, another AEAC director. 'With this new business our future just gets better.'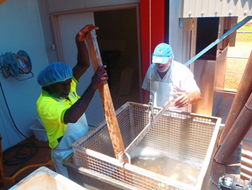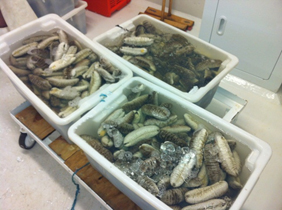 Background
Aminjarrinja Enterprises Aboriginal Corporation (AEAC) is a large corporation serving the needs of the people of Umbakumba, particularly in the areas of housing and economic development. It registered under the CATSI Act in 2006.
From small beginnings it now has construction camps in Umbakumba, Alyangula and Milyakburra. It also owns and runs Starborside cafe in Alyangula and has recently opened Miyabama mini-mart and takeaway in Umbakumba. A fully equipped mechanical workshop in Angurugu looks after both the needs of the corporation and the local community. AEAC also has a number of government housing maintenance contracts which, coupled with GEMCO contracts, provides employment. Further, AEAC has fully refurbished a 41-room resort development in Darwin (The Leprechaun Resort) which is currently running at a 100 per cent occupancy rate. With all these initiatives the aim, as president of the AEAC board of directors, Donald Mamarika, says, 'is to provide a better future for our people'.
Captions