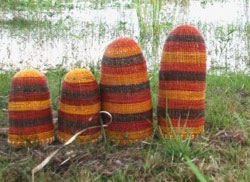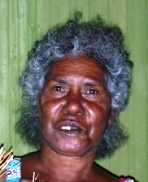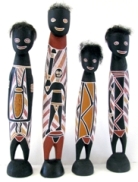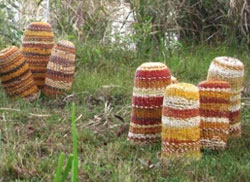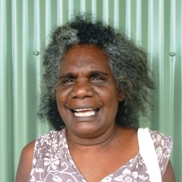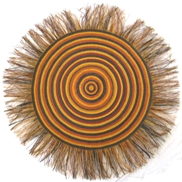 Gapuwiyak Culture and Arts Aboriginal Corporation (GCAAC) is the newest Aboriginal art centre in the Northern Territory and in August they will hold their first commercial art exhibition.
Located on the shores of Lake Evella in north-east Arnhem Land, about 230 kilometres west of Nhulunbuy, Gapuwiyak was originally set up as a mission in 1969 and today has a population of approximately 700 people.
It is only recently, though, that local artists—renowned for their fibre work and traditional carving and painting skills—have obtained a space to call their own. In June 2009 the culture and art centre building was officially opened and according to fibre artist and local school principal, Shirley Nirrpurranydji, it has had a major positive impact.
'It's the first time we've had a culture centre at Gapuwiyak,' Ms Nirrpurranydji said. 'It has brought out talent from this community and given us opportunity, strength and ambition.'
There is a lot of excitement too about the upcoming historic exhibition that is aptly titled Ngurrungu Yolnguwung Mala Djaamapuy (Gapuwiyak Culture and Arts First Exhibition). It will feature works from twenty artists, including Dolly Dhimburra Bidinga who is a finalist in this year's National Aboriginal & Torres Strait Islander Art Awards that will be on show at the same time.
'(This is) the first time ever I made anything for an exhibition,' Dolly said. 'I am so excited to go to Darwin and see my work in the museum.'
The GCAAC was registered under the Corporations (Aboriginal and Torres Strait Islander) Act 2006 in December 2007 and aims to provide opportunities across generations to support community cultural development. This includes activities relating to ceremony, dance, music, performance, arts and crafts, language, oral history, bush skills and traditional cultural knowledge.
Lesley Winingu Guyula is a GCAAC board member and artist who is the Arts and Crafts Program Assistant at the centre. "I'm learning computing and writing down the biographies," she told ORIC.
The new centre has also meant more visitors travelling on the Central Arnhem Highway are calling in to Gapuwiyak.
'We get some white people coming in to get items from here, buying art,' Lesley said. 'Nearly the whole community is now doing arts–carving didgeridoo, fibre, painting hollow logs.
'It helps us be strong so we can keep our culture strong as we are Aboriginal people that have identities and a culture, here, where we belong.
'It's part of our lives.'
Ngurrungu Yolnguwung Mala Djaamapuy will be held 13–29 August 2010 at the Territory Craft Gallery located in the grounds of the Northern Territory Museum and Art Gallery at Bullocky Point, Darwin.
Photos:
Four Bulpu by Walinyinawuy (Nancy) Guyula
Lesley Winingu Guyula
Four Men by Mayalambarr (Helena) Wanambi
Three Bulpu and Five Bulpu by Walawun (Kathy) Guyula
Shirley Nirrpurranydji
Maat, pandanus spiralis and natural dyes (d. 96cm) by Yilakala (Christine) Wanapuyngu