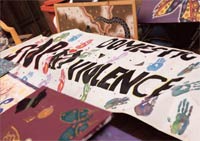 Mudgin-Gal, which means 'women's place', is an Aboriginal corporation based in inner-city Sydney. Mudgin-Gal traces its beginnings to the South Sydney Women's Centre in the early 1990s. While initially formed as a resource for women of all cultures, the women's centre increasingly evolved into a natural meeting place, support point and advocacy centre for Aboriginal women. On 17 June 1992 key members of the women's centre recognised the real potential to make a difference to Aboriginal women and their families and decided to incorporate under the Aboriginal Councils and Associations Act 1976. And so Mudgin-Gal came to be. Today, Mudgin-Gal is incorporated under the Corporations (Aboriginal and Torres Strait Islander) Act 2006. It remains the only women's centre run by and for Aboriginal women in New South Wales, and one of only a handful nationally.
Mudgin-Gal has for years operated out of an inner city terrace house provided rent-free by Sydney City Council. Right in the heart of the Redfern Waterloo precinct, Mudgin-Gal has become a local institution. It is a safe haven, a place to sit in the dry or the shade, and a place to shower or launder or cook for those who have nowhere else to go.
This unique corporation has evolved naturally in direct response to the real needs of real people from within its own community. Close to 20 years of first-hand experience of trial, error, failure and increasingly success, has led to the development of innovative services and programs that really work.
These services span Mudgin-Gal's day-to-day operations and welcoming presence as a drop-in centre and source of positive cultural and social networking. They offer dedicated programs in areas such as family support; expert referral for accommodation, legal and medical support, court support and post-release services.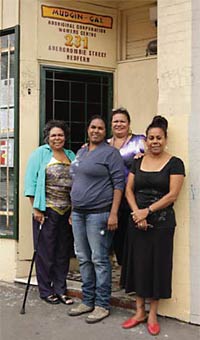 Through the growing suite of award-winning mentoring and education programs run through their 'Healthy Family Circle' program, developed in partnership with Relationships Australia, they are empowering women and young girls with the self-esteem, confidence and life skills needed to become role models for their own children and families and, by extension, for their community.
Mudgin-Gal's groundbreaking work to address family violence has gained national recognition. Its 'Black Out Violence' campaign won the Violence Against Women Prevention Award in 2004 and has since been rolled out—with help from Mudgin-Gal trainers and ambassadors—to communities in regional NSW. The program has been cited by the Human Rights and Equal Opportunity Commission as a best practice model for addressing violence in urban Aboriginal communities.
Mudgin-Gal is an inclusive organisation that believes in caring for its immediate members and sharing strength and knowledge with other community groups. In taking its place as an active member of the wider community, Mudgin-Gal is not only building autonomy and respect for its own members, it is also taking positive steps to dissolve generations of misconception and misunderstanding.
It is their hope that with support from the broader community Mudgin-Gal's work can continue and its vision and promise can be fulfilled.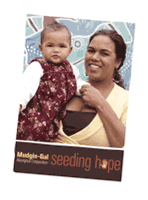 Content for this article was sourced from Mudgin-Gal's fabulous publication, seeding hope. It is available at http://www.redfernfoundation.org.au/mudgingal.pdf.