Alice Springs, Northern Territory: For more than 25 years the Central Land Council's (CLC) Aboriginal Associations Management Centre (AAMC) has played a leading role in supporting Aboriginal corporations in the CLC region to manage their royalties and native title incomes and administration.
---
At the corner of Lovegrove Drive and Kennett Circuit in the town's light industrial area you'll come across a modest building. This is the AAMC. But don't be deceived by appearances. Inside this orderly office, with its neat, coloured-coded files lining the walls, is a dedicated team of professionals helping Aboriginal corporations manage income from native title and traditional lands, and meet the needs of corporation members.
Set up by the CLC in the late 1980s, the AAMC was given the task of administering rents and distributing royalties to Aboriginal associations and groups. Since then most have been incorporated under the Corporations (Aboriginal and Torres Strait Islander) Act 2006 (CATSI Act) and the AAMC has taken on further responsibilities.
In the beginning the AAMC looked after 16 entities, by 1996 the number had grown to 41 and, by 2000, it was looking after 60 corporations.
'With some rationalisation, and with a few corporations closing naturally due to diminishing royalty returns, the number we now have has stabilised at 33,' said Sheri Barnes, acting head of the AAMC.  'We operate under a letter of engagement with each corporation—it's a system that works well. Corporations aren't required to use our services, they choose to come to us.'
Eight highly skilled people make up the AAMC team which has two distinct sides. On one side is the project team which helps corporations with their corporate governance obligations. It is usually out in the communities because this is where most of the members live. The AAMC project team helps with arranging and running AGMs and directors' meetings. The AAMC accounts team, on the other hand, process all financial records on behalf of the corporations and, each July, has an annual audit for each corporation so that it can start immediately on the new financial year's reporting schedule.
'We joke that, between the eight of us, we have over 100 years of experience,' said Sheri Barnes, 'so we are confident we know what we're doing, and the timeframes within which we have to do them!'
Good governance and empowering traditional owners are paramount.
The AAMC also administers 28 different funeral funds which have been set up from royalty and leasing income, 12 ceremony funds, and 12 sorry funds.
More than ever before, Aboriginal corporations assisted by the AAMC are deciding to spend larger portions of their royalties and rents on community development programs and long-term investments. The AAMC provides corporations with governance, legal, financial and investment support which lift corporations to make bold life-improving changes—whether that's building a school or supporting a new health clinic service. Some major initiatives have included dialysis support and a multitude of community development and education projects.
Aboriginal people want a better standard of living and viable, safe communities. This is why these days, rather than distributing their royalties to individuals, they often want them used in their communities or invested for future generations.
In the past year more than $6.1 million of royalties and rent have been spent on community purpose projects and economic development.      Source: CLC website
'I have the highest regard for the work performed by the AAMC for Aboriginal corporations in Central Australia,' said the Registrar of Indigenous Corporations, Anthony Beven. 'It does an excellent job not only in terms of record keeping, reporting and running meetings but also in providing neutral guidance in cases of, for example, disagreements about how funds are allocated, membership eligibility or the corporation's own rules.
'A typical Aboriginal corporation assisted by the AAMC is well governed, fully compliant on its reporting obligations to my office and members, and has a low level of disputation and complaints. I'd like to see an AAMC set up in every state and territory to work with native title corporations.'
One of the reasons the AAMC works so well and is so efficient is because it maintains a separate database for each corporation. 'We're able to record and keep up to date with all changes—members' contact details, boards of directors, deaths, and resignations,' said Sheri Barnes.
And the last word goes to the Registrar. 'People often refer to the AAMC as "Associations House" but I've always thought it should be called "Corporations House" because its work is entirely dedicated to helping Aboriginal corporations comply with the law and meet the needs of their members.'
Photos: ORIC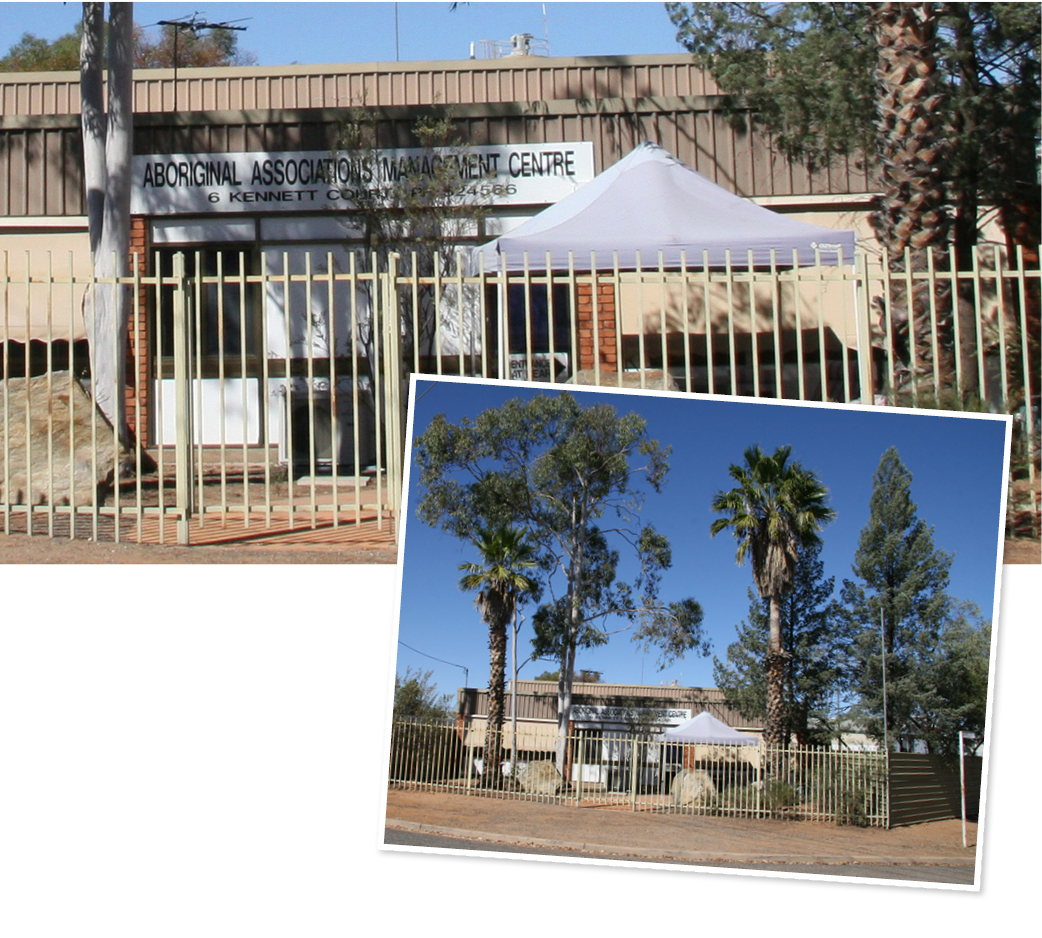 The office—Aboriginal Associations Management Centre (AAMC), 6 Kennett Circuit, Alice Springs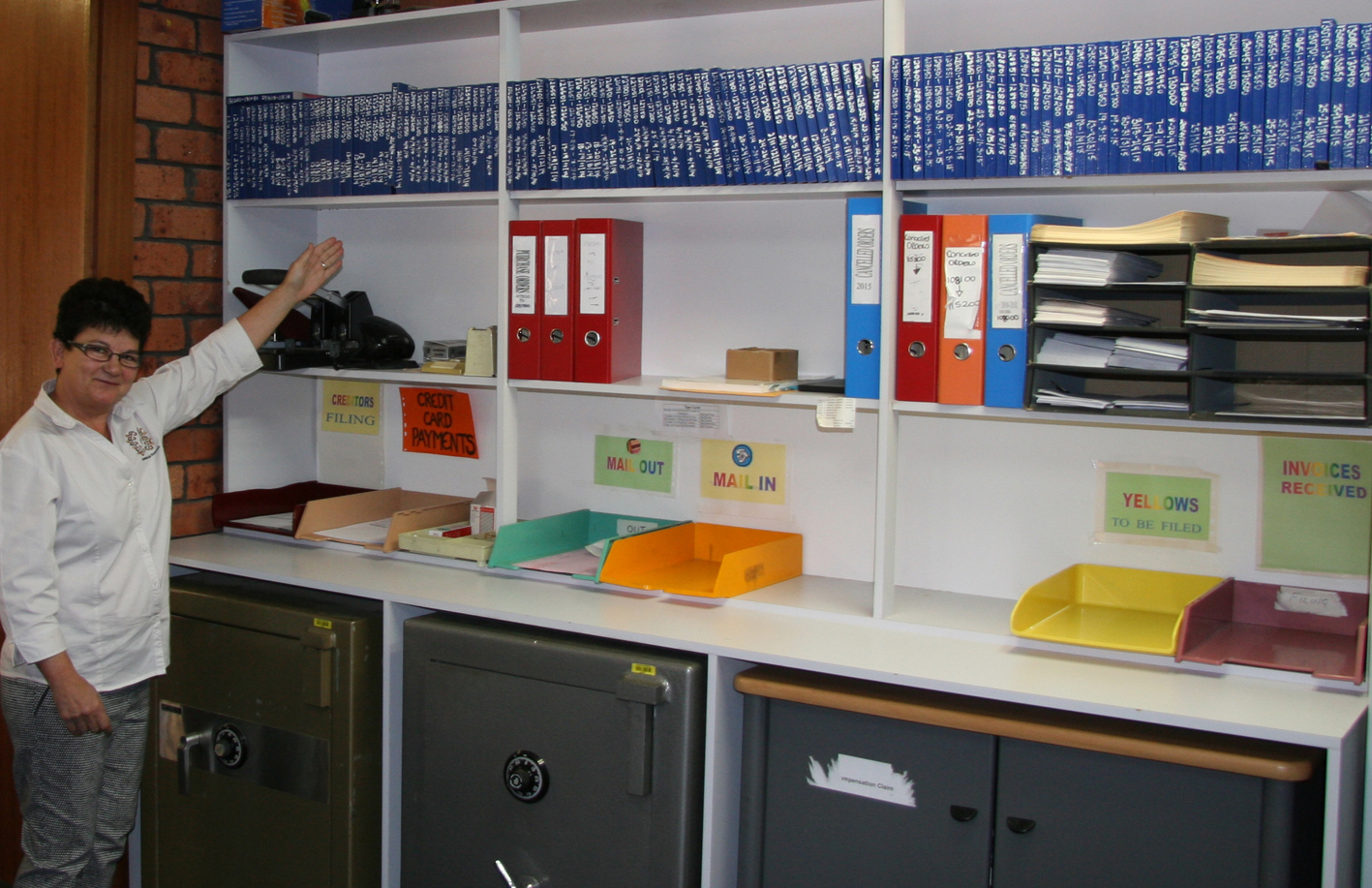 Acting head of the AAMC, Sheri Barnes, and 'the purchase order files'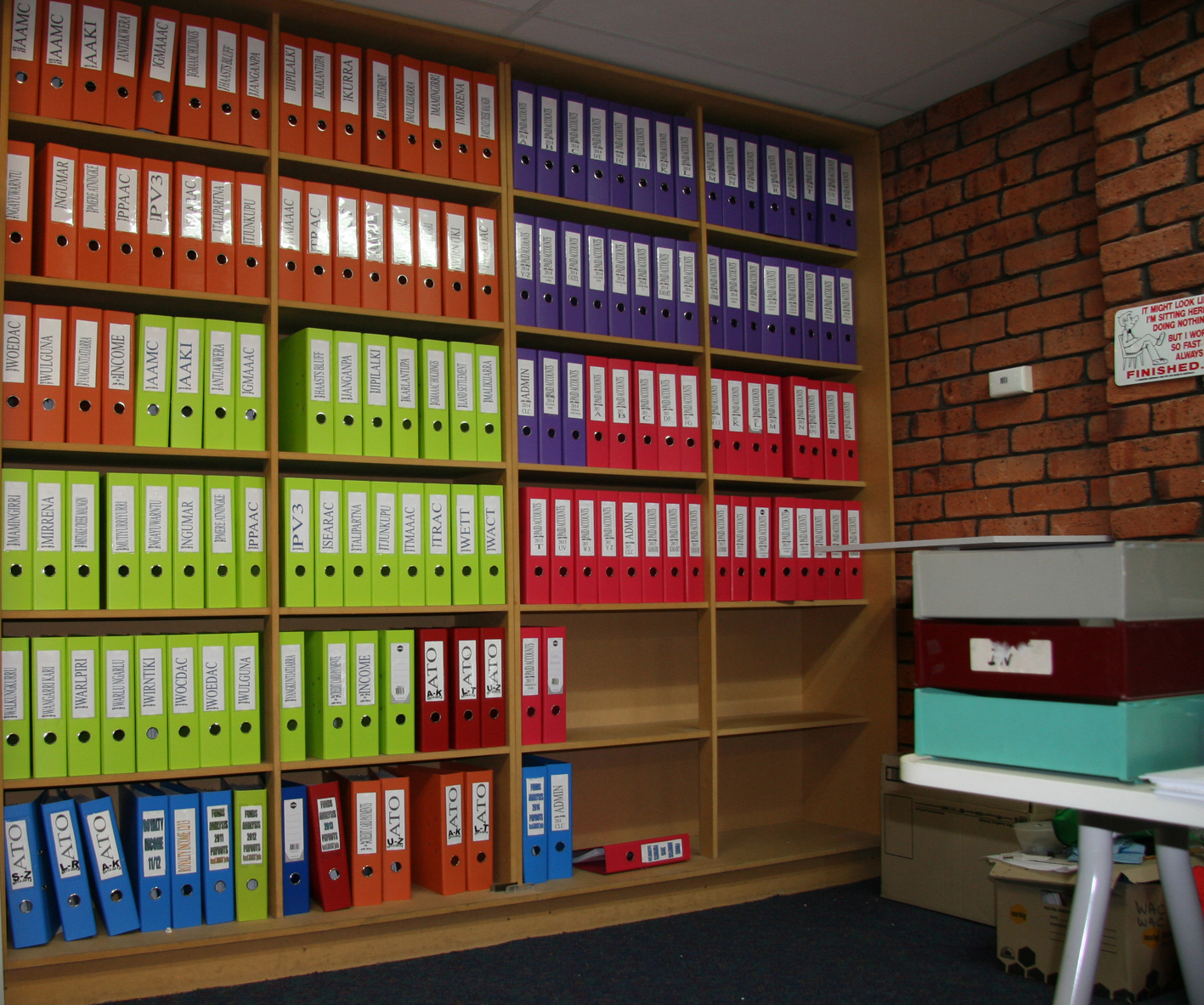 More orderly and efficiently maintained files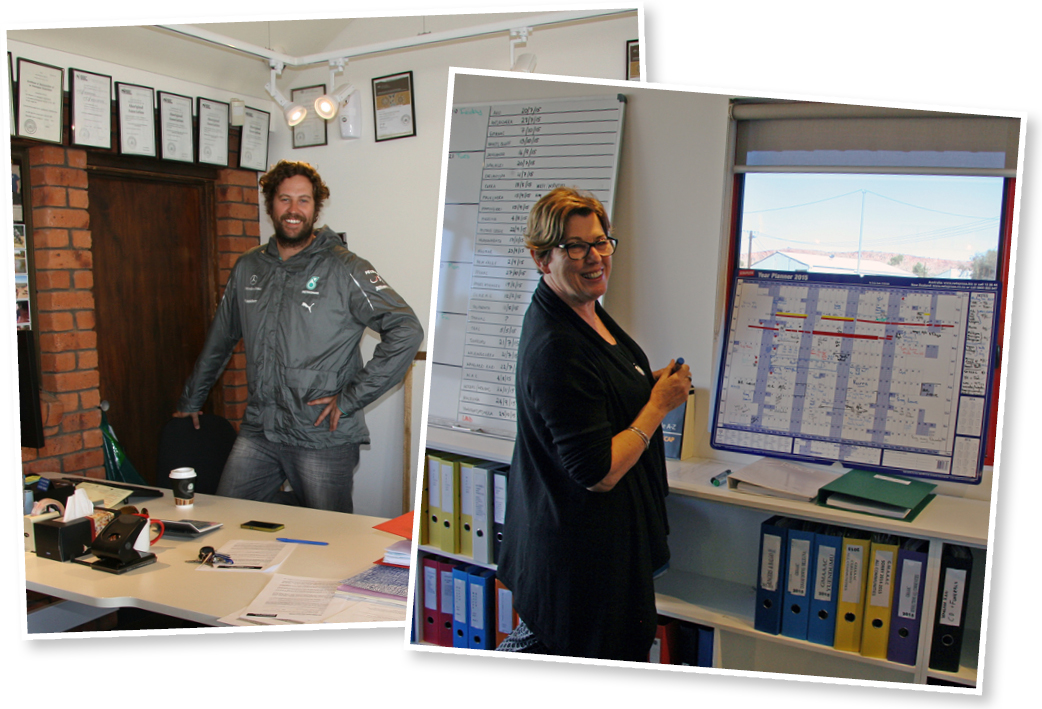 (From left to right) project officers Greg Drew, Margot Rush and (below) Jenny Hickmott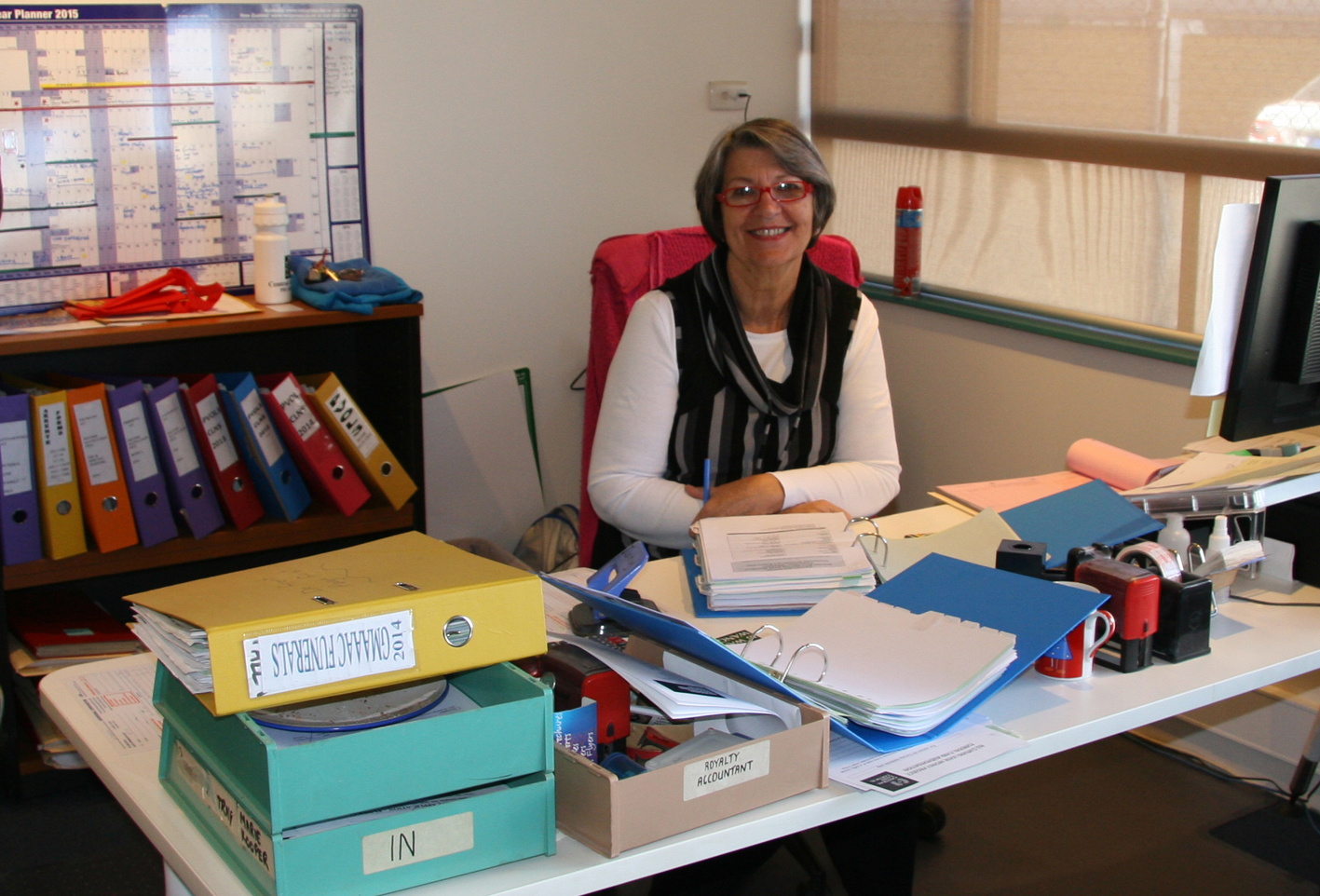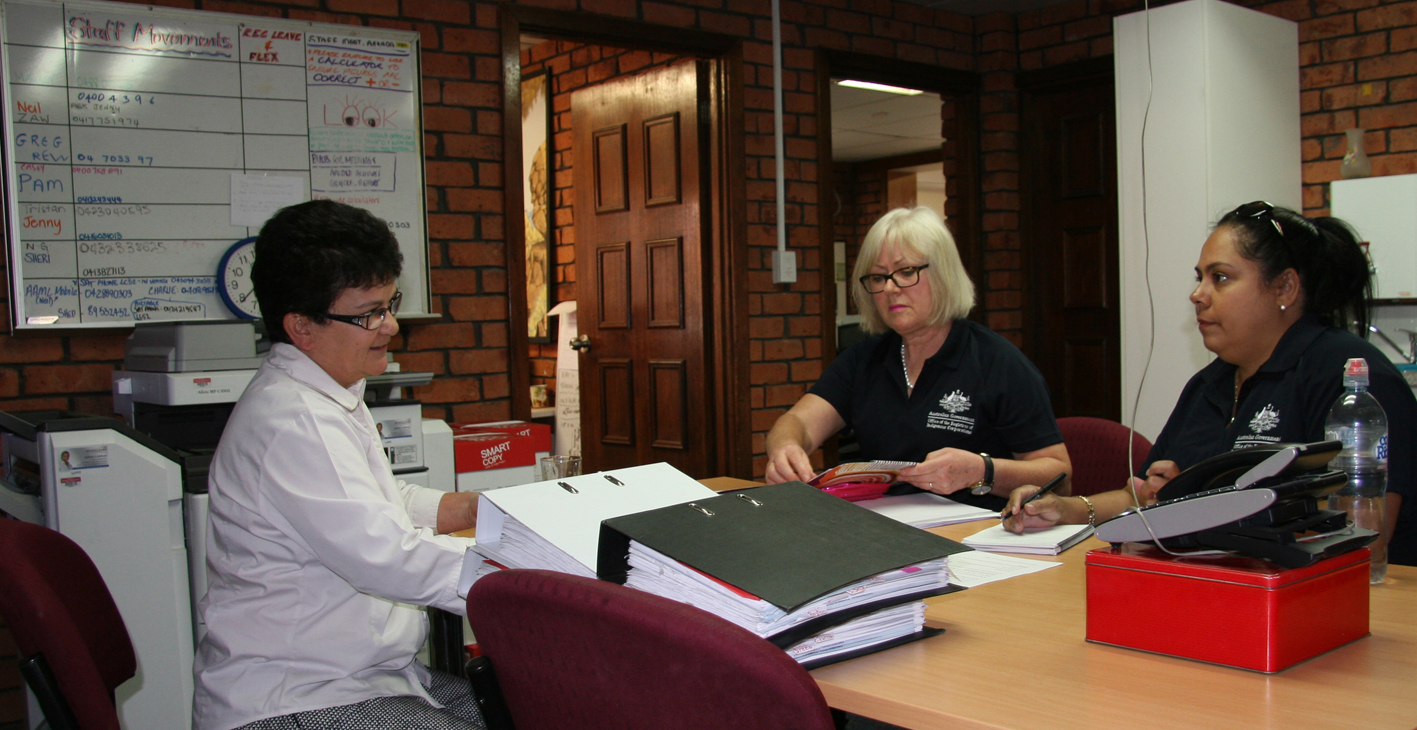 Sheri Barnes (left) talking with ORIC's Trish Gibson (centre) and ORIC's Alice Springs regional manager, Dayna Lister