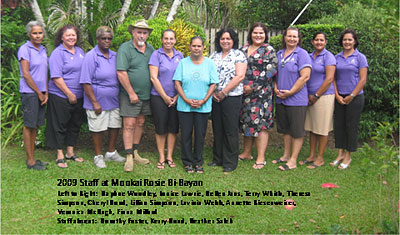 Since the late seventies, Aunty Rose Richards welcomed sick Aboriginal and Torres Strait Islander children into her far north Queensland home. Today 25 years on, Mookai Rosie Bi-Byan (Aunty Rosie's Place) is Australia's first Indigenous community-controlled organisation with twelve beds for women during childbirth.
The organisation was incorporated with ORIC on 10 September 1986 and has successfully seen hundreds of women and children pass through the health centre doors since 1983.
Together, the Mookai Rosie Bi-Bayan's committed staff and directors have achieved their long-term goal of establishing Australia's first Indigenous community-controlled corporation that specialises in health care services for women and children.
With community in mind, Mookai Rosie Bi-Bayan aims to bridge the gap in the health of Indigenous and non-Indigenous women and children by promoting healthy lifestyles and healthy eating habits during pregnancy to further contribute to community pride.
The corporation has been steadily growing over past eighteen years in Earlville. And now Mookai Rosie Bi-Bayan has announced plans for brand new facilities in Cairns. The 24-bed ante-natal and post-natal facility has attracted Australian Government funding of more than $5 million. The funding was announced by the Minister for Families, Housing, Community Services and Indigenous Affairs, the Hon. Jenny Macklin. The founder, Aunty Rose Richards was also on site for the occasion.
Minister Macklin congratulated Auntie Rose for the extraordinary work she has done in the past 25 years.
The facility will offer referrals, advice, education and support for the many Indigenous mothers who cannot access these services in their home communities. Construction of the facility should be finished by February 2010. It will have eight shared bedrooms, two living areas, large dining area, kitchen and a meeting room for post-natal education programs and other support services.
The facility's emphasis will be on nutrition, women's reproductive health, pre-natal and post-natal care, support and the environmental health of the women who attend the clinic.
The current health facility offers:
accommodation for twelve clients
meals and transportation to and from medical appointments
an on-duty staff member twenty-four hours a day
acceptance of clients referred by community clinics in conjunction with RFDS and Cairns Base Hospital
flexible accommodation arrangements, varying from one night to six weeks
staff assistance of Mothercraft, health education and welfare issues
treatment for minor aliments
a safe and comfortable home-away-from-home for all mothers and children who choose to come and stay at Mookai Rosie.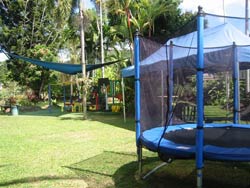 The community's support and encouragement have enabled the corporation to deliver consistent quality service.
Mookai Rosie's has a strict no-alcohol policy to uphold healthy living.
For further information about this corporation caring for pregnant women and their babies go to their website at http://www.mookairosie.org.au.