Western Australia: Few organisations match the sweeping breadth and diversity of Ngaanyatjarra Council (Aboriginal Corporation). In fact, you might say it is unique.
Incorporated in 1981, it has over the years grown into a multi-faceted concern that now forms the centre of the Ngaanyatjarra group. It includes: 
Ngaanyatjarra Services (Aboriginal Corporation)
Ngaanyatjarra Health Service (Aboriginal Corporation)
Caltex Alice Springs
Ngaanyatjarra Agency and Transport Services—known as NATS.
Each entity has been set up with the single driving purpose of improving life and raising living standards for the residents of the Ngaanyatjarra Lands. These are the Ngaanyatjarra, Pintupi and Pitjantjatjara people whose lands lie in the remote central desert region of Western Australia. The population is about 2000 spread across 12 communities in an area that spans approximately 250 000 square kilometres.
Most of the corporation's activities and services are run from its main office in Alice Springs. These include financial services (turnover is around $100 million per year), training and employment, land and cultural activities, a large health service, and a business that supplies fuel and other goods. The corporation also has offices in South Perth which deliver housing maintenance, building and essential services to the Lands.
Leadership by Ngaanyatjarra Council's secretary and coordinator Gerard Coffey, along with a stable and committed board of directors and an enthusiastic and dedicated senior management team, go a long way to explain the corporation's ability to achieve results. On so many fronts it is making a difference.
'We've made some great strides in the past few years in the overall development and wellbeing of residents on the Lands,' says Gerard Coffey, 'But we also realise there is a long way to go. We are focussed on continual sustainable progress.'
And progress it is. In many ways it is easier to talk about what the corporation doesn't do. Its land and culture program ensures traditional owners are able to care for their land and control access to it by geologists and petroleum explorers. In the past year the regional housing division has completed repairs and maintenance on hundreds of homes while maintaining very good relationships with tenants. And the quality of clinical care provided by the health service, with the accent always on strong community engagement, continues to rise and exceed all expectations.

Yet perhaps most remarkable of all the corporation's activities is its fuel and goods supply service. Residents from the individual communities place their orders for household and other items through 'NATS' which not only source the goods but also deliver them to their door. No item is too big or too small—from cars to kettles, from children's toys to food and furniture. Any profits made from the business are given straight back to the community, proportionate to monies spent by each.
'The system works well and with the continued commitment from communities to purchase through NATS we are able to return a profit each year,' says the corporation's chairman, Bruce Smith. 'This year we were able to return a profit share of approximately $500 000.'
Good governance standards, directors passionate about providing quality services, and a belief in sustainable development are the ingredients that make this corporation work.
In Gerard Coffey's words, 'Everyone involved in the Ngaanyatjarra group is committed to achieving the best possible results and ensuring the Ngaanyatjarra Lands are a strong, good and safe place to live and work.'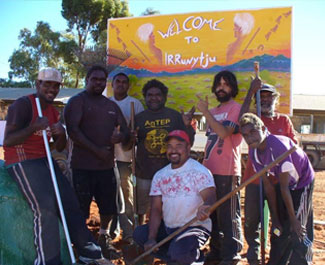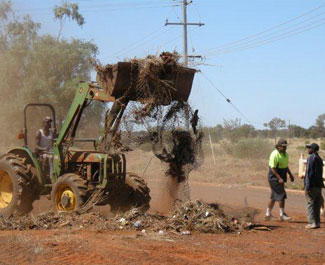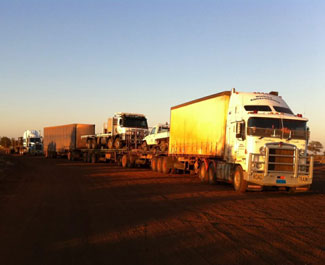 Photos: Chris Reid (third from the right) chairman of Irrunytju community with local CDEP workers. Getting the work done at Jameson. Loaded trucks going out to the Lands.
Photos: Ngaanyatjarra Council (Aboriginal Corporation)