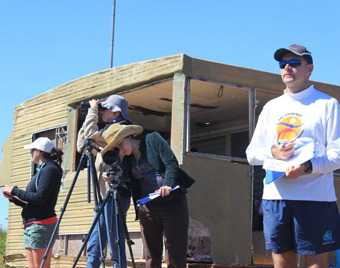 Goojarr Goonyool Aboriginal Corporation (ICN 3559)
Kimberleys, Western Australia: For many years now Goojarr Goonyool Aboriginal Corporation has been monitoring humpback whales from its isolated cliff-top perch at Pender Bay.
The lookout—otherwise known as Two Moons Whale and Research Station—was established by Andrew Bowles, the corporation's chairperson, to study the numbers and behaviour of the humpback whale. Pender Bay lies above Broome in the farthest corner of northern Western Australia—a pristine remote location characterised by high cliffs and a long uninhabited shoreline.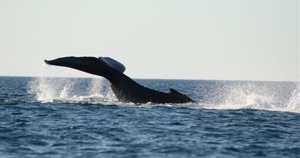 With the support of members, loyal sponsors and a band of dedicated volunteers the corporation, from its solitary base at Two Moons, has over seven years compiled an impressive database that clearly shows the significance of Pender Bay as a critical marine habitat.
'Each year thousands of humpback whales make the journey from Antarctica along the West Australian coast to the warmer waters around here,' says Andrew Bowles. 'They can arrive as early as May with juveniles appearing to lead the herd.'
The numbers steadily increase during July with heavily pregnant mothers arriving in increasing numbers, peaking in early August. 'Our team has been fortunate to have witnessed births,' says Andrew.
In 2006 Goojarr Goonyool Aboriginal Corporation formed a team of local knowledge. 'For the first three years we shared knowledge and learnt modern science from researchers Shannon McKay and Dr Deborah Thiele.'
In 2009 Goojarr Goonyool Aboriginal Corporation joined forces with the Western Australian Marine Science Institution (WAMSI) and together they have undertaken an independent survey that confirms Pender Bay as an internationally important birthing, mating and resting ground for the humpback whale.
'Goojarr Goonyool Aboriginal Corporation, who were keen to have us support their survey with statistical analysis in an ongoing partnership, kindly contacted us,' says WAMSI CEO and marine research scientist Dr Steve Blake. 'We have not looked back since. It's a true collaborative effort.'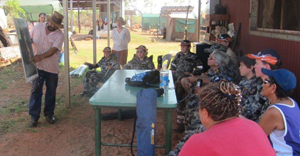 All the data collection happens at Two Moons. Goojarr Goonyool Aboriginal Corporation provides the facilities and a network of volunteer observers while WAMSI provides a lead scientist who coordinates the survey and supervises activities.
The survey is turning up some remarkable findings and is an excellent example of quality grassroots collaboration.
Volunteers work in small groups. On a cloudless day from the cliff-top perch they can 'whale spot' up to 10 kilometres offshore. Information is gathered on whale numbers, distribution and behaviours. Information is also collected in other areas and from other sources—for example, on boat traffic, and from satellite and local meteorological data, 'so we can look for any correlations with meteorological variables, tides and so on with whale counts,' says Dr Blake.
At the end of each session there is a massive spread-sheet to analyse.
It is hard to believe that these intelligent mammals almost became extinct due to whaling. In 1963 the Western Australian population was estimated to be only 600.
'Their cultural habitat knowledge was decimated,' says Andrew. 'Yet we sense that the habitat demographic is undergoing a major phase of change. The majority of those 600 whales have started a revival from the more isolated areas north.'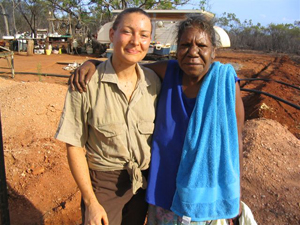 Today it is important to 'urge caution to scientists making quick calls on critical habitats as these new mothers rediscover ancient calving grounds and as their population steadily grows.'
With its contribution to the further understanding of the humpback whale and its dedication to the preservation of the natural environment, Goojarr Goonyool Aboriginal Corporation is not only true to its objectives but also making a big difference.
As set down in its rule book its aim is to 'hold and manage land to ensure the protection of sacred sites and the protection and/or enhancement of the natural environment.' There is no doubt it is achieving this.
Goojarr Goonyool Aboriginal Corporation registered under the Corporations (Aboriginal and Torres Strait Islander) Act 2006 in June 2000.
Photos: All photos courtesy of Goojarr Goonyool Aboriginal Corporation
Top: Volunteers at the look out at Two Moons Whale and Research Station
Second: Humpback whale off Pender Bay
Third: Chairman of Goojarr Goonyool Aboriginal Corporation, Andrew Bowles, speaks to a cadet navy group
Bottom: Volunteer with elder Lynette Mayne of the Nyull Nyull traditional owner native title group who is also Andrew Bowles' sister