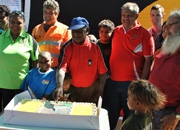 Spotlight on, September 2014
Bundiyarra Aboriginal Community Aboriginal Corporation (ICN 1422)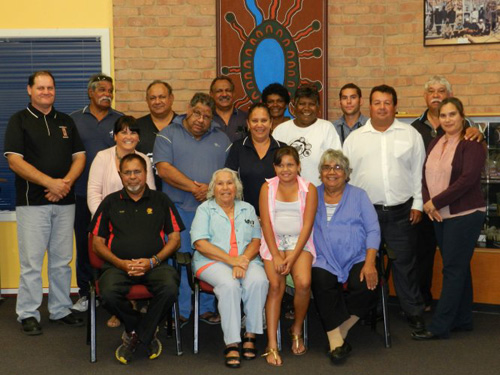 Geraldton, Western Australia: One of the central elements of culture is language. Aboriginal people know this more than most which is why every effort is made, sometimes against great odds, to nurture 'language' and to keep it strong.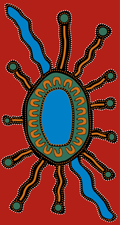 At Bundiyarra Aboriginal Community Aboriginal Corporation they are doing all they can to put language at the forefront. Keeping language alive is their most important mission—and they are succeeding.
Bundiyarra means 'good place to go' or 'good meeting place' in Wajarri.
Among the corporation's recent achievements is the publication of the Badimaya Dictionary and the Badimaya Guwaga wordlist which were launched earlier this year.
Over 20 years in the making, the Badimaya people are justifiably proud that their culture and language not only have been preserved but also developed into multiple educational resources.
'To have your life-long culture and language valued and respected is something anyone would hope for,' said Mr Ollie George. 'It makes me very happy.'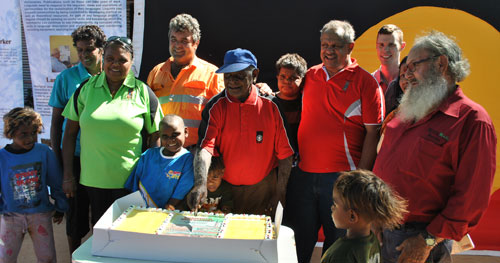 The Yamatji Language Centre began the painstaking work in the early 1990s before transferring it to the Bundiyarra–Irra Wangga Language Centre in 2005. Since 2012, more than 60 hours of audio and 10 hours of video recordings have been laid down and used to produce seven separate resources—that's five story books, a photographic calendar and a picture book.
Mr George is one of the few remaining fluent Badimaya speakers. He along with members of his family and those from the Walsh, Fogerty and Clinche families are responsible for the majority of the recordings—in fact, without them it is doubtful that the project would have been possible.
As a fitting tribute to the man who drove the work, the Badimaya Dictionary, the Badimaya Guwaga wordlist and a 'alphabet poster' were launched on Mr George's true country—Kirkalocka Station at Mount Magnet. This is where Mr George grew up with his nan and pop, immersed in culture, learning such skills as hunting, and taking part in corroborees. It is also where he learnt to speak his language and the important value of keeping it alive.
The publication of the Badimaya Dictionary and Badimaya Guwaga wordlist celebrates a wonderful triumph of commitment and perseverance. The result is for all to see, cherish and to learn from. 'This is a new starting point for us,' said Mr Ross Oakley, the corporation's chairman.
Bundiyarra Aboriginal Community Aboriginal Corporation relies on government funding to carry on its vital work. To this end the Australian Government has recently awarded the corporation a grant of $55,000 towards the digitalisation of some of its existing language resources. The grant is part of the government's Indigenous Languages Support program. Bundiyarra Aboriginal Community Aboriginal Corporation will be putting it to good use.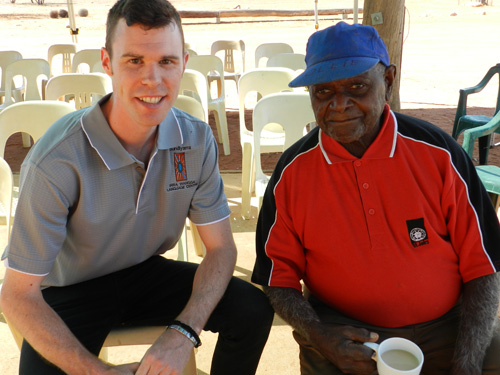 Background
For more information about Bundiyarra Aboriginal Community Aboriginal Corporation see www.bundiyarra.org.au.
Captions, top to bottom:
Bundiyarra Aboriginal Community Aboriginal Corporation is a modern well-run community and administrative centre. It is governed by 10 directors and employs 18 staff in a variety of positions.
The corporation's logo.
Mr Ollie George (centre) proudly cuts the 'Badimaya dictionary cake' at the official launch.
Taking a quiet moment—linguist James Bednall (left) with author Mr Ollie George. 'When community see these publications it gives them a sense of pride. People see photos of themselves, their country and their language in print, and it creates excitement as they feel respected and valued,' said James Bednall.
Mr Ollie George's grandson with a copy of the Badimaya Dictionary and associated publications.
Photos: Courtesy of Bundiyarra Aboriginal Community Aboriginal Corporation