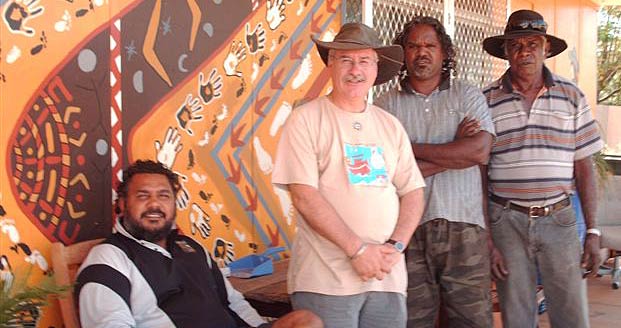 The preservation and documenting of culture have turned into a worthwhile and successful venture for the Yindjibarndi people in Australia's northwest.
The Juluwarlu Group Aboriginal Corporation is located at Roeburne, in the Pilbara region of Western Australia. The corporation was registered in 2000 as a not-for-profit Indigenous community organisation. Over the past nine years it has developed a wide-ranging program of documenting, recording and preserving Yindjibarndi stories and culture, resulting in a living cultural resource and employment opportunities for locals.
Juluwarlu works very closely with local elders to reconstruct and maintain Indigenous knowledge systems. They have at least 6000 photos in their digital archive. The Juluwarlu archiving project, or Ganyjagayi Mirnu (keeping knowledge), was launched some six years ago to collect material about the Yindjibarndi language and culture from individuals and organisation around Australia. The archive is open to the general public.
Their work does not stop at archival material, they also collect, document and broadcast the language, culture and contemporary lives of the local Indigenous people. Juluwarlu also offers training where locals can get experience in recording and filming, as well as editing and book development projects.
The corporation has produced four books, the latest being Ngurra Warndurala Buluyugayi: Exploring Yindjibarndi Country, which details 50 significant Indigenous sites around the Millstream Chichester National Park.
Juluwarlu also runs a Pathways to Employment project, called Warrgamugardi Yirdiyabura or WY project. This project was established in 1998 as part of an agreement between the North West Shelf Joint Venture partners and the Ngarluma and Yindjibarndi people.
In 2006, Woodside Energy Ltd transferred the management of the WY project to the Ngarluma and Yindjibarndi Foundation, who appointed Juluwarlu Aboriginal Corporation to manage the WY program for the community.
The WY vision is to support Ngardangarli (Aboriginal people) in strengthening identity, independence and community through personal development and economic empowerment. It does this by creating and sustaining individual needs-based pathways to employment within local communities. This will help Ngardangarli to compete effectively for training and employment opportunities, to successfully achieve 'real' employment and to maintain these positions while supporting organisations who want to build local capability.
Juluwarlu Group Aboriginal Corporation currently holds a community television broadcast licence to broadcast into Roebourne and the surrounding areas. The licence was granted to the organisation by the Australian Communications and Media Authority on 30 June 2005. People in Roebourne, Wickham and Point Samson have access to five free-to-air television stations—SBS, ABC, WIN, GWN, and the 24-hour Indigenous community station NgardaTV34, owned, operated and broadcast by the employees of Juluwarlu Group Aboriginal Corporation.
For more information on the Juluwarlu Group Aboriginal Corporation, go to their very colourful and easily accessible website at www.juluwarlu.pilbara.net.