A good news story from Wodonga, Victoria.

Matthew Burke, CEO of Mungabareena Aboriginal Corporation, is stoked … and with very good reason. Not too long ago he was approached by the Wilson Transformer Company (WTC) to form a partnership to deliver training for Indigenous youth.

WTC is a leading Australian manufacturer of power and distribution transformers. They provide transformers for power stations, transmission and distribution sub-stations, large manufacturing plants, refineries and mines. Part of their mission statement is to 'develop … skilled, motivated and achievement oriented … people' through, among other things, 'training and educating our workforce'. And that is exactly what they are offering the young people of Mungabareena.

This Indigenous traineeship program will provide training to young men and women between the ages of 15 and 24. At the end of the traineeship, the trainees will walk out with an international accredited Certificate II or III in engineering.

Matt pauses for a while. 'I was feeling a bit cheeky, but you know it's all good and well—providing training and an opportunity for a photo shoot, but what happens after that?' So he posed the question. The long and short of it was that Wilson's came back with a firm commitment. They would provide two jobs at the end of the traineeship, and their sub-contractors would provide eight additional jobs. That is 10 jobs in total.

'And the best part', says Matt, 'is that they are offering the traineeship every year. So this is an ongoing partnership.'

Enrolment has already started with the course set to kick off in July. Wilson's has also offered to provide OH&S and first aid training to the students. And while the students are undertaking this training, they will be paid a negotiated wage.

And as good fortune would have it, the premises for the training is in the form of a factory, about 80 metres from Mungabareena's offices in Hovell Street. Mungabareena has leased this factory for a number of years. It has space for classrooms, a breakaway area, kitchen and toilets. Wilson's has even undertaken the electricity checks in the building.

A good news story indeed for this corporation who had 43 non-compliances 12 months ago and now stands on a zero risk assessment. An extraordinary turn around.

Mungabareena was in the news earlier this year (Border Mail, January 2011) for another story when Judy Cue from Albury Wodonga Health stepped into a full-time position at the corporation. She is managing a program, Closing the Health Gap—Client Journey. One of the areas this program focuses on is cutting Aboriginal smoking numbers by 20 per cent in the region by 2013. Mungabareena certainly is a busy corporation looking out for the community.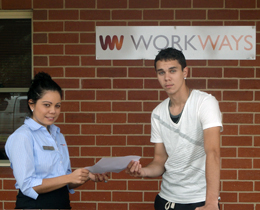 Photo: Tara Bowen registers Kenneth Morgan for the traineeship program.