Bidan Aboriginal Corporation (ICN 687)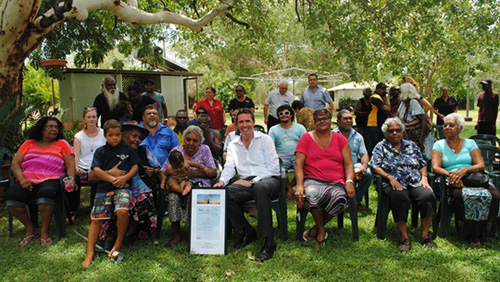 West Kimberley, Western Australia: There is a feeling of quiet celebration among the Nyikina and Mangala people. The Aboriginal Lands Trust has returned about 73 hectares of historically important land to the Bidan community.
'We are halfway between Derby and Broome, not far from the Mardoowarra (Fitzroy River),' said traditional owner Terry Marshall.  It's always been our land so we are very happy and relieved to have it formally given back to us.'
The Western Australian Minister for Aboriginal Affairs, Peter Collier, signed the paperwork and made the handover official at an on-country ceremony in early February 2014.
Mr Collier said, 'What we've got now is the transfer of freehold land over to the Bidan community, which is their land.'  This action follows the handing over of reserve land some six months earlier.
For many in the community it was a highly emotional moment.
The state government is steadily working through a land divestment program in which land previously held by the Aboriginal Lands Trust is returned to Aboriginal ownership.
For the Bidan community the formal handing back of their land marks a huge step forward.
The local people now feel free and confident to reconnect with their traditional lands. With renewed pride they will continue to look after it and teach the younger ones everything they know.
As Lucy Marshall, chairperson of the Bidan Aboriginal Corporation, said at the handing back ceremony, 'It means they can look after the land all their lives—study up, the young people now, the young generation and at the school, and link up with everything.'
Traditionally this corner of Western Australia, strategically placed along the Great Northern Highway halfway between the two important hubs of Derby and Broome, was an important hunting area. It's beautiful country along the great Mardoowarra with plentiful resources for bush tucker and bush medicine. 
Today the community can see its potential for tourism.
'We want economic independence,' said Lucy Marshall, 'and tourism may be a way to provide it. The people are very rich in cultural knowledge and we are a good stopover place between Derby and Broome.'
Bidan is a great example of how, with land title and self-determinism restored, a community can forge a positive future for itself.
'It all starts with the land—having it back in our hands is how it should be, we'll care for it and work out what is best for our community ,' said  Lucy Marshall.

Top: The framed paperwork. The Western Australian Minister for Aboriginal Affairs, Peter Collier, with members of the Bidan community.
Bottom: Lucy Marshall with Peter Collier at the on-country ceremony marking the handing back of traditional land to the Bidan community.