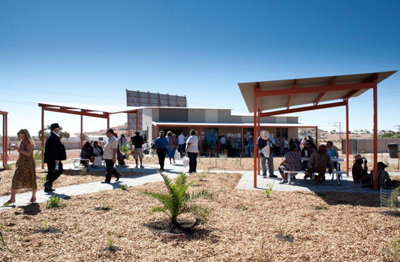 Umoona Tjutagku Health Service Aboriginal Corporation (ICN 7460)
Coober Pedy, South Australia: While it may have begun as a relatively small community health unit Umoona Tjutagku Health Service Aboriginal Corporation (UTHSAC) is today a large, growing concern looking after the social and medical needs of local Aboriginal people.
The mining town of Coober Pedy—sometimes called the opal capital of the world—has a population of about 3,500 and sits in the northern part of South Australia. Adelaide is about 850 kilometres south on the Stuart Highway. This is remote arid country.
Traditionally western Arabana inhabited the region but it is now Pitjantjatjara speakers with ties to the north-west who mainly live in and around the town. 'But we still have different groups coming in from several locations to use our services—and we may see 50 to 150 people each day,' says Priscilla Larkins, UTHSAC's chief executive officer for the past three years.
UTHSAC is a dynamic, community-controlled organisation which prides itself on its comprehensive list of programs, ranging from straight medical services to the more environmental and social.
'We run a number of practical services and we take a very holistic approach,' says UTHSAC director Robin Walker. 'Health education and prevention programs are important to us and we're also not afraid to embrace challenges that help our cause.'
COBRA (the Coober—Oodnadatta Bike Ride Adventure) is now a major annual event and a terrific challenge organised by the corporation as part of its alcohol and drugs awareness program. UTHSAC is justifiably proud of the international attention it draws and the stamina and determination of the riders. This is the second year in which volunteers—10 male adults and 10 boys, ably supported by a back-up team—have made the journey from Coober Pedy to Oodnadatta—some 200 kilometres. Along the way the group camps, builds strong friendships and talks about life, particularly how to avoid taking the wrong road towards alcohol and drug abuse. 'The ride is life affirming and helps to develop resilience and sense of self,' says George Laslett, one of UTHSAC's counsellors.
Earlier in the year the corporation also received a substantial boost with the opening of a modern purpose-built facility—the UTHSAC non-residential drug and alcohol centre. Supported by federal government funding the construction of the building is testament to the important work UTHSAC carries out and the progress it is making in the difficult area of rehabilitation.
'Whether deserved or not, Coober Pedy has a reputation as a party town. Alcohol runs freely and it causes a great deal of harm,' says George Laslett. 'For many of our people drug and alcohol addiction has become a big problem.'
UTHSAC must be congratulated for the positive steps it is taking to combat the worrying trend. The drug and alcohol day centre's dedicated staff run education sessions on various topics such as ways to stay drug and alcohol free, the effects of drugs and alcohol on the body, and how to improve nutrition.
'We have all seen the devastating effects on a person who misuses drugs and alcohol, and all too frequently the damage their addiction wrecks on the family and the whole community,' says health worker Dora Mushongera.
There is no doubt everyone who comes to the centre immediately benefits from the expert care and support they receive—and not only them but their families too. It is an excellent facility in a central location ideally suited to bringing men and women together in order to get well. The work of the staff has also been acknowledged with two staff members—Glenys Dodd and Priscilla Larkins—each receiving a prestigious award. Glenys received the Gladys Elphick Award for her commitment to Aboriginal health while Priscilla won the Aboriginal nurses/midwife category of the 2013 South Australian Nursing and Midwifery Excellence Awards.
While medical practitioners are on hand, activity groups in interest areas such as art, craft, wood burning, leather working and exercise, are also available to clients. 'You might call these diversion activities but they are really helpful in focusing the mind and instilling pride and purpose into people's lives,' says George Laslett.
UTHSAC is building on its fine reputation of doing all it can to improve Aboriginal health and wellbeing in the Coober Pedy area. It is no easy feat but UTHSAC is helping to mend people's lives.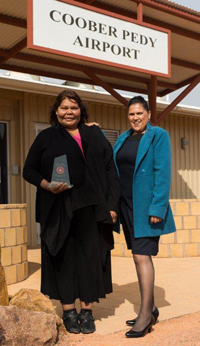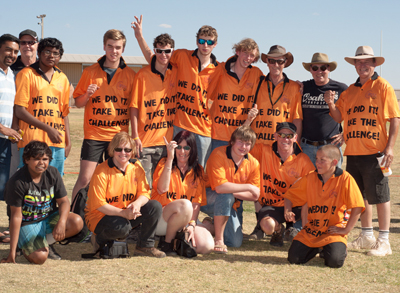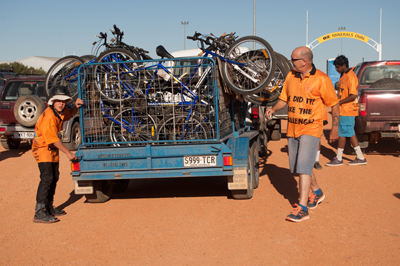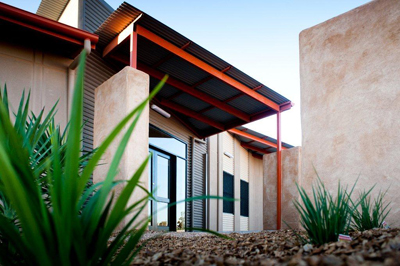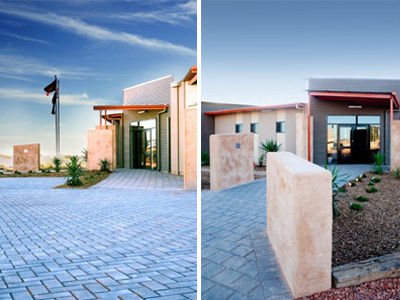 Captions