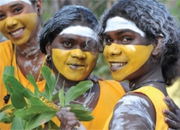 Spotlight on March 2015
Lirrwi Yolngu Tourism Aboriginal Corporation (ICN 7445)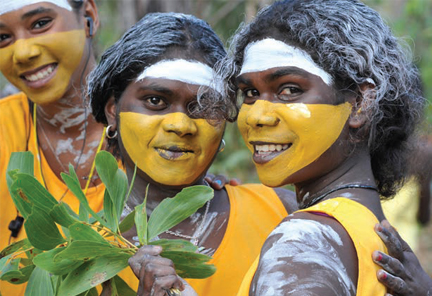 North-east Arnhem Land, Northern Territory:  Since it was established in 2010 Lirrwi Yolngu Tourism Aboriginal Corporation has set about becoming a leader in Indigenous tourism. To all intents and purposes it's well on the way—2014 was a watershed year and 2015 looks set to reap the benefits of all the hard work.
We've achieved so much in the past 12 to 18 months thanks to the determination of the Yolgnu people, a dedicated staff, and our supporters,' says Matt Grooby, manager of Lirrwi Yolngu Tourism Aboriginal Corporation. 'It's been a real team effort.'
Among the many recent highlights has been the launch of the Yolngu tourism masterplan at the Garma Festival in August 2014. This important document, conceived in 2012, is the corporation's blueprint for the next 20 years and brings together seven essential themes:
Building strong foundations
Partnerships for success
Community consultation
Homelands destination development 
Tour development
Training and learning
Promoting Arnhem Land
Considerable effort has gone into building partnerships with government and corporate organisations including Tourism Australia, Rio Tinto and Qantas, and with Yolngu stakeholders and agencies, such as Indigenous Business Australia (IBA)—all to good effect. Through the operation of Lirrwi Tourism the corporation is turning north-east Arnhem Land (the Yolngu Homelands) into the destination of choice for indigenous cultural and nature-based experiences.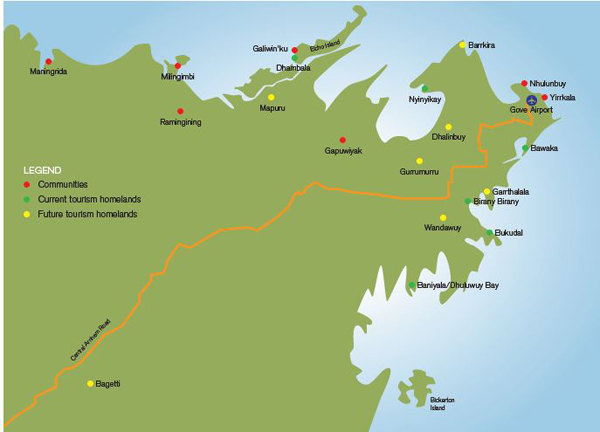 The Yolŋgu Homelands are spread across north-east Arnhem Land and are the ancestral land and sea country of various Yolngu clans who live there in scattered communities. Sacred places, bountiful sources of food, and landscapes of breathtaking beauty and diversity, are among their many treasures.  Although not easy to access—four-wheel drives or light planes are the only practical options—Lirrwi Tourism is overcoming every obstacle and, at the same time, is providing jobs and economic stimulus to the region hit hard by the closure of the Gove alumina refinery. The corporation's activities are helping Yolngu people to stay on their homelands and to keep traditional culture alive.
Visitors are also the winners. Lirrwi Tourism and the participating homelands offer a thoroughly authentic experience, providing guests with a rare insight into Yolngu culture and a chance to re-evaluate the natural world. For many it is quite literally 'life changing'.
The corporation's long-term objective, as set out in its tourism masterplan, is to 'create up to 50 sustainable new enterprises over the next 15–20 years and to deliver high-quality, low impact cultural tourism to a global audience'. Eventually the plan will take in the whole of Arnhem Land and link with Kakadu National Park and Nitmiluk National Park to further enhance for visitors 'the experience of a lifetime'.
From the corporation's main office in Yirrkala in east Arnhem Land, Lirrwi Tourism is working with Yolgnu people across a range of homeland locations. Together everyone is helping to develop and promote Aboriginal tourism in the region.
Forward bookings have reached new levels and are particularly strong with school and corporate groups while a large consumer market is just waiting to be tapped.
In offering a unique opportunity to experience the world's oldest continuous living culture, the future for Lirrwi Tourism is set to flourish.
'Lirrwi Tourism is about creating a new economy for Yolngu people based on our culture and offering an opportunity for real reconciliation.'
Djawa (Timmy) Burarrwanga, chairman of Lirrwi Yolngu Tourism Aboriginal Corporation
Background
As well as its work at the Garma Festival 2014 Lirrwi Tourism supported the SBS production of First Contact while it was on location in Arnhem Land. The program, which first broadcast in November 2014, opened the eyes of many to the divide between black and white Australia as six non-Indigenous Australians were immersed in Aboriginal culture.
For more information about Lirrwi Yolngu Tourism Aboriginal Corporation please go to www.lirrwitourism.com.au and Tourism Masterplan.
All photos courtesy of Lirrwi Yolngu Tourism Aboriginal Corporation