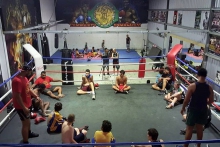 Cairns, Qld: Nine years ago, when he was 20, Jesse Martin sat down in a Cairns shopping centre with an officer from ORIC and incorporated the Streets Movement Indigenous Corporation.
Cairns, Qld: Nine years ago, when he was 20, Jesse Martin sat down in a Cairns shopping centre with an officer from ORIC and incorporated the Streets Movement Indigenous Corporation (TSM). He was relaxed, confident and dressed like most young people in Cairns at the time—baseball cap backwards and baggy rapper-style clothes.
Move forward ten years and Jesse is now as comfortable in a suit and the corporate boardrooms of Sydney as he is in a gym. And now he is taking his model of helping young people doing it tough around Australia and the world.
But it hasn't always been an easy road. For two years Jesse put all of his own funds into helping kids at risk in Cairns—largely through providing a free community centre in Bentley Park with boxing lessons. As a result he didn't have a home and slept in the boxing ring at the community centre so he could pay the bills. This year TSM turns ten and is much bigger than that just one man or the boxing they started with.
In the beginning like many young people facing financial, personal, emotional challenges of life, Jesse found a great release in boxing. But life changed for Jesse when the free boxing training service he and his mates had been using closed unexpectedly. In Jesse's words:
A few of us who had been going to the training went off the rails a bit.
Jesse said it took a while to work out why all of a sudden 'everything went to hell' but he eventually realised it was all about having a focus with the boxing. Having a place to be, and having a purpose and something to look forward too.
One night during a heated exchange his father asked him, 'What have you done? What have you done to make a change, for yourself or anyone else?'
This was when Jesse through some soul searching and reflection decided to do something.
I had been given knowledge and I had been given skills. We saw building the community centre as a way of providing social justice and equality. We try to provide that space, that outlet that we were provided as youth. We figured if we built this, we were providing that opportunity that we were given.
Today, TSM is stronger than ever. What started as free boxing lessons for the disconnected, forgotten and wayward, has evolved into numerous community and grass roots programs in the local community as well as international initiatives, national recognition and partnerships.
The range of programs and ventures on offer today include community health and wellbeing through the boxing program; the Streets Ahead Initiative, which is a school based program working with high schools across Far North Queensland to provide mentorship and help students deal with a range of social issues; men's groups in prison, and for those on probation and parole, aimed at keeping men out of the criminal justice system and strong within community.
With the community centre currently in transition the flagship program of TSM is the Mulumulung (Moo-loo-moo-long) International Scholar Initiative. This program provides Indigenous students an opportunity to engage with universities around the world. The first cohort of students is flying to Oxford and Cambridge Universities in December this year.
The idea is to inspire and show what hard work and pursuit through academia can lead to around the globe. On their return to Australia students can pursue study with one of the international partner universities or at a university closer to their own home. To support the students, TSM has partnerships with corporate enterprises around the world. Students are linked with a partner organisation to support them for the duration of their degree. The partners provide pathways and jobs for students during and on completion of their studies. In this way this program looks to connect young people towards educational and economic opportunity at home and abroad. It is hoped that the students can one day assist their communities through what they have gained academically, economically, culturally and socially. This program goes national in 2018.
Our community centre and spaces are open to everyone in the community. About 70 per cent of the kids who come here are Indigenous, but we don't care where you come from. For us it's about solidarity in the whole community.
Whether local community development or international opportunity the goal remains the same: to build strong socially aware individuals, with a more positive outlook and who will in turn look to give back in their own unique way.
TSM works in partnership with numerous charities, businesses, non-government organisations and government departments to provide programs designed to implement change by providing people with a hand up, rather than a hand out.
We went from a community centre, to working on the streets and at high schools, all the way through to international engagement and gracing the halls of the United Nations with our message in New York, USA. Today we have international programs and can provide opportunities that we could once only dream of. With these opportunities there is no limit to what our young people can achieve.
The ideology intertwined in every TSM initiative is to give people the strength of mind they need to make their lives and those around them better. TSM encourages individuals to use the fight within themselves to push for a better life; to take more of a proactive role in community responsibility; and create opportunities for community development and growth. TSM community development is constructed around the idea of development through social, economic, cultural and educational growth. With community access to these elements (particularly in regional and remote areas, and areas with limited access to opportunity) TSM hopes to make a positive and proactive impact.
The ventures which the organisation run from the streets, to schools, prisons, and well respected and renowned institutions around the world help grow and foster unity and solidarity with others in the local and global community.
You have the power to change things, you have the power to stand up and give back. If you want to change the world and your community, then you can be the agent of change.
The Registrar, Anthony Beven, recently met with Jesse.
Jesse's story is inspirational. His drive and passion is a shining example for Aboriginal and Torres Strait Islander youth around the country. I met with him in a corporate boardroom in Cairns shortly before he headed to the local jail to run a boxing program for Aboriginal and Torres Strait Islander prisoners.
He is truly the Jonathon Thurston of the community youth sector.
For more information and how you can help out: thestreetsmovement.org