This corporation works tirelessly to reunite those who were taken with their families and communities.
Woolloongabba, Queensland: Few would disagree that the work Link-Up (QLD) carries out is of the highest importance. For more than 30 years the corporation has helped people to connect with relatives that were lost to them because of past Australian Government policies. Up to the 1970s, state and national government practices saw Aboriginal and Torres Strait islander children removed from their families and communities.
Like similar link-up organisations in other states and territories, Link-Up (QLD) works tirelessly to unite those who were taken from their families and communities as a result of adoption and fostering or, as in the most heart-wrenching cases, forced removal or institutionalisation.
Removals
Pat Conlon, the corporation's CEO, describes the legacy in terms of trauma and lost identity:
It can be very tough. Many people who come through our doors are suffering – they have been abused and traumatised throughout their life. They know their lives are not what they should be because they are missing something fundamental – that is, who they are and where they belong.'
Link-Up (QLD) Aboriginal Corporation incorporated as a separate body in July 1988, shortly after the announcement of the Royal Commission into Aboriginal Deaths in Custody (1987) which subsequently found that a high percentage of the deceased were victims of separation from family, culture and country.
Recommendations
The Bringing Them Home report (1997) by the Human Rights and Equal Opportunity Commission went further. In no uncertain terms it uncovered the devastating effects of the removal of children, on Aboriginal and Torres Strait Islander families, communities and cultures.
This year is the 20th anniversary of the handing down of the Bringing Them Home report, with its 54 recommendations to 'deliver real outcomes and lasting justice for the victims of the forced removals,' says Sam Watson, chairperson of Link-Up (QLD). Mr Watson also says the report and its recommendations 'have been foundation documents for the link-up organisations and the Bringing Them Home networks.'
Reunions
Link-Up (QLD) has successfully supported and united literally hundreds of people with their families and communities. One such example is Ngarla Myers. Although Ngarla was not a forced removal and, in fact, was adopted by a loving, caring family, she didn't have, as she says, 'that sense of belonging to my family until a few years ago when someone suggested that I contact Link-Up and try to work out where I came from and about my birth family.'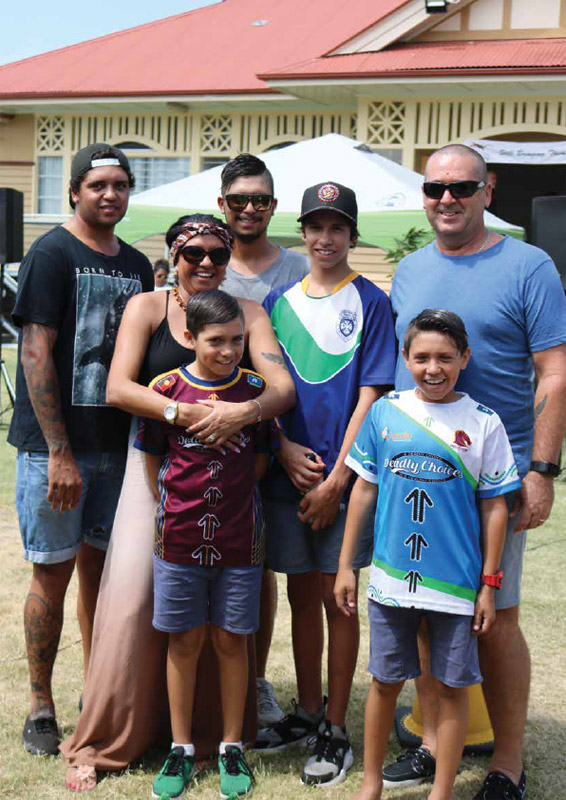 While it wasn't easy going through the process – so many emotions are churned up – Ngarla is enormously grateful to Link-Up (QLD) and especially to her counsellor who managed to track down her family and organise a reunion in Cooktown in Far North Queensland.
My mob is Wik-Mungkan (Cape York). I found out that I have three older brothers and two older sisters, so I went from being the oldest in my family to being the youngest. They didn't know that I existed, so they were just as shocked as me.
The moment Ngarla met her eldest sister, 'there wasn't a dry eye in the house, it was an instant connection, one that Ngarla will never forget,' reports Pat Conlon in the corporation's bimonthly magazine. But, as is often the case in reunions, great joy was tinged with great sorrow. Ngarla's birth mother could not be there – 'she had passed away before I got a chance to meet her, see her, hear her voice'.
Ngarla's important journey of discovery of who she is and where she belongs is but one of hundreds that the corporation supports and 'makes happen'. Each is unique and truly wonderful. And as long as there are people out there looking to find family, be assured that Link-Up (QLD) will be around to help.
Quick facts
Link-Up (QLD) Aboriginal Corporation provides professional, culturally-sensitive and confidential research, reunion and cultural wellbeing services to eligible clients over 18 years of age. Its free services:
can assist in locating family members
offer support before, during and after family reunion
respect privacy and treat all information confidentially
run a range of healing activities: camps, support groups, art and craft workshops
offer cultural renewal activities and support return to country