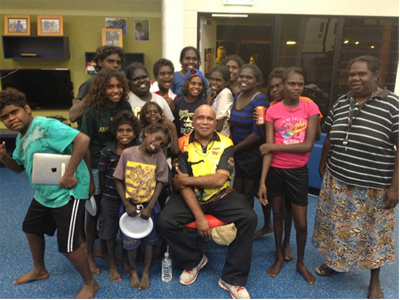 Photo: A recent family night at DRC during a visit from music legend Archie Roach
Gundjeihmi Aboriginal Corporation (ICN 2458)
Jabiru, Northern Territory: Mirarr are the traditional owners of the land north east of Kakadu National Park and western Arnhem Land. The area takes in the Ranger uranium mine, Jabiluka mineral lease and the mining town of Jabiru. It also includes the wetlands of the Jabiluka billabong country and the sandstone escarpment of Mount Brockman with its ancient rock paintings.
Mirarr not only control and manage Gundjeihmi Aboriginal Corporation (GAC) but also play a crucial role in negotiating relationships between Mirarr and other Bininj (traditional owners), and between Mirarr and Balanda (non-Indigenous people).
GAC has a big aim and a big vision. It welcomes economic and social development—but not at the cost of preserving traditional cultural practice and living on land. Bringing together these two aspirations is no easy feat but GAC's board of directors, made up of senior clan members, is doing just that. When the directors need specialist knowledge or advice they'll ask for it. On a pretty regular basis they consult experts in such fields as law, governance, linguistics and environmental science. GAC also has 20 full-time staff and, at any one time, may employ 50 other staff on a casual basis.
Since 2007 the corporation has worked hard through its many community programs to lessen the social disruption caused by the mining. It has also sought opportunities to advance social and economic development. Some of the most exciting initiatives concern health and education.
For example, GAC runs the Djidbidjidbi Residential College (DRC) in Jabiru. Up to 21 students live at the college in a safe and supportive environment, making it easy to attend school and do after-hours study. The college includes a computer-equipped homework centre, recreation rooms, sleeping quarters, and a commercial kitchen.
Most students at DRC are between 11 and 18 years old. As well as supporting their studies at West Arnhem College, DRC organises extracurricular activities, such as cooking classes and 'family nights' where students and their families come together for dinner.
Another plank of GAC's education work is its strong partnership with the Jabiru Area School. GAC funds a teacher for the Culture First Program (CFP) which puts Indigenous culture at the forefront of learning by making it relevant, engaging and accessible for Aboriginal students.
Since the program's introduction, school attendance rates have improved and behavioural problems have dramatically decreased. In 2013 Jabiru Area School saw its first ever Gundjeihmi-speaking Mirarr students graduate Year 12.
Also in 2013, GAC started up a 'young men's program' to help engage older school-age students in learning. Its aim is to create local employment pathways, which is why it's tailored to suit regional employers such as West Arnhem Shire, Parks Australia and the Ranger Mine.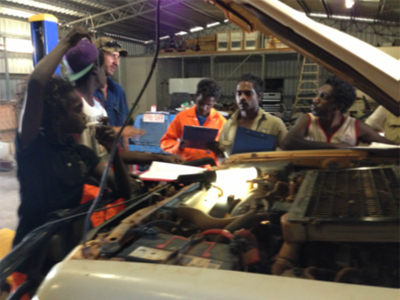 Photo: Participants in the young men's automotive training program
And not long ago GAC signed a 25-year agreement with Children's Ground that takes a bold new approach to building up healthy communities and educating children. GAC has committed $1 million of its own money and the Commonwealth government has contributed $2 million.
With GAC, Children's Ground will work with families to support Mirarr children from early childhood right through to young adulthood. One of the boldest steps is making sure children are taught in their own language first, not English. Keeping the language alive is very important. It's a way of strengthening culture and upholding Mirarr identity.
'It's natural for us to want to talk to each other in our own language and so of course it's natural we learn using our own language. English is our second or third language,' says GAC director Yvonne Margarula.
While the impacts from unwanted mining continue to be significant, GAC is pioneering the way towards better health, education and jobs. And it is doing this by working with community and putting culture at the forefront.
For more information www.mirarr.net
All photos courtesy of GAC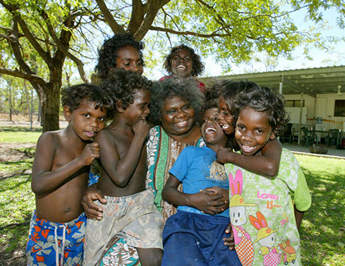 Photo: Yvonne Margarula, senior Mirarr traditional owner, with children. 'Bininj culture is really strong. You have to look after country.'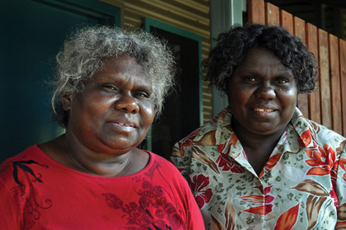 Photo: Senior Mirarr women Yvonne Margarula (left) and Nida Mangarrba want everyone to learn about their country and culture