It's a 25-year-old champion of Koori health in Koori hands: Katungul Aboriginal Corporation for Regional Health and Community Services
Narooma, New South Wales: Seven years ago, the outlook for Katungul Aboriginal Corporation Regional Health and Community Services (Katungul) was gloomy. Having provided holistic and culturally-appropriate wellbeing services for Aboriginal people on the south coast since 1993, the corporation was running at a loss. Today, Katungul has a new story to tell.
Strong, steady growth
The directors set to work, sharpening their focus and formulating a plan. The following year the corporation was again solvent, and step by step, the operation grew. In 2016 Katungul turned a corner when the board appointed a highly-qualified and experienced man to serve as the new CEO, Robert Skeen. Since he took the reins, the service has shown steady, strong growth on several fronts, enabling the current directors to focus more on the future strategic directions of the corporation for their community.
Revenue has increased from just over $3 million in 2015–16 to almost $8 million in 2017–18, largely because the corporation has added key services and upgraded existing services. It now:
serves as a licensee for the Deadly Choices public health campaign
has accreditation as a National Disability Insurance Scheme provider
offers aged care
has a fully-staffed dental service and
has upgraded programs in alcohol and drugs; social health; and intensive team care.
To operate its refreshed suite of services, the staff has expanded to 99 people—60% of whom are Aboriginal or Torres Strait Islander. As a large employer of Aboriginal people, Katungul is also determined to provide opportunities for staff to gain qualifications and work skills.
As well as investing in people, Katungul has invested heavily in improving its technology and its clinic interiors and equipment.
If it's not clear from all this that Katungul is flourishing, in 2017 the corporation took out two Eurobodalla Business Awards. One award was for Excellence in Business (20+ employees); the other was the much-coveted Narooma People's Choice Award. The same year, Katungul was also the far south coast regional winner for Excellence in Business at the NSW Business Chamber awards.
Active governance
Directors of Katungul are determined to stay strong in terms of their trajectory and integrity. They have a clearly articulated vision: for Aboriginal people to live healthy lives enriched by a strong living culture, dignity and justice. And their strategic plan for 2017–20 has four key words:
leadership—provide clear direction, influence and purpose to all stakeholders through sound strategy, planning and management
community—enhance wellbeing of our Aboriginal community through service, engagement and collaboration
workforce—engage, develop and retain a well-qualified, skilled and committed workforce
viability—keep Katungul viable by maintaining appropriate resources, systems and performance reviews.
To tie it all together, the directors are also committed to continuous learning of their own. As a result, in early December this year, the newly-elected board of eight directors, along with CEO Robert Skeen, all attended training in corporate governance.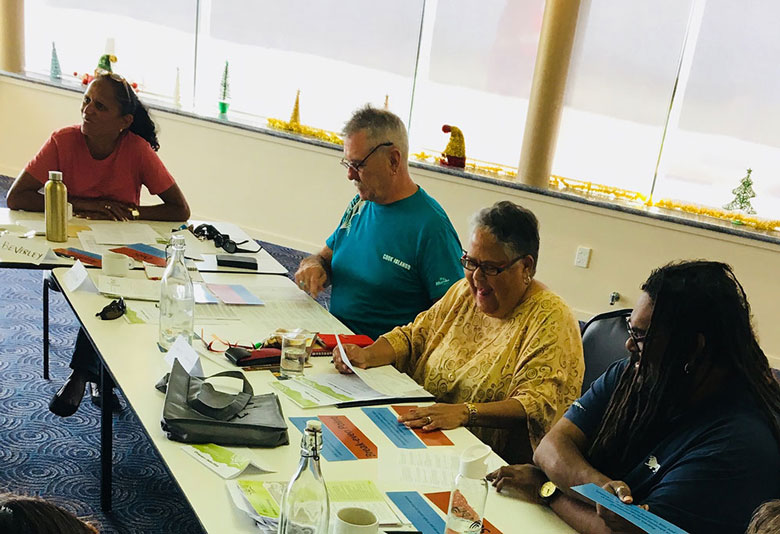 For the interim chair of the board, Graham Moore, good governance knowledge and skills form a foundation for the corporation to succeed:
When we consent to be a director, we formally agree to do everything in our power as an officer of the corporation to keep it compliant and to sustain the service. Staying trained up in good governance is the foundation for the commitment that we make. Katungul has seen some hard times but we're on the front foot now and looking straight ahead.
Silver anniversary
Twenty-eighteen was also the year in which Katungul celebrated a very significant milestone: the 25th anniversary of its operation. Representatives of both local and state governments attended Katungul's gala dinner, as well as directors and notable community members.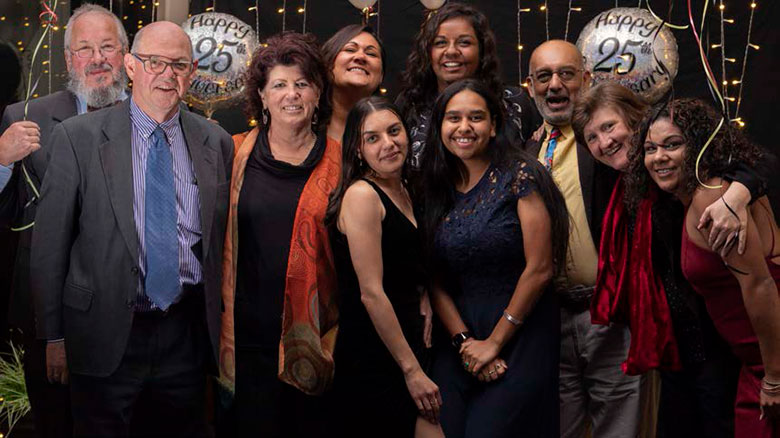 Katungul, congratulations. You have weathered the worst kind of storm a corporation can have—and through it, grown stronger. We admire your resilience and determination, and commend you for your commitment to the many Aboriginal members of your corporation and the many more clients of your services and programs. Koori health on the far south coast is clearly in good, strong Koori hands.