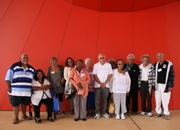 The forcible removal of Aboriginal children from their families is one of the bleakest and saddest parts of our recent history, and it has had profound consequences through the generations.
New South Wales: Not long ago ORIC staff had the privilege of hearing first-hand accounts from a small group of former residents of the Kinchela Aboriginal Boys Training Home (1924–1970) and the Cootamundra Domestic Training Home for Aboriginal Girls (1912–1968). The men and women, now in their 60s, 70s and 80s, were in Canberra at the Registrar's invitation.
'It was upsetting and deeply moving listening to the group's experiences,' said the Registrar, Anthony Beven. 'But it's so important for all of us to know just what went on in these institutions—and to face up to the shocking truth.'
Kinchela Boys Home was located not far from Kempsey on the New South Wales mid-north coast. It was a state-run 'training farm' for Aboriginal boys who were removed from their families as part of the government's assimilation policy. Yet the awful reality was Kinchela was a cruel place devoid of human warmth and kindness. Boys from as young as five grew up bewildered, sad and alone. 'We were mostly frightened—they lied to us about why we were there,' said Uncle Cecil Bowden. 'We knew we didn't belong but we also didn't know where we had come from or how to get back.'
Many boys were brutally treated. 'We even lost our name—we were called by a number.'
Cecil Dickson remembers very young boys being tied up to a tree for hours on end in the cold and dark for such 'crimes' as wetting their beds. Others were sexually abused. Everyone who went through the home bears the scars of brutal punishments. 'We'd have to carefully separate our clothing from our skin to prevent the fabric from sticking to our open wounds,' said Richard Campbell. And then there was the deep emotional trauma. Many are still dealing with that trauma today.
The Kinchela Boys Home Aboriginal Corporation was established in 2002 to reach out and support former inmates through life's challenges and daily trials. 'We are all brothers,' said Manuel Ebsworth. 'We keep together and help each other.'
There is a close bond between the former 'Kinchela boys' and the 'Coota girls' through a shared understanding of childhood experiences. While brothers were sent away to be trained as farm hands sisters, in the early to mid part of the 20th century, were also removed from their families as part of government policy and sent to Cootamundra Girls Home to be trained as domestic servants.
Throughout their time at the home the girls maintained a steadfast support of each other which for many has continued through their adult lives. The 'Coota girls' told ORIC staff about the brutal canings and how sometimes they would be locked up in the old morgue (part of the former Cootamundra hospital). 'We'd sit outside and scratch on the door or wall through the night so the poor girl locked inside knew we were there for her and that she wasn't alone.' Conditions were very poor—the young girls were denied basic facilities and medical treatment. They were always hungry.
While the 'Coota girls' are unable to wipe away the memories of the bad things that happened at Cootamundra—'the past is always with us'—they have found a way to stand tall and strong. Just before Christmas 2013 they registered the Coota Girls Aboriginal Corporation under the CATSI Act and in early February 2014, while in Canberra, completed corporate governance training with ORIC.
The women have formed the corporation so that they can maintain their connection with each other, lend each other practical and emotional support, and make sure that 'what we went through' can never happen again. 'This is the reason why we want the younger generations to know our story,' said Wilma Moran, the inaugural chairperson of the Coota Girls Aboriginal Corporation. 'It's important.'
The next step is to start a membership drive. 'We'd like to hear from anyone who has a connection with the home—maybe they have an aunt or cousin who was there,' said Wilma. 'And we're also looking for donations so we can start some of our support activities.' It's a worthy cause. Let's get behind it.
Note
The Coota Girls Aboriginal Corporation was registered under the CATSI Act in December 2013. Its aim is to lend practical and emotional support to former residents of the Cootamundra Domestic Training Home for Aboriginal Girls (1912–1968) and to members of their families. For more information please contact the corporation's chairperson, Wilma Moran, at wilmamoran@gmail.com.
The Kinchela Boys Home Aboriginal Corporation helps members of the Stolen Generations to take control of their futures. For more information please go to www.kinchelaboyshome.org.au
All photos courtesy of ORIC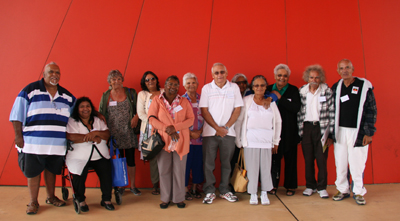 Together outside the National Museum of Australia. The 'Kinchela boys' and the 'Coota girls' were in Canberra at the Registrar's invitation to talk to ORIC staff about their experiences growing up in two of Australia's bleakest institutions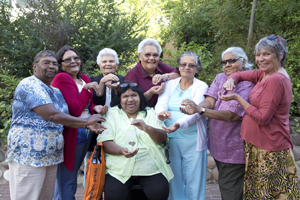 Some of the 'Coota girls' showing with their hands 'from little things big things grow'. Left to right: Aunties Doreen Webster, Rose Atkinson, Isabel Reid, Lorraine Peeters, Shirley McGee, Katey Bryant, Wilma Moran and [seated] Faye Moseley

The 'Coota girls' in the middle of corporate governance training.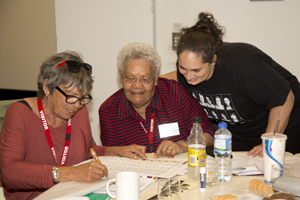 'Coota girls' Aunty Wilma Moran and Aunty Lorraine Peeters completing one of the corporate governance training activities with ORIC's Kerstin Styche.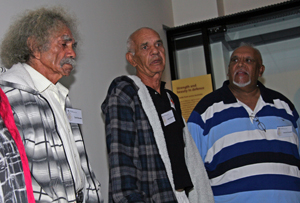 'Kinchela boys' addressing the ORIC audience [left to right] Uncles Cecil Bowden, Manuel Ebsworth and Richard Campbell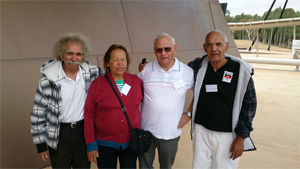 [left to right] Uncle Cecil Bowden, Aunty Dorothy Dickson, Uncle Cecil Dickson and Uncle Manuel Ebsworth