Conceived at a bush meeting of Kimberley elders over thirty years ago, Magabala Books (Aboriginal Corporation) abides by cultural protocols, nurtures creativity and enables literary careers.
Broome, Western Australia: In the mid 1980s, a bush meeting of Aboriginal elders from all over the Kimberley resolved to establish two new agencies: a regional centre for law and culture and an independent Aboriginal publishing house. The publishing house conceived in that meeting is Magabala Books (Aboriginal Corporation), and it's the subject of this story.
For Edie Wright, retired educator and chair of the board of the corporation, those founding elders were bold and visionary:
What an audacious move that was, to establish their own publishing house in one of the most remote areas in the world, and at a time when the nation was only just beginning to reveal its interest in Aboriginal and Torres Strait Islander stories!
It may have been audacious; it may also have been a genius move. On 13 May 2020 the Australian Book Industry Awards (AIBA) recognised Magabala Books as Small Publisher of the Year during the awards ceremony it hosted online thanks to COVID-19.
Edie Wright's comment on the award:
This award is the culmination of 33 years of hard work. All those years ago, our elders and cultural leaders showed such courage, vision and determination to establish Magabala Books. We dedicate this award to those elders, and to all our storytellers, authors and illustrators from around Australia.
Small publishers take risks and suffer disproportionately during downturns. To be a small publisher in a remote area adds to the challenge, but this corporation has passed the tests.
Magabala publishes Aboriginal and Torres Strait Islander stories of all kinds, in all genres. One notable early publication was by 'Kakadu man' Bill Neidjie, titled Story About Feeling. It's a poetic, humorous, gentle but urgent call to connect with country, and over the years it has attracted scholarly attention as well as much love from readers.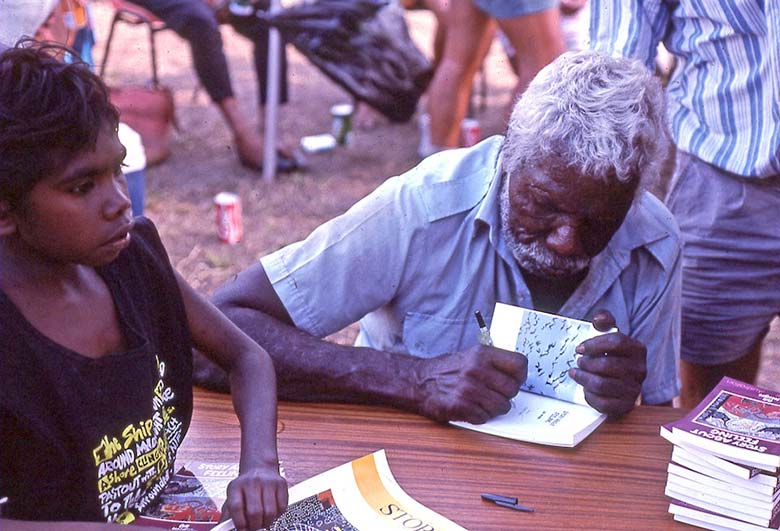 More recently, Magabala has become renowned for its children's picture books—and lately for Bruce Pascoe's Dark Emu, first published in 2014 and now a bestseller.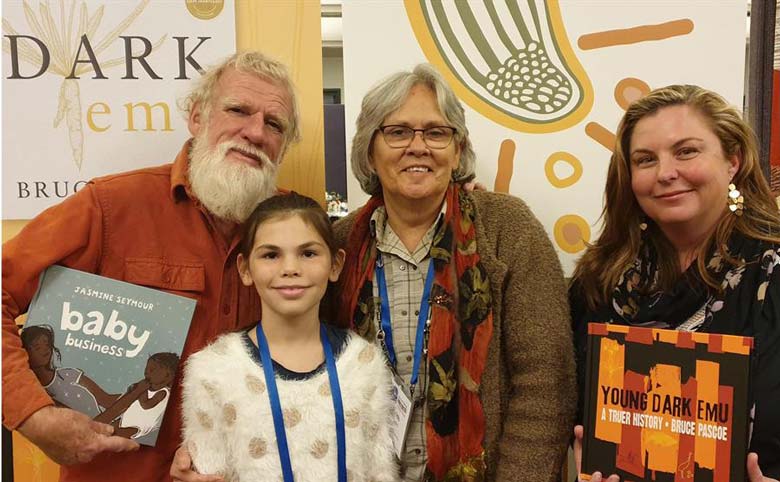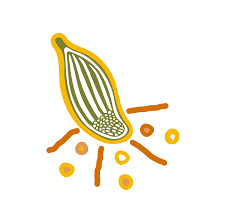 In Nyul Nyul, Nyangumarta, Karajarri and Yawuru languages, magabala is the name of the bush banana found in far north Western Australia. Thanks to their parasol-shaped aerofoils, its seeds travel a long way. It's an apt name because as publisher Rachel Bin Salleh explains, issuing the stories is just one part of what Magabala achieves; its work is far broader, and includes incubating talent and cultivating literary interest in Aboriginal perspectives:
Where Magabala excels, like no other publishing house, is how we balance all our objectives—social, cultural and commercial. We work at so many levels and have cultural and political responsibilities to our mob to get things right; whether that's providing a platform for strong poetic and literary discourse, or how we handle significant, collectively-owned cultural stories. In a space where so much has been written about Aboriginal people by non-Aboriginal people, Magabala Books gives people the opportunity to tell their own stories, to ensure that cultural protocols are observed and the benefits flow back to the right people. That original mission is just as important today as it was then, and fortunately Australians are much more interested in Aboriginal perspectives today, and Magabala Books has played a pivotal role in fostering that interest.
Whilst last year was the most successful in terms of sales, the ABIA award is also recognition of the breadth of what we do, including creative development work all over Australia. We are an incubator, nurturing careers, and we are a cultural guardian, protecting IP rights and cultural integrity.
When Bruce Pascoe was invited to comment on Magabala's ABIA award, he drew attention to on the calibre of Magabala's governance:
I've always been amazed by Magabala. The best editorial I've had has always been from Magabala; the design qualities they bring to their books is excellent; and the standard of governance of the company is wonderful. It's a great company, a great Australian story.
Magabala has had its share of serious financial and governance challenges but the commitment and diverse experiences of board members have seen the corporation through. No sitting fees are paid to directors so as Edie Wright says, 'you sign up for the greater good'. Tony Lee has served for 17 years and Stephen Kinnane—who sits on multiple boards—is a writer who brings outstanding knowledge of Indigenous history and protocols when working with Aboriginal communities. Other board members bring a youthful perspective, expertise in housing, adult education, health and law. All bring a deep connection to Country and culture. In short, the board has extensive networks, knowledge and understanding—in relation to the publishing industry and the culture integral to Magabala's purpose.
Every two years, Magabala puts aside time for a formal reflection on the board's performance. It creates a safe space for directors to share candid feedback, gain a collective sense of how they're going, and develop strategies to address any issues they identify. Their open discussion is challenging but it enables the making of difficult decisions. And in a virtuous circle, it also invigorates the directors and their collective governance.
Magabala is indeed a great Australian outfit. Its news webpage is littered with award nominations and wins, including the inaugural 'literary lions' medal that Rachel Bin Salleh won as publisher of Magabala Books—for outstanding contribution to the vitality and success of Western Australia's literary culture.
You too can invest in the creative, cultural and economic future for Aboriginal and Torres Strait Islander people—make a donation to Magabala or simply buy some books.