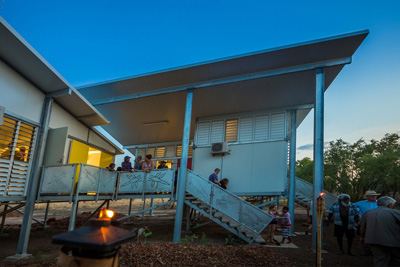 Djilpin Arts Aboriginal Corporation (ICN 4355)
Wugularr, Northern Territory: Congratulations to Djilpin Arts Aboriginal Corporation, winners in the prestigious 2013 National Architecture Awards announced at the end of last year. The corporation took out the inaugural 'Nicholas Murcutt Award for Small Project Architecture' for the Djakanimba Pavilions.
'It's a great honour and we're delighted,' said Djilpin Arts' artistic director, Tom E Lewis.
The modest yet stylish pavilions offer practical, comfortable and affordable accommodation to visitors and travellers alike.
Djilpin Arts Aboriginal Corporation is located in remote Wugularr (Beswick) in the Northern Territory. With its art, culture, music, dance and storytelling it is the energy centre of its community. It also holds such events as the annual Walking with Spirits Festival.
'Working in country with kin and culture across generations is what Djilpin Arts' activities are all about. They include visual, performing and multimedia arts, which are rich in spirit,' says Tom. 'These activities are now enhanced by the spaces we live and work in—spaces like the Djakanimba Pavilions.'
The pavilions are part of the Ghunmarn Culture Centre and are a huge asset to the community from a cultural perspective. In a very practical sense they make it possible for tourists and visitors to come to the community. At the same time they connect traditional culture with modern enterprise.
The judges in their citation said:
In the spirit of the small project award, the Djakanimba Pavilions' contribution to community is far in excess of their diminutive size and modest budget.

… [they] provide an adaptable program for the Ghunmarn Culture Centre. It is a vital piece of infrastructure for the community's arts festival, expanding the options and scope for developing content and housing collaborators.
There are plans for a second design stage which will include a new gallery retail space, with small café, guest kitchen, laundry area and extra amenities. There are also plans for an Indigenous-planned garden and outdoor areas for locals and guests to share.
'Once the second stage is complete we will develop cultural tourism programs to support income development,' says Tom.
Former long-time Katherine resident, Tania Dennis from InsideOUT Architects, is the design architect of the Djakanimba Pavilions. The judges were struck not only by her innovation but also her understanding of the corporation's requirements, the climate and careful selection of materials.
Through clever use of sliding walls and fold-up beds, the pavilions can become temporary art exhibition, learning or performance spaces. They are tough, unpretentious and responsive to climate. Off-the-shelf solutions are used elegantly, and the spaces are transformed on a regular basis as envisaged.

Elevated on stilts, they sit above the flood plain and surrounding buildings, creating a delightful string of indoor and outdoor spaces hovering in the scrub. The scheme has a parsimonious elegance, a refinement derived from being exactly fit for purpose on minimal means.
Building the pavilions has fully met expectations. 'Building one good Aboriginal-managed business created more employment and showed the kids still at school the pathway ahead if they work hard. The pavilions project proves that we can all work together,' said Jeff McMullan, honorary CEO for Ian Thorpe's Fountain for Youth organisation and a presenter at the 2013 National Architecture Awards ceremony.
For more information djilpinarts.org.au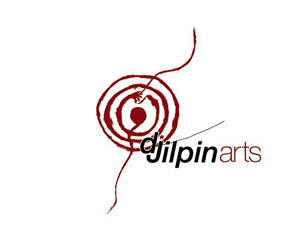 All photos courtesy of Peter Eve and Djilpin Arts Aboriginal Corporation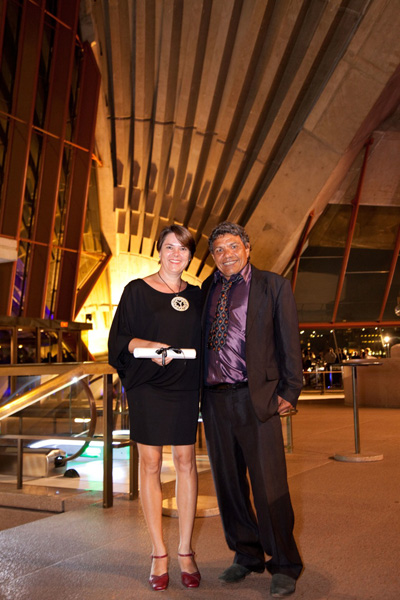 Djilpin Arts' artistic director Tom E Lewis with Tania Dennis from InsideOUT Architects at the award ceremony. 'It's an honour and we're delighted to receive such a prize in architecture at the Opera House on the national stage,' said Tom.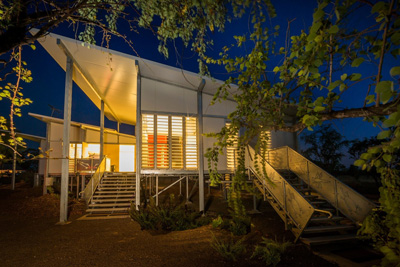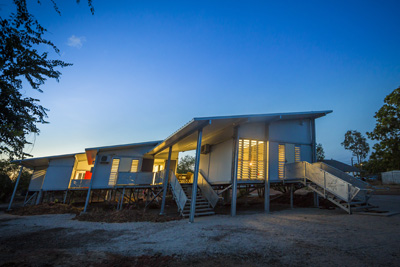 The Djakanimba Pavilions sit elegantly on stilts above the flood plains and feature laser cut panels by community artists, Frankie Lane, Scott Hall and Augustina Kennedy.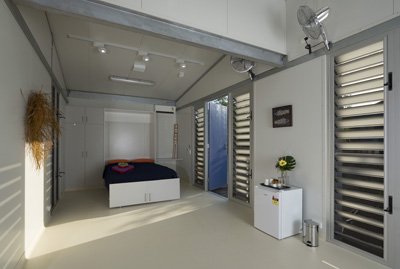 Well-designed sliding walls and fold-up beds allow the Djakanimba Pavilions to be used for multiple purposes, such as a temporary art exhibition or for performance spaces.