After some difficult times, the Barengi Gadjin Land Council Aboriginal Corporation is on the move—in more ways than one! They have just moved into brand new premises in a prime location in Firebrace Street, Horsham in western Victoria.
The new office space is much bigger than the previous one in Darlott Street. It includes a large community meeting room and plenty of space and resources for community members.
The new chief executive officer, Jim Golden-Brown, is excited about the future of the corporation.
'At its heart, Barengi Gadjin Land Council is an organisation for the traditional owners of this land, and it is my intention to work hard for their best interests by building the business and securing its future', Mr Golden-Brown said.
At the official opening of the new offices on Friday, 3 June, the corporation's new logo, strategic plan and website (www.bglc.com.au) were launched.
The new logo ties native title, people and country together. The blue represents the Wimmera River; the footprints are the spiritual creator, Bunjil; and the dots represent the five family groups (the Wotjobaluk, Jaadwa, Jadawajali, Wergaia and Jupagulk native title holders). The logo was designed after a group of members got together and put all their ideas down on paper.
Guests at the launch took part in a smoking ceremony. According to Bronwen Clark, strategic adviser of the corporation, this is usually done when you're at a new place or meeting new people. Traditional dancers added to the celebratory atmosphere.
The 170 members have much to be proud of, particularly the fact that they negotiated the first Native Title Consent Determination in south-eastern Australia back in 2005.
Mr Golden-Brown said that part of Barengi Gadjin Land Council's recent work has been to look closely at their core business and decide exactly what needed to be done to uphold the rights of native title holders and meet legislative responsibilities.
'With our directors, who are elected members of family groups, we have set our vision and mission', he said.
The corporation's new vision is: Traditional owners working together as custodians of culture, country, heritage, lore and language. The mission is: Moving forward and making things happen in partnership with our board, membership and stakeholders.
The Barengi Gadjin Land Council Aboriginal Corporation and its members have much to look forward to. Have a look at the new-look website for upcoming events and other information.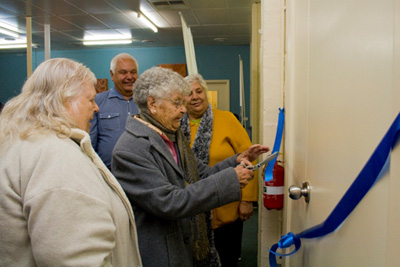 Photo: Aunty Irene Harrison, Aunty Jessie Clarke and Aunty Faye Marks officially open the offices watched by BGLC director, Frank Clarke