Established in 1995, Maari Ma Health Aboriginal Corporation has dedicated its time and resources to improving the health outcomes for communities in the far west region of New South Wales. The corporation's approach to health for the community has not gone unnoticed.
Recently the Minister for western New South Wales, Kevin Humphries, called the new healthcare facility for mothers and young children at Broken Hill a 'world class' facility. The unit will ensure quality pre- and post-natal care to mothers, children and families.
In 2007 Maari Ma won the NSW Minister for Health Award for the corporation's Management Agreement with the Area Health Service under which Maari Ma runs local health services in remote communities. They also won the 2007 National Excellence in Indigenous Health Award for the same program. Their chronic disease strategy was one of the first in NSW and continues to define their leadership in Aboriginal health.
Maari Ma has also been involved in a groundbreaking film project, Intangible. The film is a documentary portraying a sequence of events involving a family carer for a person with severe and persistent mental illness. Hopefully the film will find a wider audience and be released on national television and be shown in major art galleries in conjunction with touring exhibitions of carers' exhibitions.
Maari Ma is clearly already a leader in health service delivery.  But there still remains much to do—especially in the areas of adult chronic disease, maternal and child health, and in social and emotional wellbeing.
The corporation's directors represent six communities in the region—Broken Hill, Ivanhoe, Balranald, Menindee, Wilcannia, and Tibooburra. The directors are deeply committed to providing a holistic approach to Aboriginal health, which means looking after the physical, emotional, spiritual, cultural and environmental wellbeing of each patient.
Since their incorporation Maari Ma has built strong partnerships with other key partners in health services for the region: Far West Local Health District, Sydney University Department of Rural Health and the Royal Flying Doctor Service.
Maari Ma believes that the community should be an active partner in this health journey. The corporation doesn't just provide best practice health care; it also provides employment opportunities for people from the community.
One thing is sure, the community is talking a lot more about health and they have higher expectations of health services. Which is just as it should be.
For more information about Maari Ma Health Aboriginal Corporation and the services they provide, see the corporation's website at: www.maarima.com.au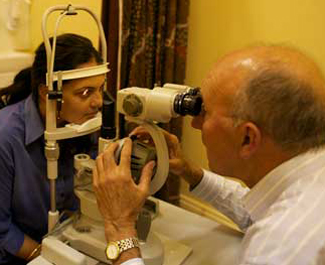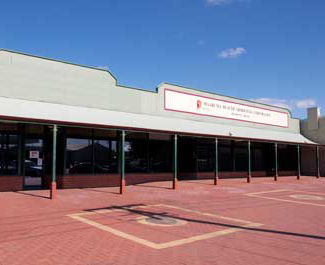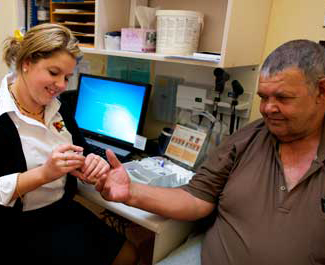 Photos: (left to right) Tim McKinnon and Shannon Hinton, the Regional office in Broken Hill and Kelly McGowan and Dennis Williams.Courtesy of Maari Ma Health Aboriginal Corporation.