See ORIC yearbook 2014–15 table of contents
Overview
Snapshot 2007–08 to 2014–15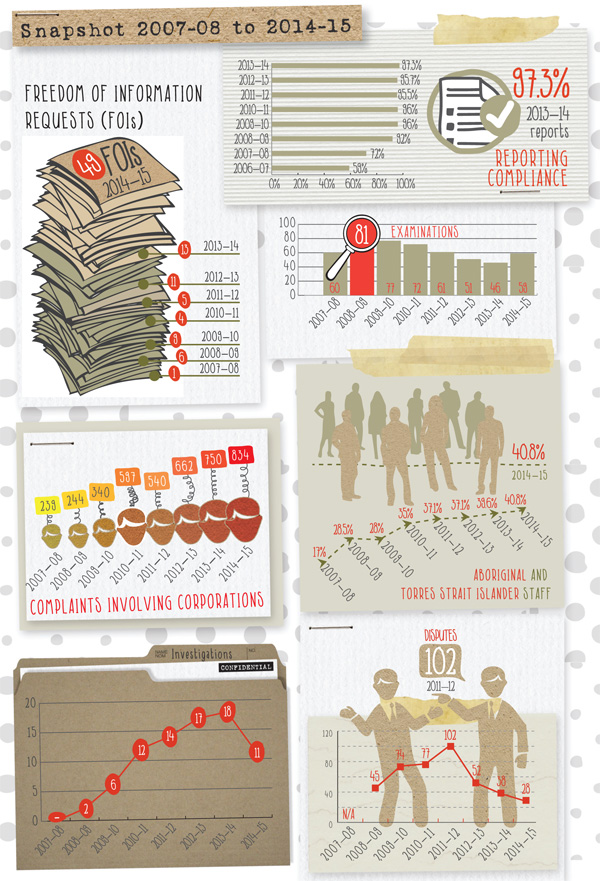 Highlights 2014–15
Regulatory functions
first court action brought by the Registrar against an entire board of a corporation (Sonia Murray and three other former directors)
first criminal conviction obtained by the Registrar after a fully defended jury trial (Veronica Cubillo)
2335 (97.3 per cent) corporations lodged their annual reports, up from
2227 (95.7 per cent) last year
59.3 per cent of corporations lodged annual reports electronically, up from 52 per cent last year
59 formal examinations completed—14 more than originally planned
seven special administrations ended with three completed within six months; a successful business turnaround was achieved in five corporations
28 disputes managed, a decrease of 26.3 per cent compared with last year
834 complaints were finalised, representing an 11 per cent increase on the previous year
ORIC services
11 senior management recruitments for corporations managed through ORIC's recruitment assistance service (ORA) and nine positions filled
47 corporation jobs were advertised on the ORIC website, free of charge
9463 calls were received through the ORIC call centre seeking information and advice
41 pro bono LawHelp applications received, with 24 approved and referred to some of Australia's top law firms
Governance support
new regional officer positions were established in Darwin, Coffs Harbour and Perth
a free online service developed matching prospective independent directors to Aboriginal and Torres Strait Islander corporations—the Independentdirectory
886 participants from 169 corporations received corporate governance training
developed a corporate governance workshop specifically for corporations in the native title sector
Other
49 FOI requests received this year, up from 13 last year
developed guides to assist state/territory registered organisations to transfer their incorporation to the CATSI Act
40.8 per cent of staff identified as Aboriginal or Torres Strait Islander—an increase of 1.2 per cent on last year
produced the sixth edition of the top 500 corporations
From the Registrar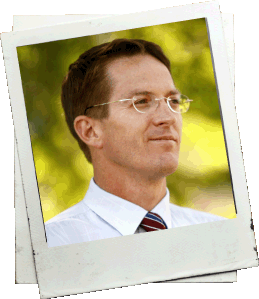 Year in review
At the end of my second term it is an appropriate time to take stock of achievements, challenges and what the future holds for the Aboriginal and Torres Strait Islander corporate sector in Australia.
It is gratifying to look back over the past eight years and see a sustained upward trend in all ORIC activities—its regulatory functions, services and governance support. Most important though is that these activities have had a positive impact on the sustainability and accountability of Aboriginal and Torres Strait Islander corporations.
The dual focus this year has been on providing more services and greater practical support to the directors and members of corporations. To that end I have extended the ORIC regional network by adding three new regional officer positions, in Darwin, Coffs Harbour and Perth. I have also reduced red tape by making it easier for organisations to transfer their incorporation from state/territory legislation to the CATSI Act.
I have also granted exemptions for reporting and AGMs to corporations in central Australia whose sole purpose is holding land.
Another practical initiative has been the amendment to our pro bono legal scheme, LawHelp, to extend assistance to entities transferring their incorporation to the CATSI Act because of changes to funding from the Commonwealth under its Indigenous Advancement Strategy. LawHelp continues to expand the services provided generously by Australia's largest law firms embraced by more and more Aboriginal and Torres Strait Islander corporations.
Although there have been several big achievements over the year, the stand-outs came from our enforcement activity. Regulators are judged by how they address wrongdoing and this has been a key priority for my office in recent years. Two important results achieved this year include the following:
In April 2015 the Federal Court in Melbourne issued banning orders and significant fines against four former directors of the Bunurong Land Council (Aboriginal Corporation) for breaching their duties. This was the first time that action has been taken against an entire former board of a corporation.
Also in April 2015 the former CEO of the North Australian Aboriginal Family Violence Legal Service Aboriginal Corporation (NAAFVLS), Ms Veronica Cubillo, was found guilty by a jury of peers of 11 offences in the Northern Territory Supreme Court. Ten of the offences involved misusing her position for personal financial gain. This was the first time that criminal charges under the CATSI Act were heard in a fully defended jury trial.
These and other successful prosecutions will continue to send a strong message to corporations that breaking the law will not go unnoticed. I can think of no better way to encourage and support the majority of directors and officers of corporations who do the right thing than to go after those that don't.
With regard to ORIC's other core business, the section showcasing our highlights clearly charts a year of achievements.
Year ahead
Some challenges and risks
The number of freedom of information requests (FOIs) processed by my office has substantially increased over the past year and there is no indication that the numbers will reduce in 2015–16. The majority of corporation documents are already available free of charge on the ORIC website. But increasingly FOI requests are used in an attempt to access personal and confidential documents of individual corporations rather than information about government.
While it is important to respond thoroughly and promptly to FOI requests in the interests of transparency and open government, it is of growing concern that they present onerous obligations on ORIC's limited human and financial resources.
Supporting the government's requirement under the Indigenous Advancement Strategy for most organisations to be registered under Commonwealth legislation has been a priority. In the coming year more resources will be allocated to assist organisations transferring their incorporation to the CATSI Act. The CATSI Act provides many benefits to Aboriginal and Torres Strait Islander corporations and more corporations registered under the CATSI Act will lead to better services for members and clients.
Another big challenge remains managing the requirements to replace or enhance our key IT systems so that we can provide accurate and up-to date information that our clients and stakeholders can rely on.
Some key priorities for 2015–16
Rolling out ORIC's new online service, the Independentdirectory, to match independent directors to corporations that need skills not available at the corporation.
Maintaining the high standard of ORIC's governance training and support, including for native title bodies.
Shaping our services to meet the needs of our clients and ensuring they are easy to access and use.
Supporting Aboriginal and Torres Strait Islander ownership and control and recognising the benefits of community control in community development.
Reviewing the way we work on an ongoing basis to reduce the regulatory burden on Aboriginal and Torres Strait Islander corporations.
Identifying corporate wrongdoing and taking appropriate action.
Building sustainability by equipping corporations, their directors and members with the necessary skills and knowledge to take control of their continued economic growth and development.
Finally
I am pleased to report that the number of Aboriginal and Torres Strait Islander staff working in ORIC has again increased over the past year. As at 30 June 2015, 40.8 per cent of staff identified as Aboriginal and Torres Strait Islander—the highest number ever.
I would like to thank ORIC staff for their hard work and dedication without which the achievements set out in this yearbook could not have been accomplished. Much of our work involves travelling long distances, facing challenging situations and dealing with uncertainties. I am convinced that our outcomes reveal the level of commitment that each and every staff member has for the work they do and the clients they serve.
We remain committed to delivering high-quality products and services to encourage Australia's first peoples to achieve self-determination, economic growth and to make the most of their resources.
Anthony Beven
October 2015