Reports overdue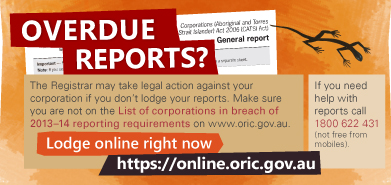 Your 2013–14 reports had to be lodged by 31 December 2014. If you haven't yet sent in your corporation's reports, you could be facing prosecution or deregistration.
You can lodge your reports online. If you have any questions, please call us on our freecall number 1800 622 431 (not free from mobiles).
Is your corporation in breach?
List of corporations in breach with 2013–14 reporting requirements (XLS)—this list was last updated 20 May 2015.