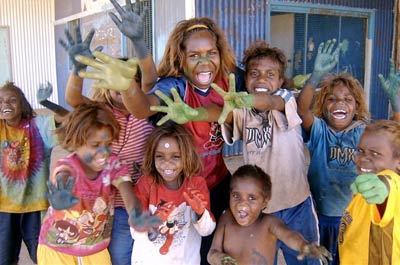 On 18 March 2008 the members of the Mt Theo/Yuendumu Substance Misuse Aboriginal Corporation passed a special resolution at a general meeting to change the corporation's name to the Warlpiri Youth Development Aboriginal Corporation. This name change reflects the long way the corporation has come since the Mt Theo program was started in 1993.
The program was started by elders of the Yuendumu community to address the chronic problem of petrol sniffing in Yuendumu. A very successful dual approach was followed to combat petrol sniffing. Firstly, those young people were moved to the Mt Theo Outstation—160 km from the Yuendumu community. Here, the youth were cared for by Yuendumu elders as part of a cultural rehabilitation program. Secondly, these young people had to undergo a seven-day Youth Diversionary Program, which engaged them in activities outside of school hours.
But since those early days, the program has been expanded extensively to include programs of diversion, treatment, after care and youth leadership and development throughout the Warlpiri region.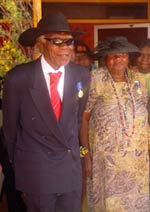 As of 2008, Mt Theo Outstation has taken over 500 young Warlpiri clients from over 14 different communities, including Alice Springs. These clients are all Warlpiri youth and predominantly from Warlpiri home communities. The aim is for these clients to undergo the cultural rehabilitation program and then return to the active community youth programs or Jaru Pirrjirdi project. They can also be supported through our permanent youth counselling and mentoring service. Clients may present with any 'youth at risk' issue, not just for petrol sniffing or substance misuse, and may be referred by family, Community Elders, FACS, Police and Corrections.
Mt Theo priorities are built into four main areas:
Mt Theo Outstation (treatment and diversion)
Youth Diversionary Program (prevention programs in Yuendumu, Willowra, Nyirrpi and Lajamanu)
Jaru Pirrjirdi (Strong Voices) Project (after care and youth leadership)
Warra-Warra Kanyi Counselling Service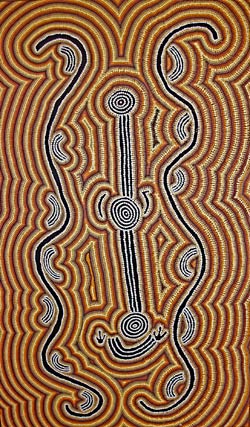 The program has challenged a generation's destructive behaviour. Strong community action has created an environment of for healthy change and support. It says something about the success of a program when that generation now looks on petrol sniffing as a 'totally uncool' thing to do!
According to Ms Susie Low the work will never be done. Temptation is just around the next corner, but Mt Theo helps young people understand that there are positive and healthy alternatives to substance abuse and incarceration.
The Warlpiri Youth Development Aboriginal Corporation and their new logo (the bush tomato jukurrpa, displayed on this page) certainly reflects the fact that dynamic leadership and strong community support can make all the difference in a young person's life. Especially if the focus is on strong and healthy futures for today's young generation.
To learn more about the work of this dynamic corporation, go to their website at mttheo.org.