The mission here is simple—encourage more Indigenous people to play Ultimate frisbee!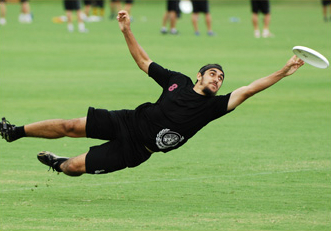 Ashwood, Victoria: At Indigenous Ultimate the mission is simple—encourage more Indigenous people to play Ultimate!
Ultimate is a non-contact team sport played with a frisbee. It combines elements of netball, touch football and grid-iron in a fast-paced, athletic game. The aim is for each team to get the frisbee from their end of the field to the opposition's end zone.
The corporation was founded by Ultimate legend Rueben Berg in 2010 but the sport has been around for decades, from local games to world championships.Games are usually played on grass but have found their way to the beach and indoors. The sport is also unique because it is self-refereed—players are responsible for applying the rules themselves. According to Rueben, it works:
Even though we are competitive and games are hard-fought, self-refereeing is possible because at the heart of the game is fair play and respect for opponents.
People who play Ultimate frisbee believe it's more than just a sport…it's an opportunity to travel far, meet interesting people and contribute to a healthy lifestyle:
We're not just about having fun—although we do have a lot of it. Behind our mission is a goal to improve the health and wellbeing of Indigenous people. We think playing ultimate is a great way to help our community achieve this.
Corporation services include coaching sessions to teach people how to play, hosting information stalls to spread the word, demonstration games, helping people find a team in their local league, and supplying discs to community members.
We can't do this alone. We work with many event partners to reach people in our home state of Victoria, right out to remote communities in the Kimberley. If someone is interested in Ultimate, no matter where they are, we are keen to do what we can to help.
Some of the community organisations and events the corporation has been involved with are the Cathy Freeman Foundation, Koorie Youth Summit, Woorrangalook Victorian Koori Surfing Titles and the South Australian Aboriginal Sports Training Academy.
Just last October the corporation ran an Ultimate frisbee information session at the Murrun Dhelk Football and Netball Carnival in Bendigo, and they are always keen to attend other events to raise awareness about the sport of Ultimate.
For more information: