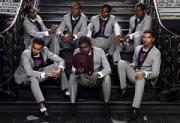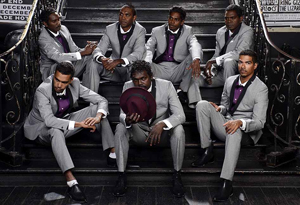 East Journey Aboriginal Corporation (ICN 7604)
North East Arnhem Land, NT: One of ORIC's more 'out of the box' corporations is the home base for the young up-and-coming male music group, East Journey. The East Journey Aboriginal Corporation registered with ORIC in August 2011.
The corporation was formed to promote Yolngu culture and music to the wider community and also to nurture talent among the Yolngu young people.
With their authentic sound and original performance style that includes traditional dance and song, fused with contemporary rock and reggae, the East Journey members are certainly making a name for themselves as 'the next big thing' (The West Australian, September 2012).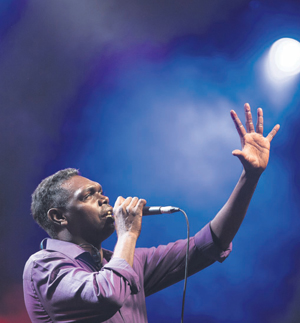 Rolling Stone magazine (September 2012) described East Journey as 'explosive', and the band is making headlines for all the right reasons around Australia. Core band members include Rrawun Maymuru on lead vocals, Patrick (PJ) White on lead guitar, Arian Pearson, Gathapura Mununggurr, Ngalkanbuy Mununggurr, Malngay Yunupingu, and Marcus Marawili.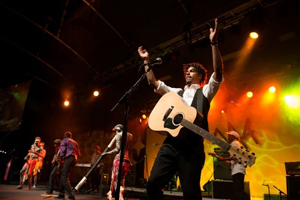 East Journey members have strong spiritual relationships with their land and sea. They maintain this special bond with their country through song, dance and ceremony, which is evident in the band's recordings and live performances; and also in their debut album, Guwak.
Our inspiration and material is drawn from Manikay (ceremonial song poetry), traditional melodies and instruments that, through guidance and encouragement from our old people, is fused together with western and contemporary musical traditions.
Rrawun Maymuru sees the opportunity, as well as cultural responsibility, in using music to explain Aboriginal culture to wider Australia.
There's so many things we want to tell people and this music is the best way we can tell people. Our culture, itself, is very unique and we're bringing that culture to a new level through our music … We got our music from our culture. We sing songs about the land and about nature. Now we're bringing that culture to you through our music, so you can understand what we're talking about.
As a credit to its amazing talent, East Journey was nominated five times for four different categories at the National Indigenous Music Awards (NIMAs) last year, with Song of Arnhem Land nominated for both National Song of the Year (NIMAs) and NT Song of the Year. They were also presented with the G.R. Burarrwanga Memorial Award, and Music Video of the Year for Ngarrpiya.
The band's last album, Guwak, was released in April 2012 and shows a strong display of the members ability to mix and infuse different Western genres with traditional content and melodies. Its latest single, Bright Lights, Big City, has been recorded and is to be released over the coming months.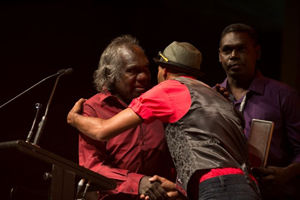 For more information or to help support this deadly up-and-coming band please go to http://eastjourney.com.au/home.
Also check out some of the band's deadly tunes via the below links
http://www.youtube.com/watch?v=LUCZv096M7A
http://www.youtube.com/watch?v=dU6CHuUhRQU
http://www.youtube.com/watch?v=8hjzldfev1M
Photos: All photos courtesy of East Journey Aboriginal Corporation and National Indigenous Music Awards.
Top: East Journey band members at the Esplanade Hotel in St Kilda, 2012
Middle: Rrawun Maymuru performing at the National Indigenous Music Awards
Middle2: Arian Pearson and East Journey performing Song of Arnhem Land at the 2012 National Indigenous Music Awards
Middle 3: East Journey awarded the G.R. Burarrwanga Memorial Award from Mandawuy at the 2012 National Indigenous Music Awards
Middle 4: Ngalkanbuy Mununggurr and Malngay Yunupingu
Bottom: Dancers at live performance 2012