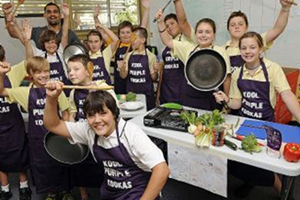 Redfern, Sydney: Think Kool Purple Kookas and you don't think meat pies and two veg—you think kangaroo, emu and crocodile, and maybe wild tomatoes—traditional foods served with a modern twist.
Kool Purple Kookas Indigenous Corporation (ICN 7594) is teaching Aboriginal and Torres Strait Islander kids about healthy eating and how to prepare simple nutritious meals inspired by bush tucker. And they're having great fun along the way.
'I saw a need,' says chef Corey Grech, a Kamilaroi man from Coonabarabran with almost 10 years' experience in the hospitality industry. 'Kids in general don't know much about cooking and many Indigenous kids, especially those in urban areas or who live on the city outskirts, don't know a lot about their heritage. Cooking is a great way to teach children about culture as well as food.'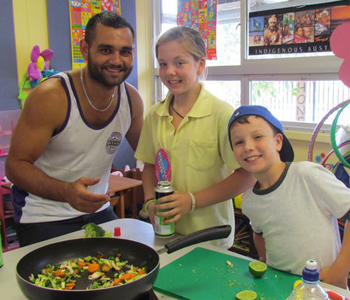 Through Kool Purple Kookas Corey runs a number of educational programs that promote healthy eating habits and encourage interest in unfamiliar yet delicious foods. Either on his own or with an assistant he takes to the road visiting schools around Sydney in say, Gosford or near Wollongong. It's not unusual for him to spend a week with a class of 12-year-olds, telling stories, talking about culture and showing them how to cook up a wonderful feast from locally available produce. 'We go for foods that belong to the area.'
Every region is different which is why it is so interesting to draw on local knowledge. A great deal can be learnt from the local community, exchanging information and sharing long-held traditional 'recipes'.
While visiting Tweed Heads, for example, elders in the local community showed Corey their special way of preparing pipis, a food source (a type of clam) associated with the local area.
But when it comes to cooking with the children there are a few basic rules to follow. 'First the kids must earn my trust and respect,' says Corey, 'so we spend time getting to know each other. After all, they are handling knives and working with fire so I want to have full confidence in them!'
As for the children they love the experience. For them it's hands-on full engagement, relevant and fun. They're proud to learn about their heritage through food and enjoy listening to the Dreamtime stories.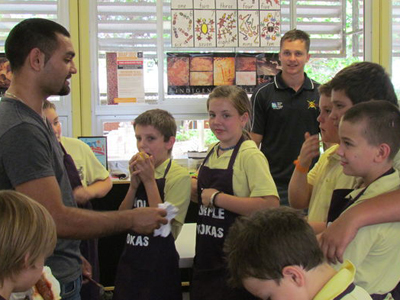 By the end of the week they have a raised sense of self, new-found skills—such as, how to cut up vegetables properly and slice raw meat—and a far greater understanding about preparing and enjoying healthy new foods. 'We make all kinds of meals—soups, kangaroo stir fries, curries from emu or we might use fresh bush vegetables and fruits in a salad—there's plenty of variety.'
Kool Purple Kookas maybe one of the newest and smallest corporations registered under the Corporations (Aboriginal and Torres Strait Islander) Act 2006 but, with chef Corey Grech at the helm, it's making a big impact. Keep up the good work!
For more information see www.koolpurplekookas.com
Top: Children enjoying themselves, Toukley Public School. Photo: Express Advocate
Middle and bottom: Cooking class in session, Toukley Public School. Chef Corey Grech is also producing a bush tucker-inspired cook book under the Live Longer! Campaign. Photos: Toukley Public School