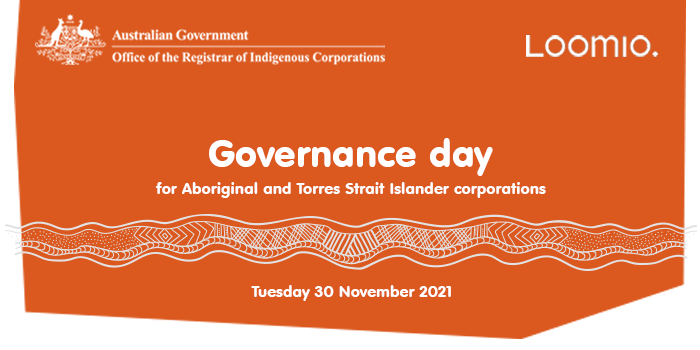 A free one-day online forum for illumination, inspiration and action.
In partnership with Loomio*, the Registrar of Indigenous Corporations invites members and directors of Aboriginal and Torres Strait Islander corporations to an engaging forum designed to elevate your board's capability and knowledge.
The focus will be governance challenges—and success—in Indigenous contexts in Australia and beyond.
This is a rare opportunity to join in a practical cross-cultural exchange of governance knowledge and expertise, and we are lining up a great list of keynote speakers, presenters and workshops for this very special event.
To join in, register [2] ASAP. We hope to see you there! (And if it turns out you are unable to attend, please let us know [3].)
Host
Master of ceremonies (MC) for the day: veteran journalist and acclaimed author Stan Grant.
Themes
The current state of Indigenous governance—where are we at? What are the challenges?
The director mindset and setting up for success—women, young people, effective corporate culture
Resilience—emerging issues and risk—digital tools, cybersecurity, the pandemic
As well as keynote speakers, there will be mini-workshops and good opportunities to meet other people and to have a say.
Speakers
Dame Meg Taylor, former Secretary General, Pacific Islands Forum Secretariat
Kerryn Newton, CEO, Directors Australia
Peter McQuoid, PDM Consultancy
Selwyn Button, Registrar of Indigenous Corporations
Gary Johns, Commissioner, Australian Charities and Not-for-profits Commission
Morgan Brigg, University of Queensland (UQ), Josephine Bourne (UQ) and Jodie Curth-Bibb, Square Circle
Jessica Bulger, CEO, Australian Indigenous Governance Institute (AIGI) and Lara Drieberg, AIGI
Rahul Watson Govindan, CEO, Loomio Cooperative
Download the full program [4] (PDF 300kb) and if need be, our tips for joining and using Zoom [5] (PDF 61kb).
How to join
Link to the Zoom room:
https://us02web.zoom.us/j/84155314687?pwd=c0xtU1BaQ1lPcXdCVm5hZWxxZmRWdz09 [6]
Meeting ID:
84155314687
Passcode:
610333
* Loomio [7] is an Aotearoa (NZ)-based platform for open, respectful discussion and decision-making online. ORIC has partnered with Loomio for a pilot project [8] to determine how well it supports Aboriginal and Torres Strait Islander corporations to strengthen their governance.