Singleton, New South Wales: Ungooroo Aboriginal Corporation (UAC) is located on Wanaruah land in New South Wales. It stretches from the Liverpool ranges in the north to Wollombi in the south, across to the western fringes of the volcanic plateau known as the Barrington tops.
UAC is the only Aboriginal not-for-profit shopfront organisation in Singleton. And the members of UAC pride themselves on providing the Upper Hunter Aboriginal community with a range of empowering skills and services.
Since its foundation more than twenty years ago, the corporation has been moving along steadily, building on success after success and finding ways to empower the Aboriginal community through their programs and services. The programs and services increase skills, generate respect, increase health, employment and training, support youth and small business and promote social justice.
Making news
UAC's GP service has been in the news this year. The Singleton Argus (24 February 2015) recently ran a story on the corporation's medical facility. It is something staff and members are particularly proud of. It kicked off in February 2015 and is a model of collaboration between community, industry and government. The service was made possible through the financial support of the Medicare Local and mining company, Glencore. The clinic offers bulk billing and its hours are based on demand. UAC will also provide support for Aboriginal people through the Rural Doctors program in the form of a dietician and physiotherapist.
'This is a huge milestone and will directly impact on closing the gap on health issues. It will stop people neglecting their health.'
Taasha Layer, UAC general manager
Another offshoot of this is the corporation's partnership with Headspace which will help Aboriginal people with mental health, particularly young people.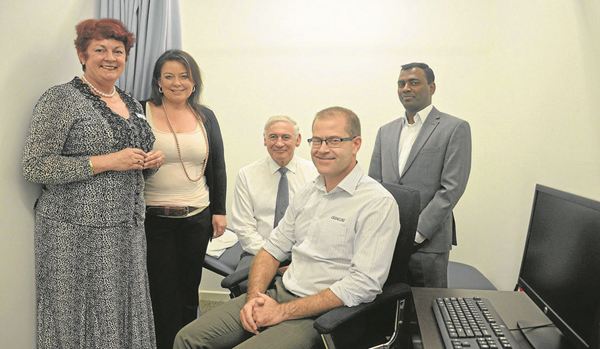 MILESTONE: Medicare Local's Alison Tattersal, Ungooroo Aboriginal Corporation general manager Taasha Layer, Upper Hunter MP George Souris, Glencore community relations manager Craig Strudwick and Dr Kumar. Photo: Ungooroo Aboriginal Corporation
Photo: The Singleton Argus (24 February 2015)
Providing a safe environment
In late 2014, UAC put another feather in their cap: they were chosen to deliver homelessness services for Aboriginal people—in particular young people, women and families of the Upper and Lower Hunter regions. The tender will last for three years and means a cultural appropriate approach to support families at risk of losing their homes.
This service includes support for Aboriginal young people between the ages of 12 and 24 who are homeless or at risk of homelessness. UAC provides practical support that empowers young people to achieve self-reliance and independence. Referrals can be made by support services, schools, family, friends or self-referral.
Summary of achievements
There are so many stories that belong to people who have served UAC and their community over many years. Their list of achievements includes:
2015 launch of Ungooroo GP and health services
Launch of DOOKAL clothing—on-seller of PPE gear, clothing and merchandise
2014 Cert 1V Governance/Business accredited training for our board of directors
Secured GHSH specialist homeless service (3-year tender)
4 successful MEEKA Youth Expos for the Upper and Lower Hunter
WINNER (2013): Not-for-profit business of the year—Hunter region BEC
WINNER (2013): Arts and events business of the year—Hunter region BEC (for our achievements with Wupa@Wanaruah

[2]

)
2012 launch of DOOKAL Group Pty Ltd—labour hire contracting company
WINNER (2012): Indigenous business of the year—Hunter Region BEC
WINNER (2011): Indigenous business of the year—Hunter region BEC
WINNER (2010): Highly commended and Indigenous business of the year—Hunter region BEC
WINNER (2009): Highly commended and Indigenous business of the year—Hunter region BEC
All funds, including those raised from contracts through DOOKAL Group Pty Ltd contracting labour hire company (Dookal Clothing) and our GP service, go into supporting more services and programs for our communities.
UAC is a vibrant corporation that employs a passionate bunch of people who want to look after all facets of daily life for Aboriginal people in need. It has come a long way but UAC still has a lot more it wants to achieve.
4th Meeka youth expo held on 30 March 2015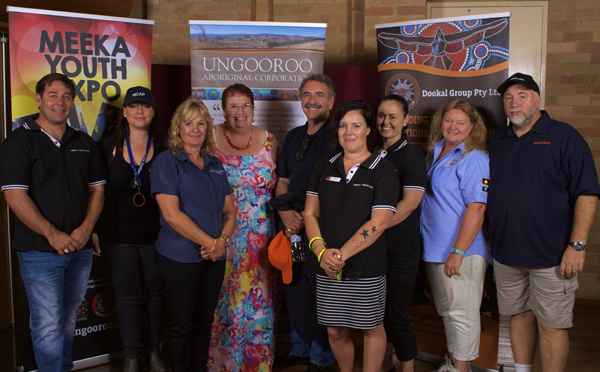 2015 MEEKA youth expo: staff and board members of UAC, with guest speaker, Dr Ernesto Sirolli (5th from L) and Taasha Layer, UAC general manager (4th from R). Photo: Ungooroo Aboriginal Corporation