Wurli-Wurlinjang Aboriginal Corporation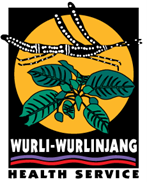 Wurli-Wurlinjang delivers primary and clinical health-care services to Aboriginal people in Katherine and surrounding communities. Wurli prides itself on making clients feel welcome and comfortable. We promote social and emotional wellbeing and we care for people with chronic disease and people dealing with alcohol and other drug issues.
Timezone:
Australian Central Standard Time (ACST)
Job description/overview:
The Katherine Individual Support Program (KISP) is the overarching collaborative case management approach with other key Katherine agencies to address the needs of people who struggle to achieve quality of life due to the impact of chronic ill health, addiction, social and emotional, and homelessness. The Wurli-Wurlinjang Wellbeing Unit's contribution to KISP will provide a holistic approach to addressing the needs of individuals identified by the Katherine Hospital, who present with comorbid complexities. The Wellbeing KISP team will work in partnership with clients, and the homeless community to provide a culturally appropriate and comprehensive service that is strongly influenced by the Social and Emotional Wellbeing Framework and a recovery focused model of care.
The Support Worker / Counsellor (AOD)  is responsible for providing a culturally sensitive approach and assistance to our clients in order to improve their social and emotional wellbeing.  Key components of the role at this level is to provide culturally safe therapeutic counselling to individuals who are currently experiencing complex physical, social and emotional issues.  This is achieved by working in partnership with individuals to identify goals that ultimately strive to promote independence, empowerment, and connection to family, culture, spirituality, health and country.
For details, see job advertisement on the Wurli-Wurlinjang website [2].
Contact person and how to apply: