Wurli-Wurlinjang Aboriginal Corporation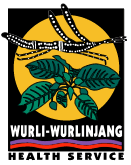 Wurli-Wurlinjang Health Service is an Aboriginal community controlled organisation, governed by a board of directors elected by our members who live in Katherine and the surrounding community living areas we service.
The Aboriginal people in Katherine live both in town and in small communities located within a 40km radius around the town of Katherine.
The largest of the communities are Mialli Brumby (also known as Kalano), which is along the north side of the Katherine River, and Rockhole, 15 kilometres from the town of Katherine. The other living areas are Geyulkgan Ngurro (Walpiri Camp), and Gorge Camp (Jodetluk).  Many Aboriginal people also live in the town of Katherine.
Timezone:
Australian Central Standard Time (ACST)
Job category:
Corporate business support
Job description/overview:
The diabetes educator is responsible for contributing to improving health outcomes for Aboriginal and Torres Strait Islander people with chronic health conditions; in particular diabetes, through better access to coordinated and multidisciplinary care. The diabetes educator will provide for a range of services within a multi-disciplinary team including provision of diabetes self-management, education, and care and being a resource person for healthcare professionals.
Selection criteria
Certificate IV in Aboriginal and/or Torres Strait Islander Primary Health Care / Bachelor of Nursing
Five years clinical practice experience, including the provision of chronic disease care
Fully Registered as an Aboriginal Health Practitioner / Nurse with Australian Health Practitioners Regulation Agency (AHPRA)
National Police Records Check and Working with Children's Clearance
Current Northern Territory Driver's License
Contact person and how to apply: