Last updated 13 July 2020
Revising the register and online services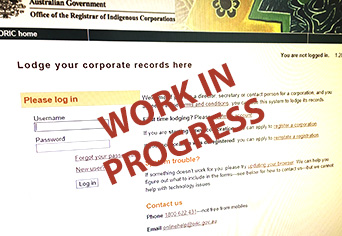 We are working to overhaul the IT system underlying the Register of Aboriginal and Torres Strait Islander Corporations. Our highest priority is to make it easier for corporations to interact with us and meet their legal obligations. Some aspects are set by the legislation, but there's a lot of scope to adapt the system to better serve your needs.
We have engaged PWC's Indigenous Consulting [2] (PIC) to help us learn more about your experience interacting with the register. There will be opportunities to provide feedback on design concepts, language and information. We will post updates on how you can participate on this page.
Research
1. A better understanding
Before we started rebuilding the system, we were keen to gain a good understanding of what you want:
when you lodge information—as a director, contact person/secretary or other person that directors have authorised
when you access your corporation's information—as a logged-in member, director, contact person/secretary
when we share your information—on the Public Register
As well as conducting several one-on-one interviews with people from corporations across the spectrum (of size, remoteness, accesssibility and so on) PwCIC made a short survey so that anyone who has used the public register or the online lodgment portal could help improve ORIC's online services—in under ten minutes.
That process was foundational to our thinking.
2. Privacy of members
One factor that emerged loud and clear from the interviews and first survey is that privacy—and protecting personal information—is important to many corporations across Australia. We followed up with a short survey about the personal information of corporation members. As a result, in September 2019 we instigated a priority change to the system so that members' addresses no longer appear in any documents on the public register.
3. Categorising what corporations do
One question you are required to answer as part of registering a corporation and lodging a general report each year is 'What does the corporation do?' It's a multiple-choice question. You can select one or more categories but evidently, the categories we provide are not a great fit for Aboriginal and Torres Strait Islander corporations—because many people select 'Other' and key in the activity.
We analysed what corporations type into this 'other' category and came up with a two-level multi-select hierarchy of around 60 options. Then we invited all Aboriginal and Torres Strait Islander people to give us feedback about the new set of categories.
We received over 200 responses to the survey. Eighty-one percent of respondents prefer the expanded list, for reasons including that:
it is more detailed and more specific
its options are more relevant to the work that corporations do
it allows for reporting to be more accurate.
After analysing the results we adjusted some of the terms. Below is our latest list of the top-level categories:
Agriculture, forestry, fishing
Arts
Communication services
Community services
Construction
Education and training
Employment
Health care and health promotion
Culture and heritage
Hospitality and tourism
Housing and tenancy
Land and waters management—care for country
Manufacturing
Mining
Municipal services
Spiritual congregation and religion
Transport and storage
Wholesale and retail trade (shops)
Other services
Other
In the coming months we will endeavour to check in with each corporation individually to make sure that the list works for them and to find out which categories their activities fit into. We'll put this information into our forthcoming system for corporations to interact with ORIC, so it'll be there when we go live.
If our categories are still not a great fit for your corporation, there's one saving grace: in the new system we're building, there will be space for corporations to create a more nuanced profile for the Public Register. You'll be able to upload a logo, a description of your corporation's purpose and main activities, and links to your website and social media channels.
Testing the build
From late July 2020 the first parts of the new system will be ready for testing with corporation representatives. Our contracted UX testers, PIC, will start by visiting a small set of corporations in the Sydney region, so the session can be face-to-face. Then they will broaden the approach, to work with corporations around the country. In many cases these sessions will be online but in limited cases, as appropriate, they will travel to meet with some corporations face-to-face.