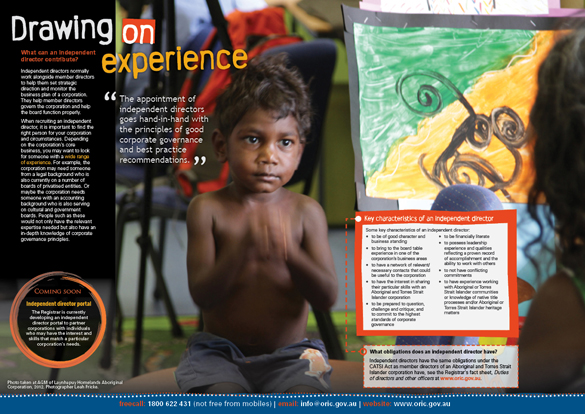 Drawing on experience
What can an independent director contribute?
Independent directors normally work alongside member directors to help them set strategic direction and monitor the business plan of a corporation. They help member directors govern the corporation and help the board function properly.
When recruiting an independent director, it is important to find the right person for your corporation and circumstances. Depending on the corporation's core business, you may want to look for someone with a wide range of experience. For example, the corporation may need someone from a legal background who is also currently on a number of boards of privatised entities. Or maybe the corporation needs someone with an accounting background who is also serving on cultural and government boards. People such as these would not only have the relevant expertise needed but also have an in-depth knowledge of corporate governance principles.
'The appointment of independent directors goes hand-in-hand with the principles of good corporate governance and best practice recommendations.'
COMING SOON—independent director portal
The Registrar is currently developing an independent director portal to partner corporations with individuals who may have the interest and skills that match a particular corporation's needs.
Key characteristics of an independent director
Some key characteristics of an independent director:
to be of good character and business standing
to bring to the board table experience in one of the corporation's business areas
to have a network of relevant/necessary contacts that could be useful to the corporation
to have the interest in sharing their particular skills with an Aboriginal and Torres Strait Islander corporation
to be prepared to question, challenge and critique; and to commit to the highest standards of corporate governance
to be financially literate
to possess leadership experience and qualities reflecting a proven record of accomplishment and the ability to work with others
to not have conflicting commitments
to have experience working with Aboriginal or Torres Strait Islander communities or knowledge of native title processes and/or Aboriginal or Torres Strait Islander heritage matters.
What obligations does an independent director have?
Independent directors have the same obligations under the CATSI Act as member directors of an Aboriginal and Torres Strait Islander corporation have, see the Registrar's fact sheet, Duties of directors and other officers at www.oric.gov.au.
freecall: 1800 622 431 (not free from mobiles) | email: info@oric.gov.au | website: www.oric.gov.au
Background photo: Taken at AGM of Laynhapuy Homelands Aboriginal Corporation, 2012. Photographer Leah Fricke.