Tjungu Palya Aboriginal Corporation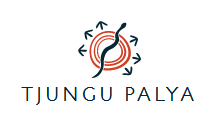 Tjungu Palya is an Aboriginal owned and governed art enterprise, located about 100kms south of Uluru (Ayres Rock), in Nyapari community which is set at the base of the majestic Mann Ranges in the heart of country traditionally owned by the Pitjantjatjara people. These ranges known to Anangu as Murputja, likening the mountain to the bony ridge of a person's spine, are the source of many water holes and traditional camping places.
The Art Centre sees a small group of top tier Australian painters gather daily to work on major exhibitions and private commissions whilst handing on knowledge to a group of talented emerging artists. It is not uncommon for four generations of one family to be gathered at the Art Centre, painting, singing and retelling the Tjukurpa. It is a hive of activity, of fun, of culture and creativity. Tjungu Palya also plays a central economic and role in the future sustainability of the small remote communities of Nyapari and Kanpi.
Timezone:
Australian Central Daylight Time (ACDT)
Location:
Nyapari community on the APY lands
12-month contract (renewable)
Salary and conditions:
$70,000 - $80,000 per annum (base salary)
• Salary sacrifice benefits (capped)
Job description/overview:
This role requires excellent interpersonal skills, a capacity to work effectively across cultures, and a genuine commitment to Indigenous self-determination. Strong management and analytical skills are essential for ensuring effective operations of Tjungu Palya Aboriginal Corporation as well as a solid understanding of the fine art industry.
Reporting to and working closely with the board, the Art Centre manager will work with artists and art workers to support their artistic and professional development, develop and manage the exhibition program, build new relationships, write and develop grant applications and build financial and in-kind support. The Art Centre manager of Tjungu Palya will be inspiring and strategic in leading this dynamic Art Centre.
Contact person and how to apply: