Banjima Native Title Aboriginal Corporation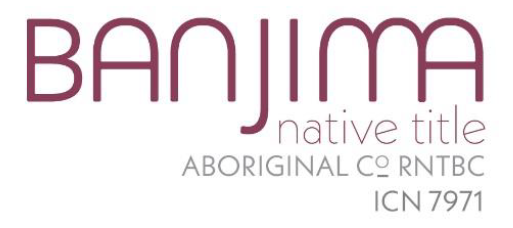 Banjima Native Title Aboriginal Corporation RNTBC (BNTAC) is the Prescribed Body Corporate (PBC) that holds native title on trust for the Banjima People. 
Banjima Country encompasses more than a million hectares in the eastern Pilbara region of Western Australia.  
BNTAC's key responsibilities as a PBC include ensuring the protection and maintenance of Banjima Native Title Rights and Interests. BNTAC's objectives also include the maintenance and support of traditions, laws, language and culture as well as the provision of economic, social and cultural benefits of the Banjima People.
Timezone:
Australian Western Standard Time (AWST)
Salary and conditions:
$75,000 - $90,000 per annum
Job description/overview:
This position supports the Implementation and Compliance Manager in: 
managing future acts matters, including the negotiation of land access and heritage agreements;
implementing native title agreements, including two (2) Indigenous Land Use Agreements; and
supporting and managing key matters and projects relating to protection of Banjima Native Title, Culture and Heritage.
Download a copy of the position description and selection criteria 
Contact person and how to apply:
For more information contact Michelle Alexander on 08 9216 9888 or email Michelle.Alexander@bntac.org.au
Selection process will include shortlisting of applicants, based on their relevant experience and demonstrated skills outlined in their application, for an interview.