Jungarni-Jutiya Indigenous Corporation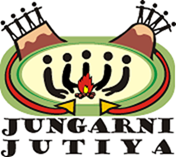 Jungarni-Jutiya Indigenous Corporation has been a central part of the Halls Creek community since 1989, supporting families to achieve safer and healthier lives. The organisation has evolved and grown since its early beginnings and now delivers a range of community welfare, life skills and education programs directed towards helping people change their behaviour and to minimise harm.
The traditional owners of the surrounding land are the Jaru and Kija people. The name 'Jungarni Jutiya' means 'straight path' in the Kiji and Jaru native languages.
Timezone:
Australian Western Standard Time (AWST)
Initial three year contract
Job description/overview:
Key responsibilities include:
managing the day-to-day running of the services
overseeing business and financial operations including supervising staff
providing leadership to the staff team
representing the corporation in public and
planning and implementing current and new programs and services as approved by the board.
Contact person and how to apply:
How to apply: Request a copy of the applicant job package, which includes selection criteria and an applicant guide: ora@oric.gov.au
For more information about the position email hvwright23@gmail.com or phone Helen on 0423 212 776