Central Australian Aboriginal Media Association (Aboriginal Corporation)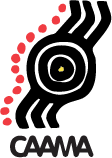 The Central Australian Aboriginal Media Association (CAAMA) came to life in 1982 with the establishment of radio station 8KIN FM. Aboriginal-owned media was seen as being vital to the broad educational and community development aspirations of Aboriginal people in Central Australia. Radio was a way to give voice to Aboriginal hopes and dreams as well as being a tool to maintain and sustain the culture and languages of Central Australia. Originally offering music and programming in Arrernte, Pitjantjatjara, Luritja and Warlpiri, today CAAMA broadcasts in half a dozen more Indigenous languages, reaching communities across Australia.
CAAMA plays a major role in the maintenance of Indigenous Language and Culture in Central Australia. CAAMA's social charter is to use the mediums of radio and television to give Aboriginal people a strong voice in the development of country, culture, politics and education; to use the broadcasting arts and sciences to arrest cultural disintegration, to empower people and bring inspiration to their lives.
CAAMA is governed by an elected Indigenous Board reporting to Indigenous members, while operations are managed by our CEO.
Timezone:
Australian Central Standard Time (ACST)
The successful applicant will be rewarded with an attractive salary (depending on experience and qualifications), plus super and generous PBI salary sacrificing benefits.
Job description/overview:
Lead a dynamic and energised team to to deliver culturally relevant and comprehensive radio services to Australia's largest broadcasting footprint.
Selection criteria
Proven experience of leadership in the development and implementation of contemporary community radio broadcasting services or willingness to develop these skills with support from CAAMA.
Demonstrated organisational management and leadership skills at a strategic level and the ability to develop these skills in others through mentoring and training.
Demonstrated ability to communicate effectively across a broad cross section of external stakeholders including government departments, peak bodies, indigenous organisations, and the wider indigenous community.
Demonstrated high level negotiation and conflict resolution skills.
Qualifications relevant to managing radio and news service, preferably at a graduate or post-graduate level.
For more information download the position description.
People of Aboriginal or Torres Strait Islander descent are strongly encouraged to apply.
Contact person and how to apply: