Banjima Native Title Aboriginal Corporation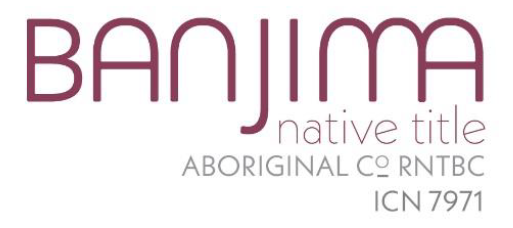 Banjima Native Title Aboriginal Corporation (BNTAC) is the Registered Native Title Body Corporate that holds the Native Title Rights and Interest on trust for the Banjima People. The Banjima People received a determination of Native Title in March 2014. 
The Banjima native title determination area covers a large area of land and waters in the Pilbara region of Western Australia. There are approximately 500 adult Banjima people and many more Banjima children. 
Timezone:
Australian Western Standard Time (AWST)
Job category:
Corporate business support
Job description/overview:
The duties of the company secretary will include;
receiving and passing on correspondence 
assisting with setting the board meeting agenda items
preparing, printing and circulating agenda packs 
taking minutes at board meetings
assisting to facilitate board meetings
circulating final minutes and resolutions 
following up items following board meetings
maintaining the minute book.
Contact person and how to apply:
For more information about the position please refer to the attached position description or contact Michelle Alexander on 08 9216 9888 or email admin@bntac.org.au  
Please send expressions of interest (EOI) to admin@bntac.org.au . Refer to the attached document 'BNTAC Position description and how to apply' for the information you need to include in your EOI.