The PKKP Aboriginal Corporation RNTBC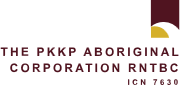 The PKKP Aboriginal Corporation administers the traditional lands and waters of the Puutu Kunti Kurrama people and the Pinikura people on their behalf.
These lands and waters cover approximately 10,888 square kilometres of Western Australia's Pilbara region between Onslow and Tom Price.
Timezone:
Australian Western Standard Time (AWST)
Job description/overview:
The purpose of this role is to facilitate compliance with the Regional Standards within the Regional Framework Deed (RFD) in relation to Employment and Training, Business Development and Contracting, Life of Mine Planning and Land Access. The role will also ensure that the implementation obligations and commitments cited in the PKKP Indigenous Land Use Agreement are actioned, tracked, monitored and reported on regularly, in collaboration with the relevant RTIO Heritage and Agreements advisor.
For full details, please download the job description.
To be considered for this position interested applicants must:
provide a current Curriculum Vitae and
in no more than 2 pages, address the selection criteria as outlined in the above job description.
Contact person and how to apply:
For more information, please contact Carol Meredith, Chief Executive Officer on (08) 9185 5000 or email ceo@pkkp.org.au