Banjima Native Title Aboriginal Corporation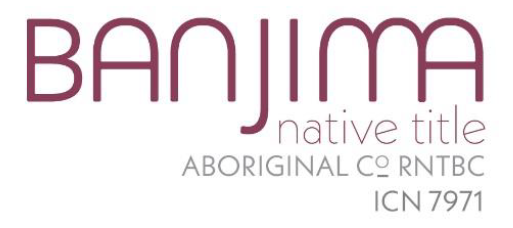 Banjima Native Title Aboriginal Corporation RNTBC (BNTAC) is the Prescribed Body Corporate (PBC) that holds native title on trust for the Banjima People. 
The Banjima native title determination area covers a large area of land and waters in the Pilbara region of Western Australia. There are approximately 500 adult Banjima people and many more Banjima children. 
As well as their roles and responsibilities as a PBC, BNTAC's objectives also include to provide relief for disadvantaged Aboriginal people, maintain and support traditions, laws, language and culture of Banjima people, as well as provide economic, social and cultural benefits, including housing, training and education.
Timezone:
Australian Western Standard Time (AWST)
One year with possible extension
Salary sacrifice $15,900pa
Four weeks annual leave
Job description/overview:
BNTACs Office has been operational for less than a year and we need someone with tenacity and determination to develop and imbed a range of systems and process as we establish our Implementation and Compliance department. Working closely with the Implementation and Compliance manager your primary objectives will be to assist in the:
establishment and management of compliance processes, including the development of monitoring and evaluation tools; and 
management of key programs and projects.  
As a new and growing PBC, this role offers a unique and exciting opportunity to be part of the development of a broad range of programs and projects that help secure long-term cultural, social and economic benefits for Banjima people.
For a copy of the position description or to request a call back for a confidential discussion about this role, please contact Michelle Alexander on 08 9216 9888 or email at michelle.alexander@bntac.org.au
Contact person and how to apply:
Michelle Alexander, telephone 08 9216 9888, email admin@bntac.org.au
Please ensure your application consists of the following:
Current resume (maximum 4 pages), and
Cover letter briefly addressing the selection criteria (maximum 3 pages). 
Please email applications to admin@bntac.org.au by 9 am on Monday 16 July 2018